Successful Women from the Indian Subcontinent
Common Questions About the Validity of Student Visas
Anoushka has shared the stage with many of the world's top celebrities, including Sting, Madonna, Nina Simone, Anjelique Kidjo, Herbie Hancock, Elton John, Peter Gabriel and James Taylor, and had the fortune to perform in front of such personalities as Ray Charles and Prince Charles.
Anoushka Shankar
Hailing from an impeccable musical pedigree, Anoushka Shankar has shown herself to be an artist with tremendous, inimitable talent and knowledge of the great musical tradition of India.
She is trained by her father the legendary sitar virtuoso and composer, Ravi Shankar. Besides the renowned sitarist himself, her half sister Norah Jones is a Grammy-winning pop-jazz singer. Hence it is far from astounding that Anoushka has an immaculate sense of music, engrained in her right from childhood.
At the age of nine she began playing and studying the sitar, while her induction to the instrument was when she was only seven years of age. She gave her first performance at the age of thirteen, her debut performance in New Delhi, India.
That same year, Anoushka entered the recording studio for the first time to play on her father's recording, In Celebration. Two years later she helped as a conductor with her father and dear friend, George Harrison, on the 1997 Angel release, Chants of India.
The mammoth response inspirited her to sign an exclusive contract with Angel/EMI Classics. The year 1998 saw her first solo recording, "Anoushka", which was released to stupendous critical acclaim. Thereafter, two albums followed-Anourag in 2000 and Live at Carnegie Hall in 2001. The latter was nominated for a Grammy Award in the Best World Music Album category, making her the youngest ever nominee in that category.
She also played sitar on her father's Grammy Award-winning album Full Circle: Carnegie Hall 2000, and has appeared as a sitarist on several other CDs, including Stings Sacred Love.
Her formative years were spent in London, where she was born in 1981. By the time she was seven she was also living partly in New Delhi, India, where she still spends half the year performing and helping to take care of the newly constructed  Ravi Shankar Centre.
The name Anoushka was inspired by a very good friend of the family- Dr Anne Pennington, and the Russian version stemmed from the popularity of the actress Anoushka Hempel, which is not to deny its denotation in Sanskrit.
At age eleven she moved from London to Encinitas, California, where she graduated in 1999 with honors from public school. The year 2002 also saw the release of Bapi: The Love of my Life, a biography she wrote on her father, and Anoushka has also contributed as a writer to several other books.
The next year she acted in her first film, Dance like a Man. She is also a gifted classical pianist, and retains a wide range of interests. But her devotion to the sitar and to her father's guidance is inimitable, with a discipline that has led her into an already extraordinary performing career.
In recognition of her flair and musicianship, the British Parliament presented Anoushka with a House of Commons Shield in 1998. She is the youngest as well as the first female recipient of this high honor. Anoushka became the first woman to perform at The Ramakrishna Centre in Calcutta in February 2000. The Indian Television Academy, Asmi and India Times chose her as one of four Women of the Year in India in 2003. In 2004 Anoushka was chosen as one of twenty Asian Heroes by the Asia edition of  TIME magazine.
Anoushka made her conducting debut at age nineteen in New Delhi, conducting a 22-member orchestra premiering a new composition of her father's titled "Kalyan". She later conducted again at the historic Concert for George in November 2002. The new composition of her father's, called "Arpan," featured a guitar solo by Eric Clapton and performances by forty-three musicians playing Indian and Western instruments. Before conducting she also played a sitar solo and performed "The Inner Light" with Jeff Lyne.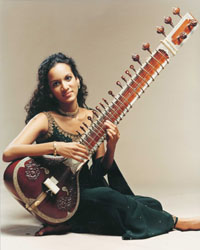 Anoushka now spends much of the year giving solo performances in Europe, America and Asia, and continues touring the world with her father's ensemble. Anoushka is also championing her father's Concerto No. 1 for Sitar and Orchestra, which she first performed with Zubin Mehta conducting the London Philharmonic Orchestra in 1997.
She has premiered several new works of her father's, including a piece for sitar and cello with legendary cellist Mstislav Rostropovich at the Evian Festival in 1999, "Mood Circle" at the World Economic Forum in New York in 2002, and "Nivedan" at the "Healing the Divide" benefit in New York City in 2003 which was organized by Richard Gere and Philip Glass, and attended by His Holiness the Dalai Lama.
Anoushka has shared the stage with many of the worlds top celebrities, including Sting, Madonna, Nina Simone, Anjelique Kidjo, Herbie Hancock, Elton John, Peter Gabriel and James Taylor, and had the fortune to perform in front of such personalities as Ray Charles and Prince Charles.
Anoushka has returned to the concert stage after a years furlough in 2004, alone and with her father, but has also grown as a composer. She scored the music for a short film titled Ancient Marks, and has recorded her fourth solo album, Rise, which features several of her new compositions, played by her and many notable musicians around the world.
On Rise, Shankar moves beyond the classical tradition of her father, mixing up a broad range of world music styles and instruments flamenco piano, Indian slide guitar, electronic sounds, and, of course, the sitar, resulting in a sensual and sublime sound.
Arundhati Roy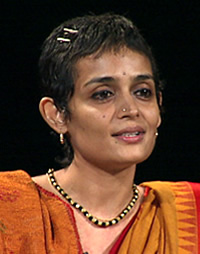 Arundhati Roy-The tiny yet an unmistaken literary persona; Ranging from the image of the  girl-next-door to that of a  creative rebel, she has been vastly successful in the literary world. However, this saucer-eyed, luminous faced author is reigned by her own terms, who now prefers to immerse herself towards social causes. She is an inspiration to all those who seek to support the poor and oppressed. She came in the limelight in 1997 when her book The God of Small Things fetched the coveted Booker Prize.
Roy was born in 1961 and grew up in Kerala. Trained to be an architect at the Delhi School of Architecture, she abandoned the field to chase her passion and became better known for her complex, derisive film scripts. She wrote and starred in Which Annie Gives it Those Ones.
She went ahead to write the script for Pradip Kishen's Electric Moon. Her gallant response in support of Phoolan Devi, who she felt had been exploited in Shekar Kapur's film "Bandit Queen", drew media attention. Unavoidably the matter dragged itself into the court, after which she retired to her private life to work on her first book.
The God of Small Things, which was published in 1997, fetched an advance of half-million pound, more than Vikram Seth's for "A Suitable Boy". This shot her back to fame again and rights to the book were sold in twenty-one countries. The book is semi-autobiographical and a major part captures her childhood experiences in Aymanam.
Contrary to some assumptions, Roy is not a twin. This misinformation arose from the fact that the character of Rahel is based on herself. We see this in the physical description of the character in her adulthood and also by some of this characters interactions with her mother, Ammu.
As the daughter of Mary Roy, the woman whose court case changed the inheritance laws in favour of women, she was closely acquainted with the Syrian Christian traditions which feature prominently in the book.
The God of Small Things, won Britain's premier booker prize, the Booker McConnell, in 1997. Although Indian authors such as Salman Rushdie and Rohinton Mistry have featured in the Booker shortlist, and Rushdie's "Midnight's Children" won the Booker of Bookers, Roy is the first non-expatriate Indian author and the first Indian woman to have won this prize.
More so because this happened in 1997, India's 50th anniversary of independence from Britain. As always, the exclusions and choices of the Booker judges created some controversy, with some critics praising the exuberant imagery of Roy's book while others side stepping it as "tripe" However her work survived all and yet to date it remains an unforgettable piece of work among the literary circle.
Besides her ingenuity as an author, today she is more famously deemed as an activist. Roy wrote ,"The End of Imagination", a critique of the Indian government's nuclear policies as a reaction to India's testing of nuclear weapons in Pokhran, Rajasthan.
It was published in her collection The Cost of Living, in which she also carnaged against India's massive hydroelectric dam projects in the central and western states of Maharashtra, Madhya Pradesh and Gujarat. She has since devoted herself solely to non-fiction and politics, publishing two more collections of essays as well as working for social causes.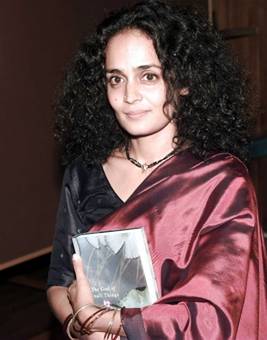 While the book lovers continue to speculate her return to pen down another masterpiece, Roy expunged the guesstimate by saying that she might never write another novel and had no intentions of trying to rival the success of her first.
Roy was awarded the Sydney Peace Prize in May 2004 for her work in social campaigns and advocacy of non-violence.
In June 2005 she took part in the World Tribunal on Iraq. In January 2006 she was awarded the Sahitya Akademi award for her collection of essays, "The Algebra of Infinite Justice", but declined to accept it.
In keeping with her longtime interest in social issues, she has immersed herself in causes such as the anti-nuclear movement and the Narmada Bachao Andolan. Her two major essays, The End of Imagination and The Greater Common Good are available online as well as in print.
Her personal fame has drawn attention and donations to these causes, and she has also made significant monetary contributions herself. Her involvement in these causes has also attracted controversy, with some criticism from all sides of the political spectrum.