Tania weds Anish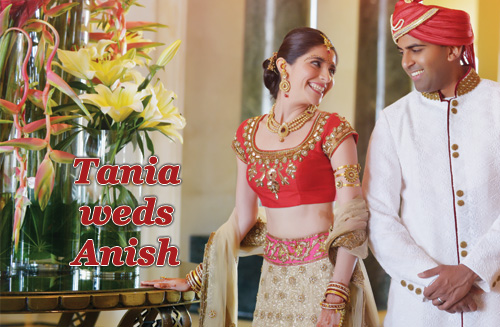 Tania Sanchez and Anish Vora held their destination wedding in Cancun, Mexico. The three day wedding celebration was held at the JW Marriott in Cancun, Mexico. The couple met in October 2010. Anish attended the bachelor party of his childhood friend, Nirav in Acapulco, Mexico. When Anish met Tania that October, she barely knew English and I barely knew Spanish. Despite the language barrier, we discovered that chemistry is chemistry, and we both felt something special the day we met each other. That spark proved to be so strong that we saw each other once more during the four day bachelor party that October. In December 2010, Anish sat down with close friend Cameron, who was instrumental in supporting my desires to go back to Acapulco to see his future wife. That evening, Anish realized we only live once and things like distance, language, and other obstacles can be reconciled over time and should not stand in the way of something truly special.
Anish returned to Acapulco February 2011 to meet the woman he fell in love with at first sight. If not for a Spanish-English dictionary, the two could not communicate. I had brought with me, we could not communicate, but it did not matter, as the two began their journey together. Shortly after, Anish learned Spanish and traveled back to Mexico to spend time with Tania over the next year. In June 2012, Tania and her family came to the US to meet with Anish. In August 2012, Anish proposed (in Spanish!), and the rest, as they say is history.
The couple began planning and chose not to use a wedding planner. Anish's family was instrumental in the planning. All wedding events were held at the JW Marriott, and the couple wed during a Hindu ceremony with a Spanish translator. The ceremony was held outside in a gazebo that overlooked the ocean, and fresh flowers complimented the already picturesque scenery. With the groom and his party arriving on jet skis, the wedding kicked off an already festive mood.
Despite a tropical storm that hit Cancun the Thursday before the wedding, the weather was gorgeous during the wedding weekend!
The couple suggests having someone, such as a best man, to make decisions and be with you 24/7 to ensure all events move forward smoothly.
Vendors
BANQUET HALLS
JW Marriott Cancun Resort and Spa
Cancún, Mexico
011-52 998 848 9600