Team India: Player Profiles
Mahendra Singh Dhoni (C), Rohit Sharma, Shikhar Dhawan, Virat Kohli, Ajinkya Rahane K. L. Rahul, Ravindra Jadeja, Ravichandran Ashwin, Jasprit Bumrah, Mohammed Shami Bhuvneshwar Kumar, Umesh Yadav, Amit Mishra, Stuart Binny

Mahendra Singh Dhoni
He is arguably India's most successful captain having won almost everything a captain dreams of. He put an end to India's 28-year World Cup drought when he led his team to glory in the 2011 World Cup giving India a reason to celebrate amongst many other victories under his leadership. As a cricketer, he has an enviable record, yet it is his modesty underscored by a steely confidence that leaves people in awe.

From the mane that hit the headlines back in 2004 to the crisp and shrewd thinking brain that led India to innumerable victories, MS Dhoni has come a long way. They say, the brain and brawn is a lethal combination and Dhoni is synonymous to both in his own way.

He made his presence felt in just his fifth ODI appearance (against Pakistan) as he muscled his way to a 123-ball 148 that got the world of cricket buzzing. Soon he scored a swashbuckling 183 off 145 deliveries against Sri Lanka that set up a handsome victory for India while chasing a target of 299.

MS Dhoni the batsman had well and truly arrived. It didn't take long to showcase his leadership qualities as well when he was handed over the responsibility of leading a young side in the 2007 T20 World Cup.

This marked the beginning of a new era for India as the team went on to win the first ever T20 World Cup, the 2008 CB Series in Australia, the Border-Gavaskar trophy in 2008 and a historic Test series victory in New Zealand in 2009. In the same year, Dhoni lead the side to the pinnacle of Test cricket which won him plaudits from the cricketing know how. He even marshalled the Chennai Super Kings to title victories in the Indian Premier League and Champions League T20 in 2010. After being crowned world champions in 2011, Dhoni added yet another trophy in his cabinet winning the 2013 ICC Champions trophy in England.

Perhaps one of the fiercest hitters of the cricket ball, Dhoni along the years earned himself a reputation of a finisher. His ability to stay calm and composed in tense situations and finish the game for his side single-handedly had everyone awestruck, a quality that many yearn for. Calmness epitome, captain Marvel, Dhoni remains to be one of the most loved and celebrated cricketers and an inspiration for many.
Rohit Sharma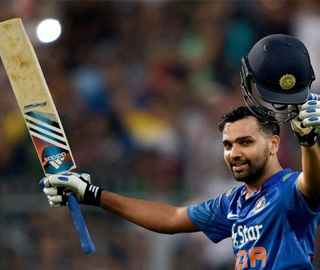 Each time Rohit Sharma walks out to bat, the word "talent" features more often than not amongst his fans and the cricketing circles. For many, Rohit Sharma is a gifted batsman and an immensely talented cricketer who is pleasing on the eye with his elegance and ability to time the ball. He got off to a good start in his international career with crucial contributions in the T20 World Cup in 2007 and the CB Series in Australia. He almost made his Test debut in 2010 against South Africa but he injured himself on the morning of the Test match; Rohit would then have to wait for three more years to finally represent India in whites. Rohit continued to take giant strides in the shortest format of the game and attracted a lot of attention by achieving success in the IPL. He also led the Mumbai Indians to their maiden IPL title in 2013. His inconsistency for the national side though saw him in and out of the Indian team until he got a chance to feature in India's tour of the Caribbean in 2011. Rohit proved to be a revelation there and bagged the Man-of-the-series award. He later had an on and off career graph stringing in useful contributions for India in ODIs. He was then promoted to open the innings, a move that proved to be a masterstroke for India as Rohit began to prove his critics wrong batting with a lot of freedom and exuberance. He scored an ODI double century against Australia in Bengaluru; a feat that was achieved by Sachin Tendulkar and Virender Sehwag before. In 2013 he made his Test debut against West Indies in Kolkata and straight away made an impression with a century as if to say he belonged. He followed it up with yet another century in Mumbai against the same opposition which paved way for his entry into the Test side more frequently. He did have a poor run overseas but these are still early days in his Test career and India see a lot of potential in him in Tests as well.
Shikhar Dhawan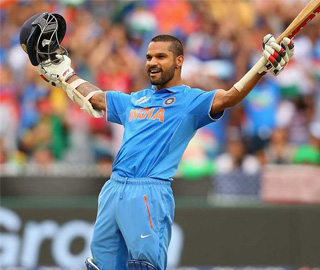 Behind the earring, the famous twirled moustache and those intricately inked biceps, is a very soft-spoken man – Shikhar Dhawan. From a simple cricket-loving youngster going through the grind of domestic cricket to taking the cricketing world by frenzy by scoring the fastest century on Test debut, Dhawan has come a long way. The road to success has not been easy for the left-handed batsman from Delhi as he toiled his way in the domestic circuit year after year only to receive a Test call-up in his ninth year of first-class cricket. The opening batsman scored in plenty but those only made for good reading for the men in love with numbers. India had a stable opening combination in Virender Sehwag and Gautam Gambhir and Dhawan had to wait for his chance to breakthrough in the big league. When he did get his chance, he grabbed the opportunity with both hands. Such was his dominance in his approach on his Test debut that Dhawan became the talk of the town after treating the Aussie bowlers with utter disdain. He smashed 187 off 174 balls which changed the course of the game completely resulting in India winning the Test comprehensively by six wickets. Following his good run, Dhawan was picked in India's squad for the Champions Trophy. He ended up being the player of the series with 363 runs in five matches at an outstanding average of 90. He hit two centuries in the tournament and was credited for India's success in the tournament. He was also named player of the series and awarded the gold bat for his stellar batting show.
Virat Kohli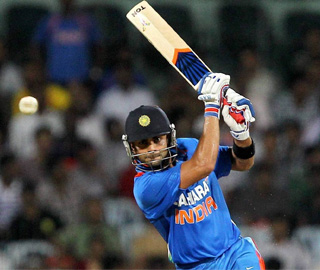 Virat Kohli had a dream. A dream like every other young kid in India to represent the country in the gentleman's game. It is this vigor and fervor for the game of cricket that has helped this extremely talented young boy from Delhi to scale great heights at a very young age. He was barely in his teens when he led the India Under-19 team to a World Cup victory in Kuala Lumpur in 2008 which was a pointer of bigger and better things to come in the future. After that famous victory, it was not long before he made his entry into the senior team and Kohli was soon brushing shoulders with the best in the business and his cricketing idol Sachin Tendulkar. The stylish right-handed batsman banked on the opportunities at disposal and displayed a tremendous sense of maturity as if to show he belonged. He was termed brash and aggressive for being expressive on and off the field, but Kohli imbibed all of those qualities in his gameplay only to become better with each passing game.

He began chasing totals for India with ridiculous ease and India had found a stable batsman in the middle order for the long run. Such is his batting prowess and cricketing mind that Ray Jennings(his coach with Royal Challengers Bangalore) touted him to be the leader of future India. Kohli made his mark in the shorter formats of the game but got a chance to don the whites in 2011.

He registered his maiden Test century against Australia in Adelaide in January 2012 and followed it up with impressive centuries in India and abroad – namely South Africa and New Zealand. With an astute cricketing brain and solid batting technique, a regular in the playing eleven in all formats of the game, Kohli is looked up to as one of the potential leaders for team India in the future.
Ajinkya Rahane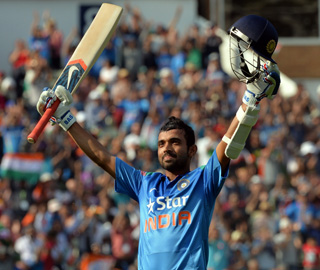 Ajinkya Rahane is an example of a batsman from the traditional mould with a typical script of a Mumbai lad with a dream of making it big in the game of cricket. Like most Mumbai boys, Rahane too had a unique love for cricket and the childhood dream of representing the country one day.

He belongs to the list of already famous Mumbai batsmen who were prolific in the domestic circuit and represented the country at some point of time. Discipline and dedication are two features one would associate Rahane with, the two qualities that every sportsman needs to excel in sport. Season after season Rahane did all that he could – score and score big; with a view to catch the right eyeballs. His dream to don the Indian jersey finally came true in India's tour to England in 2011 wherein he scored a half century in five ODI innings. He showed confidence and promise in that tour and was given an olive branch to be a part of the Indian batting line-up in the series to follow.

Rahane's temperament was gifted with a Test call-up in 2013 against Australia and the middle-order batsman replied in kind with gutsy knocks overseas. He felt agonisingly short of his maiden Test century by four runs in a fighting knock against South Africa in Durban but he made amends and recorded a century against New Zealand in Wellington. His moment of glory though came in 2014 when he batted out of his skin on a green top against England at Lord's. That innings defined his character, hunger for runs and willingness to succeed as Rahane looks to cement a permanent spot in that Indian middle-order.
Ravindra Jadeja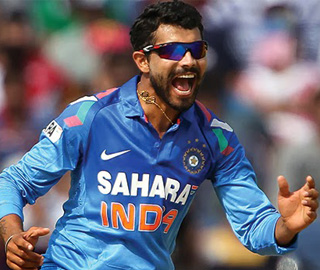 He was termed as "The Rockstar" by Shane Warne when Ravindra Jadeja took the Indian Premier League by storm in 2008 with his all-round heroics. An eccentric fielder, a more than handy left-arm spinner and a fearless batsman, Jadeja had all the qualities of a utility cricketer. Though predominantly known for his performances for the Rajasthan Royals in the IPL, not many notice his efforts in the longer format of the game. The left-handed batsman has three triple centuries to his name with a first-class average close to 50. He paved his way to the national side amassing 739 runs and 42 wickets in the 2008-09 Ranji season. He made his ODI debut in 2009 against Sri Lanka and has been a key player in the Indian line-up since.

It took him three more years after his ODI debut to make it into the Test side and India now see him as a good variety in the bowling attack and more than a handy bat lower down the order. International cricket aside, Jadeja has also been a vital cog in the wheel for his IPL franchise – Chennai Super Kings. He was purchased for a whopping sum by the franchise in 2012 and has been one of their marquee players ever since.
Ravichandran Ashwin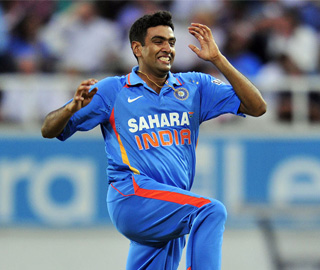 R Ashwin shot to limelight after an impressive season for the Chennai Super Kings in the India Premier League in 2010. His ability to thrive on crunch situations and bowl with variety caught the eye of the selectors who saw in him a potential to be India's lead spinner in the future. Though Ashwin started off his career as a top-order batsman for Tamil Nadu, he bagged wickets at will in the domestic circuit. He donned the Indian jersey in 2010 and dumbfounded the best in the business with his skill and variations with the ball.

Often known to add something new to his armory and experiment with his bowling, Ashwin later came up with the carrom ball; a variation that was initiated by Ajantha Mendis of Sri Lanka; a variation he tried to master while bowling at the nets. Through the years Ashwin has been India's key spinner in Tests and ODIs at home with a remarkable amount of success. He impressed one and all with impressive showings against West Indies and Australia at home wherein he showcased his batting prowess as well.

At a time when there is a dearth of all-rounders in India, many feel R Ashwin is the answer who has two Test hundreds to his name. He has the technique, the timing and the shots in his book, but Ashwin has time and again reiterated the fact of trying to be India's most successful bowler first and then a batsman. With a sharp mind, a cool head on his shoulders and a good work ethic, Ashwin is an integral part of the Indian line-up.
Mohammed Shami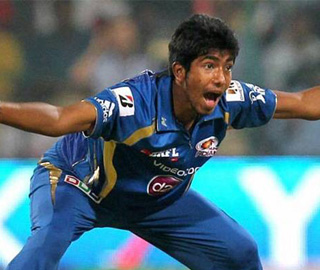 Mohammed Shami did not quite set the domestic stage on fire before making his way into the national side. He had a reasonable maiden domestic season in 2010-11 only to be talked about for his ability to swing the ball at a good pace. Touted as someone who could bowl at a range of 140kmph consistently, Shami came into the spotlight when he picked up 28 wickets for Bengal in the 2012-13 Ranji Trophy season. That impressive performance put him in national reckoning as he made his Test debut against West Indies at Kolkata in 2013.

Shami made an impact immediately picking up nine wickets in the match which included a fifer in the second innings. His ability to swing the ball early in the innings and reverse it towards the end impressed one and all as India had found hope in a bowler who was genuinely quick. He had reasonable outings in Tests in South Africa and New Zealand and formed a crucial bowling partnership along with Ishant Sharma. He has been spoken about in high regard by former Pakistan bowling great Wasim Akram who worked with him closely when the speedster was a part of the Kolkata Knight Riders in the IPL.
Bhuvneshwar Kumar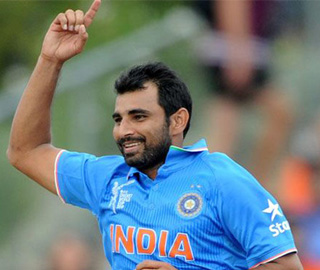 Bhuvneshwar Kumar belongs to that breed of bowlers who can swing the ball prodigiously both ways at a decent pace. There has often been the talk of "had he been a few yards faster, he could have been lethal" but that has never been an area of concern for him as he realizes his limitations as a bowler and believes in focussing on his skill set rather than pace. He is often compared to his fellow UP seamer Praveen Kumar who hogged the limelight for swinging the ball considerably beating the best in the business during his hay days.

Representing Uttar Pradesh in the domestic circuit, Bhuvneshwar Kumar was known for his smart cricketing brain and being a captain's go-to bowler. His efforts reaped benefits as he made his ODI debut in 2012 against Pakistan.

Kumar impressed everyone as he got a wicket in his very first ball of his first over in ODIs sending Mohammad Hafeez back to the pavilion with an outstanding in-swinger. Kumar later ended up with figures of 2/27 in nine overs with an economy of three. Kumar's rise in international cricket has been impressive since then as he got a Test call-up in 2013 against Australia. Still early days in international cricket for the seamer, but Kumar has already shown his tremendous potential with the bat and ball.

He does have a first-class century to his name and has shown immense confidence batting lower down the order for India. He was impressive in his first overseas tour to England and even got his name on the Lord's Honours Board picking up a 6-wicket haul in the second Test against England in 2014.
Umesh Yadav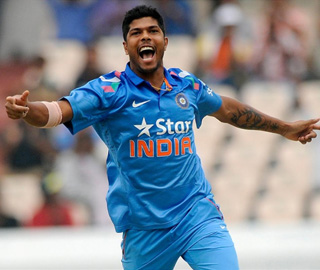 From the rural parts of Vidharbha, India saw the birth of a genuine fast bowler who could bowl consistently close to 140 kmph. The son of a coal miner, Umesh Yadav took to the game only at the age of 19. Blessed with an innate ability to bowl fast, he soon made his debut for Vidharbha in 2008 and found himself bowling to some of the big names in Indian cricket on the Ranji circuit. He made his international debut in 2009 for a tri series in Zimbabwe. He did not have the best of starts to his career, but the need for speed and want for a quick bowler kept him in fray for national selection. He later had a reasonable ODI home series in England but he impressed the most when he was picked in the Test side for a series against West Indies. His ability to swing the ball both ways at a lethal pace earned him a place in the India squad for the Australia series and in an otherwise dismal series for India, was the few plus points for India picking up 14 wickets in four games. However, injuries and inconsistency kept him out of the India squad and he still remains India's hopeful of a speedster for the future.
Amit Mishra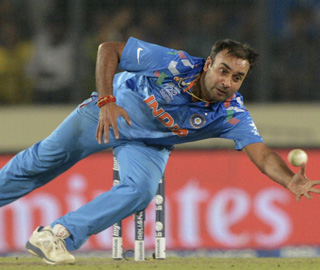 He was never afraid to give the ball a good flight and let the ball do the talking after pitching. Amit Mishra is an orthodox leg-spinner who caught the attention with his ability to get batsmen out. He was good at his craft, and bagging wickets in the domestic circuit, even as Habhajan Singh and Anil Kumble were doing the same in the international stage. He did not have the best of starts to his international career as he made his ODI debut in 2003 in a tri-nation tournament in Bangladesh. He played three games without much to show, only to return to his domestic roots and continue to impress there.

Mishra's hardwork and patience finally paid off when he got a Test call-up in 2008 against Australia replacing an injured Anil Kumble at Mohali. Australia found it too difficult to handle Mishra's guile and the leggie picked up a five-wicket haul on debut. With Anil Kumble calling it quits from international cricket, Mishra was touted to fill those big shoes. However a series of inconsistent performances yet again kept him out of the Indian squad.

Mishra however hogged the limelight for his stellar performances in the IPL. He is the only bowler in the tournament to have three hat-tricks to his name. He had an impressive stint with the Sunrisers Hyderabad bowling to his potential and by keeping the best in the business puzzled with his variations. His impressive show in the 2013 edition of the IPL earned him a place in the India squad for the ICC Champions trophy and the ODI series in Zimbabwe. Mishra picked up 18 wickets against Zimbabwe which then saw him selected for the bilateral series in Bangladesh. With a more than handy lower order bat and an ability to bring variety in the bowling department, Mishra is still India's prime choice of a leg-spinner.
Stuart Binny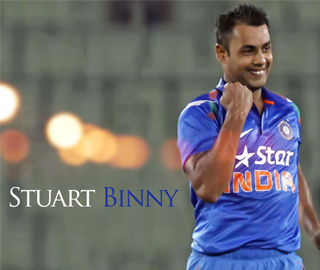 An all-rounder from Karnataka, Stuart Binny made his first class debut in the 2003-04 Ranji Trophy season. More known for his capabilities in the limited overs format, Binny was seen as someone who could put his big hitting prowess to good use and at the same time bowl handy medium pace with the ball. His talents were however recognised in the 2011-12 Ranji Trophy season where he picked up 742 runs and 20 wickets for Karnataka. At the same time, Binny was making a name for himself also in the Indian Premier League playing for Rajasthan Royals. After consistent performances in the IPL and the domestic circuit, Binny got his maiden national call-up after being picked in the One-day squad for New Zealand. Binny though did not have much to show from that series as he played only one match. He was also part of the Indian squad for the ODI series in Bangladesh and was the talk of the town after registering figures of 6 for 4, toppling Anil Kumble's record of 6/12. He made his Test debut against England in Nottingham and is seen as a potential all-rounder for India.
Text provided by Board of Control for Cricket in India (BCCI)