Team West Indies: Player Profiles
Lendl Simmons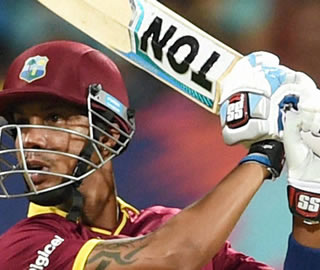 Born in January 25, 1985 in the Port of Spain, Trinidad and Tobago, Lendl Simmonsis an all-rounder, a right handed batsman, a right arm medium pace bowler, and also a part-time wicket keeper. Lendl Simmons, a consistent opener for Trinidad and Tobago has represented the West Indies team at the Under Nineteen World Cups of 2002 and 2004. After a First-Class score of 282 against England A, his highest Test score is just an average 49. This ensured that was selected in the West Indies team more for one day matches that for tests. Interestingly enough his stats prove that he has been more prolific in shorter formats of the game like T20 and one-days.
It is this same trait that has led him to be chosen for the best T20 teams over the years. A clean striker of the ball, Lendl Simmons is remembered in India for more than one reason. When Lendl Simmons, the hero of West Indies World Twenty-20 2016 team, fortified victory over India in the ICC World Twenty-202016 semi-final knocking India out of World T20, all that, a billion eyes in India could do is to stare on in despair. His match-winning knock at the Wankhede got him noticed more than ever. Today, Simmons remains an integral player in the West Indies team in the limited overs.
In the IPL campaign, Simmons was signed up by the IPL franchise, Mumbai Indians. In all the matches that he played, Simmons'rip-roaring performance got him apermanent place in the team.
Marlon Samuels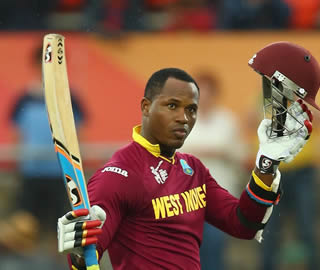 Born on 5th February 1981, Marlon Nathaniel Samuels,a former Jamaican cricketer who has played internationally for the West Indies is a right-handed batsman and an acute off-spinner. Though, Samuels made his Test debut in Australia in 2000, and his One Day International debut was during the ICC Knockout Trophy in 2000. He was a member of the West Indies team that went on to win the 2012 ICC World Twenty20. But, in spite of the praises he had garnered during his formative years, he career got laced with issues. Known for the famous feud between him and legendary cricketer Shane Warne, Marlon Samuels, has been involved in more than one controversy.
On 25 February 2008 Marlon Samuels was suspended from bowling at international level until he corrected his bowling action, which haddeemed suspect at the time. Indian police accused Samuels of being involved in a Match fixing scandal and giving out important team information in 2007. After deliberation, the International Cricket Council enforced a two-year ban on the 27-year-old. But, that was not the end of Marlon Samuels, he came back strong after the ban and in 2013 he was named Wisden cricketer of the year. In 2016 the West Indies Cricket Board named Marlon Samuels the ODI Player of the Year and also the Cricketer of the Year.
He also went onto play in the Indian Premier League and was praised and selectors started to take good note of his skills.After his short stint at the IPL in the Pune Warriors team, Marlon Samuels went onto play for teams like Melbourne Renegades, Antigua Hawksbills, St Kitts and Nevis Patriotsand Comilla Victorians.
Samuel Badree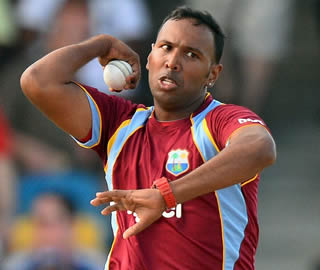 Born on 8th March 1981, Samuel Badree is a cricketer from Trinidad and Tobago, who plays internationally for the West Indies. The right arm leg spin bowler was a part of the West Indies squad for the 2012 World Twenty20. West Indies went onto win, with Badree getting four wickets in four games, including one in the final against Sri Lanka. Badree has since became a favorite amongst the selectors and got selected to represent the West Indies at the World Twenty202012 and 2014 editions.He kept up to his caliber finishing as one of the leading wicket takers at the 2014 World Twenty20 championship.
Badree made his debut for Trinidad and Tobago in 2002, and after having a good form at domestic level, he was selected to make his International debut for the West Indies. He has also played in several domestic Twenty20 competitions, such as the Caribbean Premier League, the Indian Premier League, the Bangladeshi Premier League, the Pakistan Super League, and Australian Big Bash League.
In the IPL, he was initially a part of the Rajasthan Royals in the 2013 edition of the IPL. He then went onto play for teams like Chennai Super Kings and Royal Challengers in accord of his exemplary performances in the IPL over the years.
Considering his international accolades, In April 2014, Badree was ranked number one in the ICC Player Rankings for Twenty20 International bowlers but couldn't enjoy the position for long owing to his shoulder injury that bogged him throughout the second half of 2014.
Sunil Narine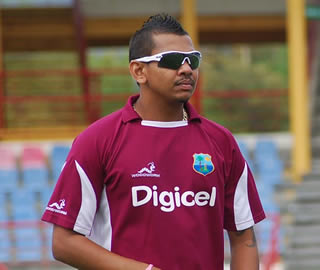 Born on 26thMay 1988, the bowling ace from Arima, Trinidad and Tobago is a part time Left-handed batsman and world renowned Right arm off breakBowler. Capable of playing in all formats of the game Sunil Philip Narineis cricketer who plays currently for the West Indies national team.
Narinestarted out young and has played for Trinidad and Tobago since 2009. His One Day International debut was in December 2011 and Test debut was in June 2012. Since then Narine hasgarnered the reputation of the mystery bowler, due to the wide variations on his off breaks, how well he is able disguise them and confuse the batsmen. But, it wasn't aneasy ride all along since Narinehad to miss out on the final match of the 2014 Twenty-20Champions League being suspended for an illegal action over 15 degrees. He later came clean in April 2016 and continued on his ornamented career.
He has won one man of the match award against New Zealand in test cricket and won over six man of the match awards in One day cricket and T20 cricket. Narine has also won the man of the series award on more than one occasion. Sunil Narinehas also had the privilege of topping the ICC Twenty20 rankings of bowlers with 784 points as on 8 March 2014.
Coming to IPL, Narine debuted in the 2012 Indian Premier League and his brilliant performances over the years has made one the favorites amongst Kolkata Knight Riders supporters since then.
Andre Fletcher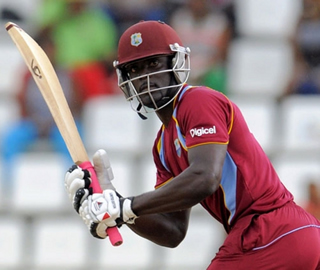 Born on 28 November 1987, Andre Fletcher counts among those dynamic West Indian batsmen whom the country has picked for their international team despite lacking vast experience. A top order right handed batsman, his technique garners much appreciation, though his inexperience has often cost him his wicket. Normally filling in the position of the wicketkeeper as well, he made his international debut in the 2006 U-19 Cricket World Cup in Sri Lanka. His senior league debut was against Australia in a T20 match at Bridgetown in 2008. This was triggered by his brilliant unbeaten 103 in the domestic season for his floundering Windward Islands team against Jamaica. He also played as a batsman and wicket keeper for Stanford Superstars and went on to be amidst few million-dollar winners during the inaugural Stanford Super Series in Antigua.
May 2015 saw Fletcher being arrested at Douglas Charles airport in Dominica for possessing ammunition. Though he got away with a fine of $2000, he took responsibility for the misunderstanding created. He has won 'Man of the Match' thrice in T20 matches and once won the 'Man of the Series' Award in 2014 when his team played against New Zealand on their turf in 2014. Being an all rounder, he also impresses us with his right-arm medium-fast, legbreak bowling style. Till now, he has played in 18 ODI's, 27 T20Is, 64 First class matches, 73 List A and 90 20/20 matches. He is yet to achieve his first century in either an ODI or a 20/20 match and we would love to see this twenty eight year old promising cricketer achieve it.
Carlos Brathwaite (Capt.)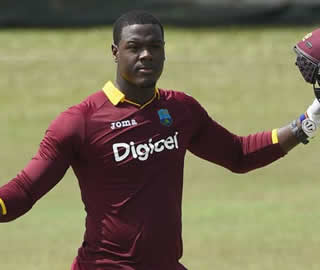 Born in Barbados on July 18 1988, Carlos Ricardo Brathwaite caught the attention of The West Indies board with his debut match against Trinidad and Tobago in 2011 when he took seven wickets conceding just 90 runs in the second innings of the match. His consistent performance of 26 wickets in his first eight matches helped him make his international debut against Bangladesh in October that year in a T20 match. Within a week, he made his ODI debut but failed to make an impression. Consequently, he lost his position in the national squad.
After a struggle of three years, he again procured the position for the South African tour in January 2015 but missed on the berth in the World Cup squad which followed it. In October-November 2015, he got selected for the Sri-Lankan tour. His true star status emerged in the T20 World Cup final match between West Indies and England at the Eden Gardens in 2016 when he hit four sixes in a row to leave Ben Stokes visibly shaken, and West Indiesthe trophy. A right handed batsman and an all-rounder, he has also been selected to play on behalf of Delhi Daredevils in the Indian Premier League Match.
Brathwaite has just 2 tests and 7 ODI's below his belt. In his 8 T20Is, his best performance was of 59 runs coming out of 7 sixes and a four. His stellar T20 World Cup final performance has helped him become the new skipper of the National T20 squad, due to play against India in Florida at August end. We look forward to him scaling new heights.
Chris Gayle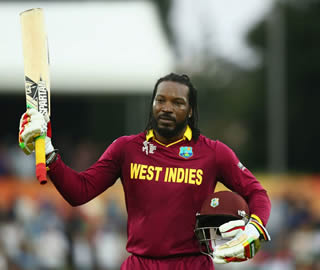 Hailing from Jamaica and born on September 21, 1979, Chris Gayle is today one of the most destructive batsman in the 20/20 cricket format. An almost larger-than-life figure both on and off the field, his feats in the shortest format are so remarkable that people often forget about him being among the only four batsmen to hit two triple-centuries in Test cricket.
He started his international career against India in 1999 and gave steady performances to become a steady fixture of his team. This goes notches higher with the fact that the West Indies team was facing its worst phase at that time and players were getting interchanged as fast as a baby's diaper. While batting, he usually ensured that the ball disappeared under the mastery of his willow. His flattish off-breaks bowled off an economic run-up made his repertoire stronger. The consequence was a formidable limited- over all-rounder. He showed his sustained destructive power in 2005 by hitting a triple ton against South Africa.
Under his captaincy in 2007-2008, West Indies got its maiden test victory in South Africa. In 2009, he led the team to a home series victory against England. Stripped of his captaincy in 2010-2011, he retaliated with his second triple ton in Sri Lanka. Growing differences with WICB got him exiled to T20 leagues. Now came his belligerent phase where he rewrote all T20 record books. Returning to the side in 2012, he played a crucial role in West Indies winning of the ICC World T20 2012. The first player to score a World Cup double century, we look forward to him setting new records in the future.
Dwayne Bravo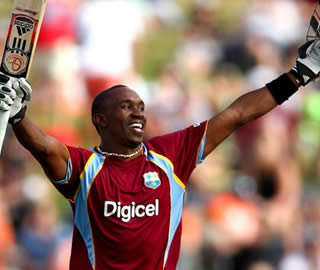 Ever since making his Test debut at Lord's in July 2004, Dwayne Bravo is any team's delight – a blitz with the bat, intelligent and wicket-taking bowler and sensational athleticism on the field! Add to it, his swagger Caribbean flair and style with his eyecatching dance moves and it's no brainer why he counts amongst one of the most entertaining and most celebrated cricketers.
Hailing from Trinidad and related to another great player, Brian Lara, this flamboyant personality was born in Santa Cruz, Trinidad and Tobago on October 7, 1983. His elegant shots all over the field are a delight to watch. With a variety of lengths, his bowling is often referred to as at the death kind. His true potential as an all-rounder was seen against India in 2006 when his team won the One-Day International (ODI) series 4-1. He made his T20I debut against New Zealand in Auckland in February 2006.
Following Lara's retirement, he gave the team, the support of a senior and even captained it in a few Test matches. By 2010, he shifted only to the one-day cricket format and became the team's ODI captain in 2013. In Domestic cricket, he plays on behalf of his native Trinidad and Tobago. He also brings the Caribbean swagger to various other series like the Indian Premier League (IPL), Australian Big Bash League, Bangladesh Premier League and English County Cricket. In 2013, he was one of the six franchise players for the Caribbean Premier League Twenty20 tournament. Amidst much controversy, he retired from Test cricket on January 31, 2016. He would continue enthralling us in ODIs and T20Is though he would also do so with his music album and cameo roles in Indian movies.
Evin Lewis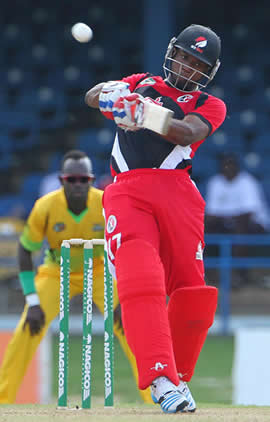 Born in Rio Claro, Trinidad and Tobago on December 27, 1991, Evin Lewis is a promising West Indies cricketer. He demonstrated his mastery with the bat in 2008 by notching three consecutive centuries for Princes Town Senior Comprehensive while playing in the PowerGen Secondary Schools Cricket League. He made about 700 runs in the secondary school competitions to bag the much coveted "Cricketer of the Year" award. The following year October had him debuting in List A, where he scored a half century for the West Indies U-19s. In January 2010, he represented the U-19s West Indies team at the World Cup.
An attacking left-handed opening batsman, his true skill surfaced in the T20 circuit. With a strike rate of 141.6, he emerged as a star of the Trinidad & Tobago's Champions League. Idolizing former West Indies captain Brian Lara and choosing Chris Gayle as his mentor, Lewis enjoyed a fantastic 2014 season notching four half centuries. Next year, he played in the Caribbean Premier League and scored 321 runs in eight innings. This was the maximum by any T&T Red Steel batsman. In the contest, he was a mere 42 runs behind Gayle, who played 11 innings.
Overseas, he played in the Bangladesh Premier League and scored 101 not out off 65 balls. That won him a place in the West Indies World T20 championship team in 2013 where he smashed 211 runs at an average of 42.20 and a strike rate of 141.61. Lendl Simmons injury paved way for his international T20 debut against Afghanistan at Nagpur on March 27, 2016. He is a rising star to look out for.
Johnson Charles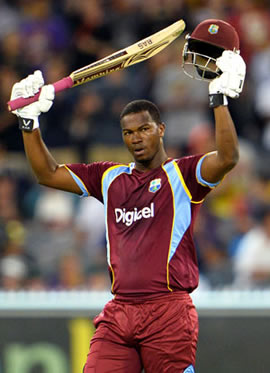 Born on January 14, 1989, in St. Lucia, Johnson Charles is a privilege given batsman as well as a periodic wicket-keeper. His T20I debut was against England in September 2011 and his ODI debut was against Australia in 2012. After Darren Sammy, he is the second cricketer hailing from St. Lucia to procure a place in the West Indies team squad.
He was selected for 2012 Twenty20 after showcasing himself as a muscular opener who loved swatting the ball square on both sides of the wicket. He opened the third match with Chris Gayle and scored 84 to lead his group to win over England. It was also his highest score so far in any format of the game. On few occasions, Charles has filled in the role of a wicketkeeper as well.
He was part of the 2016 West Indies' T20 World Cup winning team as well. Charles dazzled all with his power-hitting when he hit 52 off 36 balls against India and helped West Indies win the World T20 semi-final in Mumbai in 2016.Once the team won that title, St Lucia Prime Minister Kenny Anthony announced of having a grandstand at Beausejour Stadium (renamed recently as Darren Sammy National Cricket Stadium) named after Charles.
Johnson's biggest challenge is consistency. He only showcases his brilliance occasionally like his knock of 84 against England in Pallekele in 2012 or his 57 runs against Australia in 2013 in Brisbane. His knock against Australia was instrumental in West Indies recording their first win after 16 years over Australia in any format. His first ODI century was also registered in that series. If he finds his rhythm, he will be a batsman to
watch out for!
Jason Holder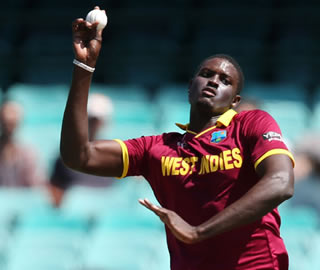 With his steep bounce, Jason Holder, the Barbadian young and dynamic cricketer adds that extra edge and dimension to the West Indies team. His ODI debut was against Australia in January 2013 and within a year, he became its captain. Immediately after his debut, he became a part of the Chennai Super Kings Team of the Indian Premier League. At a mere age of 23, Jason is the youngest ever West Indian captain. The following year, he became the Test team captain as well, impressing all with his remarkable levelheadedness and maturity.
This 1991 born cricketer has established himself as a reliable batsman and a steady medium-pacer. For his outstanding play in the U-19 category, Jason received the prestigious Lord Gavron Award in 2009. He managed to lead his team to the quarterfinals of the 2015 Cricket World Cup. Compared to yesteryear, West Indian pacers, he is not express but his ability to hit the deck hard with an extra bounce makes him a real threat to any batsmen. His consistency as a middle order batsman is well established. He is mostly seen in the limited over formats today as an all-rounder despite him making a Test Match debut in 2014 against New Zealand in Barbados.
His first shot to fame came in the ODI against Pakistan with his bowling figures of 4-13 in 10 over during the Pakistan tour of 2013. He had scored his maiden Test century against England on April 17, 2015. In 2016, he was a part of the Kolkata Knight Riders team of the IPL. With plenty of cricket ahead of him, he is sure to go places.
Kieron Pollard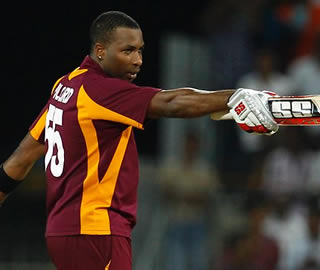 A Trinidadian aggressive all-rounder, Kieron Pollard has proved himself as a deadly Twenty20 beast. A big hitter of the ball; a frustrating medium-fast pace bowler for many and a deadly fielder with some spectacular catches against his name; he is a treat to watch and an opponent to fear. Additionally, he carries the Caribbean flair and swagger and infuses life to the dullest of moments.
Born on May 12, 1987, Pollard represented Trinidad and Tobago in the 2005 TCL Group West Indies Under-19 Challenge. His performance there made him a part of the West Indies team in the Under-19 World Cup in 2006. However, his recognition came during the Stanford T20 tournament in the same year when he made a scintillating 83 for Trinidad and Tobago. In his First-Class debut match, he made a smashing 71 off 126 balls. His impressive performances got him selected for the 2007 World Cup squad and his international debut.
His next dazzler came in 2009 when he scored 54 off just 18 balls for his Trinidad team against New South Wales. Because of this knock, he was picked up by the Mumbai Indians team in the Indian Premier League (IPL).This created quite a stir as he was the joint highest paid player in that series. With his consistent performance in the 20 over format, he opted out of the West Indies team and even refused a contract with the WICB. He established himself as an ace player in that format and played matches in Australia, Bangladesh and England.
In June 2016, he returned to international cricket and exhibited better defensive technique as well as stomach for a fight. From a score of 21 for 4 against South Africa, he led his team to a match-winning score of 285. Undoubtedly, he is going to shine here as well.