Thalaivi Trailer Released
The trailer of the much discussed Jayalalitha biopic Thalaivi was released on March 23, 2021. The film is directed by Vijay and it will be released mid-April of 2021. The film also casts Arvind Swamy, the famous Tamil and Hindi star of Roja and Bombay fame as MGR. The film is made in three languages: Hindi, Tamil and Telugu. The cast and crew include producers Vishnu Vardhan Induri and Shaailesh R Singh, music director Ankit Balhara, Sanchit Balhara and G.V. Prakash Kumar and actors Samuthirakani, Prakash Raj, Bhagyashree, Raj Arjun, Niloy Rashid Jaki, Thambi Ramaiah.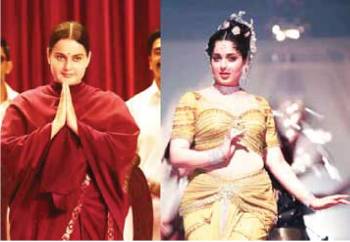 Thalaivi portrays the rise of Jayalalitha as a star, her relation with mentor MGR and subsequently her entry into politics and becoming the chief minister of Tamil Nadu. The film's release date was on the birthday of the lead actress Kangana Ranaut and it was truly her day as the trailer got a positive response from viewers. Social media pages were flooded with praises for the Queen actress Kangana.
In Tamil, thalaivi means leader, and the film is all about the life, struggles and success of a tremendous leader, Jayalalitha, fondly known as 'Amma' in Tamil Nadu. From the acting prowess of Kangana Ranaut, movie buffs are expecting a path breaking performance from her.
Click Here for More Bollywood News
thalaivi
thalaivi trailer
thalaivi trailer release date
thalaivi release date
thalaivi movie
Kangana Ranaut in thalaivi
thalaivi director
thalaivi meaning
thalaivi ArvindSwamy
thalaivi cast and crew