The 2012 Pravasi Bharatiya Divas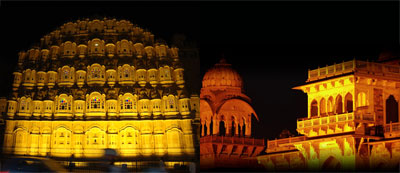 The Pravasi Bharatiya Divas began with the start it deserved on January 7, 2012. Jaipur, the vibrantly colorful city of Rajasthan, played host to this year's event, and the backdrop could not have been more memorable. This three-day convention was an energizing affair that outlined what Indians living overseas have done and can do for their country of origin. The event also celebrated patriotism at a very different and unique level. With almost 1,500 delegates from 54 countries participating in the award function, brainstorming sessions and the added revelry, the 10th Pravasi Bharatiya Divas was a wonderful reminder of how easy it is for borders and boundaries to fade when the love for one's country is pure and strong. Now in its tenth year, the event highlights how important the Pravasi Bharatiya Divas is to the Indian community. Continually standing the test of time and changing governments, this event is recognized for being an earnest effort to thank non-resident Indians for their achievements and contributions.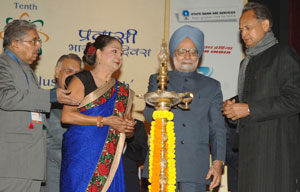 The 2012 Event
Prime Minister Dr. Mammohan Singh delivered the inaugural address. In his address to the delegates, a motley group of leading businessmen, young entrepreneurs, industry magnates and top government officials, Dr. Singh introduced the theme of this year's event – Global Indian: Inclusive Growth. He also announced a new pension and insurance scheme for skilled and unskilled migrant workers. What made this year's event even more special was its Chief Guest, the Prime Minister of Trinidad and Tobago Kamla Persad Bissessar, a woman of Indian origin. In his inaugural speech, Dr. Singh highlighted how much India as a country lauds what its non-residents do – "The government and people of India recognize and greatly value the important role being played by Indian communities living abroad. We believe that the Indian diaspora has much more to contribute to the building of modern India. We propose to facilitate, encourage and promote this engagement. Over the past year we have taken a number of steps towards this end."
In addition to the Prime Minister's participation, several other government officials addressed the convention. Vayalar Ravi, the Overseas Indian Affairs Minister, said the event's focus in the future should be to create opportunities for younger generations of Persons of Indian Origin to understand India better so that the healthy connect between India and its non-residents is maintained for years to come. The Finance Minister Pranab Mukherjee spoke about growth prospects and plans and investments opportunities that exist or can be created. Besides these union ministers, chief ministers from ten different states added their valuable insights. The grand finale on January 9 saw the President of India Pratibha Patil call the event a close.
During the event, the state of Rajasthan hosted a series of cultural programs that were a huge draw for the delegates, some of whom were visiting this State and India for the first time. As usual, the programs demonstrated India's cultural wealth and prowess in hospitality.
Awards Galore
This year's line-up for the Praviasi Bharatiya Samman awards included, as always, dignitaries from around the world who have contributed to enhancing India's image globally and have played a significant role in domicile projects and ventures. Typically, the Pravasi Bharatiya Samman awards are conferred on people who:
Support India's causes and concerns in a tangible and measurable way
Attempt to build a stronger link between India and the Indian community abroad or between India and their country of residence
Take up or actively support social or humanitarian causes either in India or anywhere overseas Take on the welfare of the Indian community living overseas Gain eminence in their field which in turn enhances India's image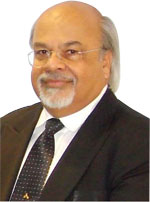 Kiran Asher, founding partner and group managing director of Al Ansari Group, one such individual to make it to the list. He is also in the race for the Samman award. If Mr. Asher wins the honor, he will be the fifth Omani to be the proud owner of this coveted award. Asher is a dynamic personality, highlighted by the number of posts and positions he holds or has held. He is a member of several Indian associations in Oman some of which include Indian Social Club, Indian Merchants' community, India Economy Forum and Indian Schools Oman. In fact, he was the chairman of the Board of Directors of Indian Schools in Oman. In addition, he is an enthusiast when it comes to managing temples in Oman. The highlight is his involvement in a number of Indian nongovernmental organizations (NGOs).
Meanwhile, a few luminaries who took home awards are New Zealand's Governor General Sir Anand Satyanand. Satyanand has the distinction of being the first person of Indian origin to hold this position. He is also New Zealand's first Roman Catholic Governor-General. Other prominent figures to earn honors are Ashook Kumar Ramsaran from Guyana and Rajiv Shah from the United States.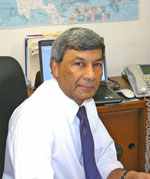 Ashook Kumar Ramsaran
As the CEO of an electronics manufacturing enterprise, Ashook Kumar Ramsaran may not appear to be a typical award winner. Although his connection to India is somewhat indirect (he is a fourth generation Indian from Guyana), his support for human right causes in India has been tangible and noteworthy. Conferred the 'Outstanding Immigrant' title by New York City Council, Ramsaran is a champion of the needy. He has written extensively on various issues affecting people of Indian origin and has in fact initiated and chaired the very first 'Tracing Our Roots' session at the Pravasi Baharatiya event held in 2007.
Ashook was almost forced to leave school at the age of six, but it was his determination that got him back to schooling. He would work in his father's fields and under the pretext of stopping to eat lunch, he would sneak away to attend school. His uncle observed his determination and requested his father to allow him to attend school. To date, Ashook thanks his uncle for that timely intervention. There was of course no looking back when he was awarded the scholarship to attend high school. On realizing his passion for further studies, Ashook decided to move out of Guyana for further studies and completed BSEE and MSEE degrees in the United States. Meanwhile, he added to his family strength, got married, and had two sons.
Although Ashook was tempted with settling down in a high-paying job and raising him family in the United States, he had certain aspirations for Guyana. Today he hopes that the Indo-Caribbean and Caribbean communities become more progressive and established. He believes that his contribution in raising grass root level awareness and developing organizations can help address a few of those issues and have a positive impact on these communities.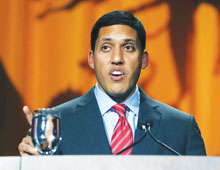 Rajiv Shah
An Indian American, Rajiv Shah is the Administrator of the United States Agency for International Development (USAID). Rajiv is particularly proud of his contributions in helping the quake victims in Haiti and the flood victims in Pakistan.
Before being appointed to USAID, Rajiv worked in a myriad of leadership roles, including one at the Bill & Melinda Gates Foundation. He was also the manager of a 1.5 billion dollar commitment to a vaccine fund. In addition, he suggested the idea for setting up the International Finance Facility for Immunization. This would ensure a better system for vaccine financing across the globe. Shah was also the health care policy adviser during the Al Gore presidential campaign. Obama too appointed Shah the Under Scretary of Agriculture for Research,
Education and Economics and Chief Scientists in 2009. Shah doggedly pursued the idea of developing countries supporting small farmers and their families make more than a living from farming. These efforts led to the establishment of the Alliance for a Green Revolution in Africa. Today, he is a recognized vocal champion of causes related to food and hunger. Had it not been for his initiatives and efforts, a handful of World Bank and UN-sponsored food projects would not have seen the light of the day.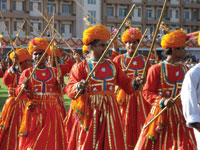 Strong Connections
As this year's Pravasi Bharatiya Divas came to a close, it was clear that while non-resident Indians around the world are engaged in efforts to build connections and strengthen ties between the native land and the one in which they reside. The fact that they do so n a significant and meaningful manner is what highlights even the smallest of their efforts.