The AHC Selects Mayur Sharma, MD, for Best in Medicine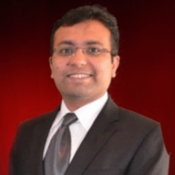 The Cleveland Clinic in Ohio is home to the expert care of Dr. Mayur Sharma, where he specializes in Neurological Surgery and Oncology, including Gamma Knife Radiosurgery. As an esteemed acknowledgment of The American Health Council, Dr. Sharma offers 7 years of experience and additional services to the community in Healthcare, Medicine, and Patient Care.
Dr. Sharma holds an MD, MS, as well as an MCh from Seth G.S. Medical College, with Clinical and Research Fellowships from Cleveland Clinic, Ohio State and LSUHSC-Shreveport.
Dr. Sharma, a Clinical Fellow in Neurosurgical Oncology, partakes in day to day advanced training for residents and medical students, brain surgery, and specialized brain tumor and spinal procedures. While attending medical school in India, Dr. Sharma participated in brain tumor surgeries, drawing him to an interest and pursuit in neurosurgery. In 2011, he was rewarded a scholarship on behalf of Germany's B-Braun Medical Trust Foundation, as well as securing the first position in Masters Surgery with the Dr. A.V. Balinga Award. Dr. Sharma prides himself on being in association with the Educational Commission for Foreign Medical Graduates, has published multiple articles in high impact medical journals, and has lectured students regarding his research outcomes. Among his successes, Dr. Sharma is also certified in Gamma Knife Radiosurgery and has published numerous articles in his field and has lectured on his research outcomes.
Personal awards and honors of Dr. Sharma include an Honors M.S. in General Surgery examinations from Mumbai, the JRD Ratan Tata Trust Scholarship, and a Certificate of Merit as a top 0.1% of All India Secondary School. Dr. Sharma is also a member of numerous professional associations, including The American College of Surgeons.
Within the next 5 years, Dr. Sharma hopes to move to the University of Louisville to work with spinal tumors and degenerative spinal surgery, and to practice as an academic neurosurgeon. Dr. Sharma also contributes to charitable causes within his field, and enjoys playing tennis and road trips during his spare time.