The Asian American Store Owners Association
The Asian American Store Owners Association (AASOA) is quickly growing. Founded in 2009 by Kantilal Bhalani, over 900 store owners throughout Florida have become members establishing a strong voice for the region. Membership is free and benefits include discounted prices, exposure to new services and products at the annual tradeshow, networking, and educational opportunities for members. Vipul Patel, Executive Director states "during these tough economic times it is important for store owners to work together to help each other cut costs, increase sales and remain financially sound."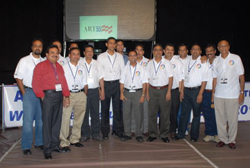 AASOA programs are carefully evaluated to develop strong relationships with suppliers, provide the best work atmosphere for employees, benefits for victims of store violence through scholarships and aid to families. We do that by offering opportunities to suppliers and vendors to showcase their product or service directly to the store owner at meetings, participating in the annual tradeshow and creating buying power that benefits both the vendor and the store owner.
In addition, members of AASOA understand the importance of community involvement and through their charitable efforts they have provided health fairs to benefit the community.
The second annual tradeshow in September 2010 was a huge success. It was soon discovered that there is a growing need for networking, and we are working hard to bring increased opportunities for vendors to showcase their products and services to AASOA members. Kantilal Bhalani recently stated that "creating a network that can benefit both store owners and vendors is essential to doing business in today's economy".
The 2011 Tradeshow plans are well underway and promise a rewarding experience for all who attend. The date for the 2011 Tradeshow will be announced soon.
Vipul Patel, Executive director invites store owners interested in becoming a member or opening an AASOA Chapter, and vendors interested in sponsoring a meeting of store owners or becoming a part of our buying power program to call him at 321-271-7072, or visit www.aasoa.com.
Be a Part of Something BIG! and join AASOA today!