The Biocon Bible
The progressive, driven and enterprising Kiran Mazumdar,
is almost everything one would look for in a woman of her caliber.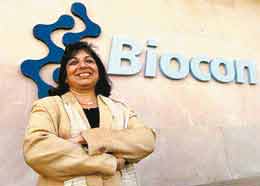 With a decent academic history from the Bishop Cot ton Girls School and then the Mount Carmel College, she then went on to Ballarat College, Melbourne, specializing in Malting and Brewing Technology there to become India's first woman Brew master.
The now 51 year old, set up a little operation in 1978 to extract an enzyme from papayas in her garage in a leafy neighborhood of Bangalore, few at that time in India had ever heard of biotechnology. Her ambition was to build a world-class institution using India's own scientific talent. Today she heads the leading biotech firm in India, Biocon, a company that has evolved from a maker of enzymes to a major pharmaceutical enterprise producing everything from insulin to antibodies, with annual revenues of $122 million.
She collaborated with an Irish firm to start of Biocon and floated 2 joint ventures, Biochemizyme and Biocon-Quest India Ltd. With her commitment to individual enterprise, she has held positions in industry councils, including Vice-President, Association of Women Entrepreneurs of Karnataka (AWAKE). Rightly, she was awarded Rotary Award for Best Model Employer, National Award for Best Small Industry, and most note worthily, the Padmashri in 1989 from the Government of India.
A more prestigious assignment came her way, after the S.M. Krishna government came to power, which was that of a Chairperson of the Vision Group on Biotechnology to draw up the State's Biotech Policy. The policy was announced recently, just before the "Bio.Com" and is the first ever such policy in the country with farsighted provisions and help to the industry. It is only after Karnataka announced its policy that Hyderabad did so.
Kiran is very upfront about responding the way Biocon happened to India. Kiran said she got the huge inspiration from "A chance meeting with the founder of Biocon International, Leslie Auchincloss marked the start of Biocon India. I had dreamt of doing many things but never of starting a company of my own," she admits.
However it was not a silk route. Banks and financial institutions had never heard of biotechnology back then and shied away from her proposals. And being the so called weaker sex did not make her quest facile.
This was also the problem when she started recruiting, because people were cagey of working for a woman. But it did not take long for Kiran to dispel those myths. Ask her today whether things have changed, and she will probably roll out statistics of the number of people working for her and remark with a twinkle in her luminous eyes.
Ever since Biocon became the exhortation in the market for the emerging field of biotechnology, Kiran has been a much-quoted personality. But she will always tells you that her belief in the field, a magnificent team of people who shared her passion for the subject, determination and urge to succeed have all contributed to Biocon's reputation as the leader in the field
Kiran is never the one to be satisfied with what she is doing or started. New things ignite her imagination and she craves to do something different. It was this same yearning, which probably saw her researching, and publishing a book.
Even though the book bespeaks of her field of expertise, she says that the collaboration, she says, proved to be very fruitful. Her first coffee table book  "Ale and Arty" was released a few months ago. It is all about brewing beer and is juxtapose with paintings by some of India's best artists.
Finding place in the book are some of the famous brewing families in the world along with beer firms in the country. Artists who have worked for it include S G Vasudev, Yusuf Arakkal, Anuradha Nalapat, TM Aziz, Gurudas Shenoy, cartoonist Ponnappa and, Jatin Das.
Besides being lauded for the obvious there is another face of Kiran, which many Bangaloreans are familiar with, though it has been less visible of late. And that is her passion for Bangalore. She has actively campaigned and raised her voice for things, which she felt were need – civic amenities, roads, cleanliness etc.
She was the core member of a group of Bangaloreans who used to meet regularly to discuss the problems ailing the city, which included among others former Chief Secretary T.P. Issar and former Union Minister Ramakrishna Hegde. Due to her commitments and added responsibilities, she appears to have discontinued these meetings.
But her commitment is solid nevertheless. She was among the first to hail the Bangalore Agenda Task Force (BATF) initiative and added her mite to it by contributing Rupees One Crore. Her donations went towards starting the Swachcha Bangalore programme of door-to-door collection of garbage.
Coming back to the bigger picture, the ace entrepreneur has mammoth ideas planned up, which is a vision to grow into a global bio-therapeutics company with very innovative and proprietary products and technologies. She hopes to discover a few new drug molecules in three-four years through a new in-house initiative.
Mazumdar-Shaw, whose firm was singled out as a World Economic Forum Tech Pioneer in 2001, aims to make Biocon one of the world's top-five biotech companies in the not-too-distant future.