The Kashmir Files Releasing in Israel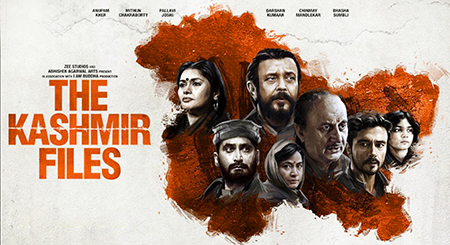 The Kashmir Files, the blockbuster movie directed by Vivek Agnihotri, was recently released in Israel. After reigning at the Indian box office, the much-talked-about film became available to the public in Israel on April 28, 2022. Kobbi Shoshani, the Consul General of Israel, released the Israeli posters of the film at the studio of the director on April 20, 2022. Agnihotri, along with his wife, actress Pallavi Joshi, were present at the studio. Joshi is a member of the cast of The Kashmir Files as well as one of the producers of the film. It was indeed a moment of pride and joy for both of them along with all the members of the film and the viewers.
The director expressed his gratitude to Consul General Kobbi Shoshani for coming to his studio and presenting the posters in advance of the film's release. According to him, the release of The Kashmir Files in Israel is a moment of pride and honor and a great step towards fighting terrorism and upholding humanity, priorities to which both India and Israel are dedicated. He extended best wishes to everyone.
Shoshani offered high praise for the film. He said that it is one of the most important films he has ever seen. Expressing his conviction in the success of the film in Israel, he mentioned the significance of combating terrorism, hatred, and discrimination, along with stressing the universal importance of humanity.
The Kashmir Files, a film based on the oppression of the Kashmiri Hindu Pandits in the 90s, has been a tremendous success in India with a collection of more than 2500 INR. It has been released in the USA, Canada, and many European countries.