Editorial May 2022
Dear Reader

Let me take this opportunity to wish all our Muslim readers a Happy Ramadan. May this divine month bring you and your family together, multiply your happiness, and fill your life with peace and grace.

Let me also congratulate our readers from Pakistan on getting a new prime minister after weeks of political turmoil. Imran Khan, a famous former cricketer-turned-politician and eventually elected as Prime minister of Pakistan, was overthrown.  Because of his arrogance in dealing with the economic problems and handling of foreign policy in a similar fashion, Khan became Pakistan's first prime minister and was removed from office by a vote of no confidence. The parliament members elected new Prime Minister Shehbaz Sharif, younger brother of former three-time Prime Minister Nawaz Sharif. Nawaz Sharif was removed from office and was sentenced to 10 years in prison. Political instability and turmoil have hindered the progress of Pakistan ever since she got her independence.  It is very disturbing if you look at the history of the Pakistan government. After 23 years of independence, in 1970, the first general election was held. There have been 19 prime ministers since independence, three governments were overthrown by military coups (1958,1977 and 1999), and the military has ruled the country for 32 years.  No prime minister has ever completed his or her term in office. I sympathize with the people of Pakistan that they have not been able to make their mark on the world map because of this turmoil.

Now let me talk about recently published reports from the United States Commission on International Religious Freedom (USCIRF), where they have labeled India as a "Country of Particular Concern (CPC)" and clubbed India with known terrorist countries like China and North Korea. USCIRF, under the influence of foreign-based organizations, labeled India as a "Country of Particular Concern" even before the PM Modi government. In this issue, Dr. Ramesh Rao, a Professor of Communications Studies at Columbus State University in Columbus, Georgia, has written a detailed article on the USCIRF report and its bias toward India. In this year's report once again, they talk about the CAA, NRC, Article 370, and Article 35A. Desh-Videsh has published a few articles on these topics before. For some of you who may have missed our publications in the past, we are explaining these topics in brief in this issue again.

In the last issue of Desh-Videsh, we talked about India's foreign policy in the midst of the Russia – Ukraine crisis. In the article, we talked about the 1971 war between India and Pakistan, where the US sent its 7th Fleet to the Bay of Bengal. In this issue, we are publishing a review of a book by Dr. Nuran Nabi titled The Role of Nixon-Kissinger in the 1971 War. Dr. Nabi was a freedom fighter from his country Bangladesh. He is now living in NJ, USA, and has first-hand, detailed information about the war and how the Pakistan army raped Bangladeshi women and created atrocity toward the people of Bangladesh. After 50+ years, I can still feel the pain in Dr. Nabi's voice.

In this issue, it is our pleasure to share some good news-bad news about Sonal Shah. She was just selected as a member of the Homeland Security Advisory Council. Shah has been in the forefront of several NGOs and presidential campaign advisory committees as well as president transition committees. That is good news! Now comes the bad news. Anti-India, anti-Hindu organizations that are lobbying against India to USCIRF are also lobbying to remove Shah from this position. The same organizations and the same people opposed Shah's appointment in President Obama's administration and the same people opposed Amit Jani when President Biden's administration tried appointing him. For reference, we have listed these organizations in this issue.

As we talked about in the last issue, this year BAPS organizations are celebrating the 100th birth anniversary of Pramukh Swami Maharaj. On behalf of the entire Desh-Videsh team, I want to congratulate the BAPS members. As a commitment to BAPS to publish one article every month, it is our pleasure to include in this issue, "Immortal Gurus: Selfless Love as Spiritual Relevance."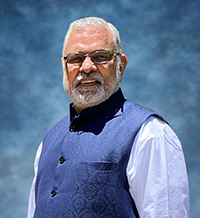 Let me end my column by reminding you about the Myshadi Bridal Show. As you may have seen in our email, the Fort Lauderdale shows have been postponed because the Bonaventure Hotel is closing for renovation. We will announce a new date and venue very soon.
Meanwhile, do not forget to check out our show in Orlando on May 15, 2022, at Hilton Orlando. After two years of being shut down, we have a record number of brides registering for this show. Do not forget to register or attend the show. See you in Orlando!!
Until then.. Be Safe and Be Healthy!!
Managing Editor
Desh-Videsh Media Group