THE LEGENDARY AMIT KUMAR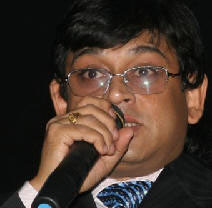 Amit Kumar's name needs no introduction. Amit comes from a family with a rich music and acting background. The elder son of Kishore Kumar, Amit also carries a legacy from his mother, who is noted Bengali actress and singer Ruma Guha Thakurata. And then, who is not aware of Amit's well-known uncles, Ashok Kumar and Anup Kumar, veteran actors and celebrities in their own rights.Hailing from such a family, it was pretty obvious that young Amit would take to singing just as a swan takes to the water. Born on July 3, 1952, Amit was singing and acting in his father's films while kids his age were still learning the ways of the world. He gained much experience by watching the antics of his hugely successful comedian father, the one and only Kishore Kumar. Acting in his father's films and singing along with him on stage gave Amit a sense of confidence found in few of his peers.
In the early 1970s, Amit began his signing career at local stage shows in Kolkata without the knowledge of his parents. Incidentally, Amit's foray into Hindi film music was hastened only after Kishore Kumar came to know about his son's singing prowess in these shows. In fact, Amit's first Hindi song was "Main Ek Panchhi Matwala Re" from the film Door Ka Rahi (1971), but his father deleted the song and the sequence from the film. Amit got his next opportunity to sing for Swapan-Jagmohan in Darwazaa; for Salil Chowdhury in Zindegi Ek Zua; for Madan Mohan in Chalbaaz with Asha Bhosle, but unfortunately all these films got shelved. Actual success for Amit eventually came in 1973 while singing "Bade Acche Lagte Hai" for Balika Badhu, directed and produced by Shakti Samanth. The film's music was composed by R.D. Burman.
During the later half of the 1970s, Amit's progress was relatively slow as his contemporaries included legendary singers like Mohmed Rafi, Mukesh, Manna Dey, and even daddy Kishore. However, despite this Amit was able to deliver some memorable and super hit numbers like 'Aji Suniye Zaraa Rukiye' (Parvarish), 'Aati Rahengi Baharen' (Kasme Vaade), 'Nazar Lage Na Sathiyon' (Des Pardes), 'Dekh Mausam Keh Raha Hai' (Duniya Meri Jeb Main); 'Uthe Sab Ke Kadam' and 'Na Bole Tum Na Maine Kuch' (Baton Baton Mein).
The eighties brought untouched heights for Amit Kumar, as he entered the big league of playback singers while the seniors began to fade away. He set himself to work vigorously with Hindi songs like "Laila O Laila" (Qurbaani), followed by "Ka Janu Mein Sajania" (Hum Paanch). Then came the maestro R. D. Burman, who gave Amit his major breakthrough in the movie Love Story, which included super hit songs like "Yaad Aa Rahi Hai," "Yeh Ladki Zara Si," and "Dekho Meine Dekha." His soothing numbers in this film earned him the Filmfare Award in 1981. After that he did not have to look back, and he continued giving us hit numbers like "Yeh Zameen Ga Rahi Hai," "Janeman Jane Jigar," "Ja Jaldi Bhaag Ja," "Tu Rootha To Mein Ro Dungi," "Tu Mauj Mein Hoon Kinara," "Dil Ke Asmaan Pe," "Roz Roz Ankhon Tale," "Rama O Rama," "Oye Oye," "Ek Do Teen," and "Kehdo Ke Tum" among many others. The enchanting eighties were indeed the peak of Amit's career, during which he sang for each and every prominent music composer including R. D. Burman, Rajesh Roshan, Laxmikant-Pyarelal, Kalyanji-Anandji, Bappi Lahiri, O. P. Nayyar, Usha Khanna, and many others.
The death of Kishore Kjumar in 1987 made several music directors rush to Amit to sing Kishore-style songs, but being the individualist Amit has been, he decided not to opt for them and he continued to sing in his signature style. The 1990s were a mixed decade for him. While he delivered some popular hits under new age music directors like Anand-Miland, Viju Shah, Jatin-Lalit and others, he went through the leanest phase of his career and was not appreciated according to his potential. Perhaps, it was due to his destiny.
It was around the beginning of the new millennium that Amit staged a comeback of sorts and cut some private albums including 'Mad,' 'Dam Dama Dam,' and 'Pyar To Bus Pyar Hai' that displayed the various facets of his singing ability. During this time, Amit delivered chartbusters for films that included Dillagi, Kranti, Kabhi Khushi Kabhi Gham, Raju Chacha, Page 3, Jhankar Beats, Fight Club, Apna Sapna Money Money, and Dhamaal.
Amit Kumar is also equally popular in the Bengali music industry where he has been singing a variety of songs for films as well as private albums for the past three decades. Amit is also deeply involved in stage shows all over the world, sometimes with legends like Asha Bhonsle and sometimes with his own half-brother Sumeet Kumar, who sings his father's songs as well as his own numbers before awestruck global audiences.
Of late, Amit is again in news for being a celebrity judge in the music reality show, 'K for Kishore,' which has been on air since December 21, 2007. The program is supposed to determine the best singer among a pool of 12 professional and seasoned singers who most resemble the singing style of the eternal singing icon, Kishore Kumar. The show features popular judges and music directors, among whom Amit Kumar is the obvious cynosure. Who else can better judge and discover the contestant who sings almost like his guru and his father, Kishore Kumar.
Amit displays his extreme simplicity and lucidity in spite of his extraordinary attainments, which makes him stand out among all other singers of this generation. With due recognition to Amit's sterling singing qualities that act as a miracle arousing the capacity in him to impress and overwhelm us with his music, he is his own original self. Not only as a singer or an eminent stage personality or a television judge, but Amit Kumar also scores high as a loving husband, doting father, and caring brother. Most importantly, he is a loving son who has given his everything to carry on the legacy passed on to him by his legendary father.