The Ramayana in Indian Painting: Exhibition at Emory University Carlos Museum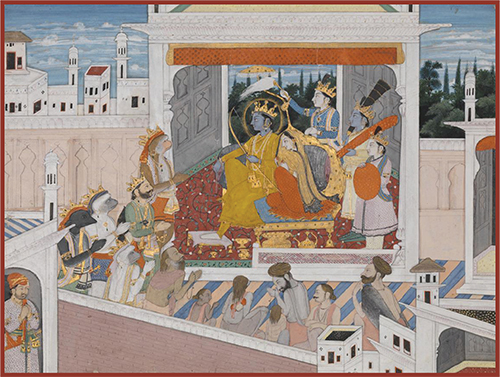 The Ramayana in Indian Painting:

Exhibition at Emory University Carlos Museum
The "Tell the Whole Story from Beginning to End" – The Ramayana in Indian Painting exhibition launched on January 13, 2018 at the Michael C. Carlos Museum of Emory University (Carlos Museum) and will continue until May 20, 2018.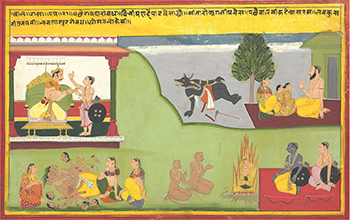 Claimed to be the first-of-its kind, the exhibition was curated, organized and researched exclusively by Emory students in the class The Art of an Hindu Epic, taught by professors Ellen Gough and Marko Geslani from Emory's Department of Religion.
The Ramayana is the most celebrated epic poem in India. It tells the journey of prince Rama, from his banishment from the kingdom of Ayodhya, to his triumphant return. Denied the throne on the eve of his coronation, Rama finds himself exiled to the forest for 14 years, accompanied by his devoted wife and brother, Sita and Lakshmana. After Sita is abducted by Ravana, the demon king of Lanka, Rama wages war to ensure her rescue, aided by his faithful friend Hanuman and armies of monkey and bears.
It tells a sweeping and heroic tale of the exiled Prince Rama, who struggles to rescue his wife, kidnapped by a demon, and his triumphant victory. Beyond a mere story, it presents Hindu teachings that continue to influence life and culture.
The earliest version of the Ramayana, attributed to the sage Vālmīki, was composed in almost 24,000 Sanskrit verses over 5000 years back. Rama is the 7th incarnation of Vishnu and the embodiment of righteousness, and the ideals of man are beautifully portrayed in this epic poem.
"Tell the whole story, from beginning to end!" exclaims Sita in desperation to the vulture Jatayu as Ravana carries her away from Rama. "Tell Rama and Laksmana just how I was carried off!" The paintings in this exhibition demonstrate some of the diverse, often conflicting, ways in which artists have, for centuries, attempted to heed Sita's plea.
The paintings in this exhibit date between the seventeenth and nineteenth centuries and, for the most part, were created by master painters in the courts of the Rajput kingdoms of Northwest India.
The paintings in this exhibition are reportedly dated between the 17th and 19th centuries, including "The Coronation of Rama" (1840). Students included Darby Caso, Parth Goyal, Kristin Kimberlain, Saayli Kokitkar, Marshall Kupka-Moore, Elizabeth Muse, Thomas Shen, Tarun Swaminathan; most of whom had little background in art history.