Two Indian-American Scientists Receive Top US Scientific Honor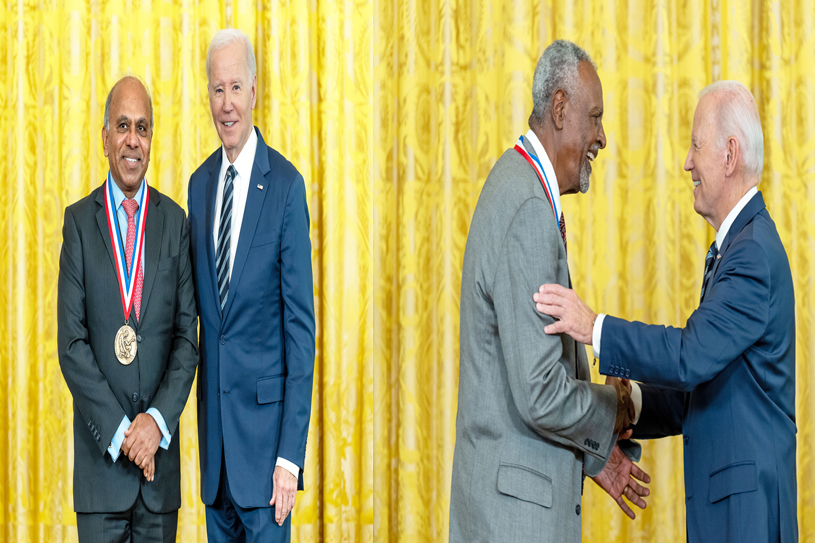 At the White House, US President Joe Biden presented the National Medal of Technology and Innovation to two distinguished Indian American scientists. Ashok Gadgil and Subra Suresh received these prestigious awards during the ceremony, where President Biden also recognized leading American scientists, technologists, and innovators.
The event celebrated scientists whose groundbreaking discoveries have facilitated life-saving medical treatments, contributed to the fight against the opioid epidemic, enhanced food security, and advanced accessibility, among other critical achievements.
The White House issued a statement announcing that President Biden will be honoring a group of American individuals for their outstanding contributions in the fields of science, technology, and innovation, which have had a positive impact on the nation's welfare.
The National Medal of Science, the nation's highest scientific honor, was established by the US Congress in 1959 and is overseen by the US National Science Foundation. It is bestowed by the President of the United States upon individuals who have made exceptional contributions in various fields, including biology, social, behavioral, and economic sciences, computer sciences, education sciences, engineering, geosciences, mathematical, and physical sciences, in service to the nation.
The statement emphasized that recipients of these awards exemplify the promise of America by pushing the boundaries of what is achievable. According to the official statement, these pioneers harnessed the power of science and technology to address challenging issues and provide innovative solutions that benefit Americans and communities worldwide.
The accomplishments of these awardees have significantly advanced American leadership in the fields of science, technology, and innovation, and their work serves as inspiration for the next generation of American intellects.