Upcoming Web Series: Bard of Blood

Upcoming Web Series: Bard of Blood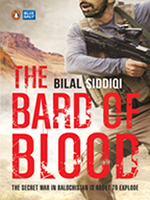 Actor Emraan Hashmi will be starring in the upcoming web series Bard of Blood. His first appearance in a web series, Hashmi plays the protagonist, Kabir Anand, a professor teaching Shakespeare's works in Panchgani; hence, the Bard of the series title. The series, which is based on a book The Bard of Blood by Bilal Siddiqui, is being produced in collaboration with Shah Rukh Khan's production company Red Chillies Entertainment and Netflix.
There will be eight episodes in the series, and the story is about political espionage and intrigues, set amidst the tumultuous events in Balochistan. The series is described as "multilingual," which, in all likelihood, means that when our Indian hero encounters people in Balochistan, they are going to be speaking in Balochi, not Hindi, and we will be expected to read subtitles to understand what they are saying.
So, a web series that is not only going to thrill you with some action adventure in a beautiful, snow-covered land, it is also going to force you to read. And you could even graduate from reading subtitles to reading not just Shakespeare, but also Kalidas. Anything is possible. Things are looking up, deshwasiyon!
Posted on: 11-2-2018 by: Deshvidesh