Never-Ending Love Story: Dastaan-E-Mohabbat Salim Anarkali

Never-Ending Love Story: Dastaan-E-Mohabbat Salim Anarkali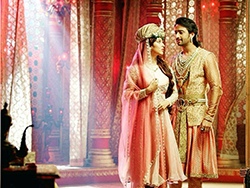 Here we go again, yet another take on the famous love story between Salim, the future Emperor Jehangir, and Anarkali. Anirudh Pathak's new television series Dastaan-E- Mohabbat Salim Anarkali for Colors is taking the long-winded route to romance through the protagonists' childhoods.
Sharif-un-Nissa, yet to be named Anarkali, first meets Salim in Afghanistan and it is an eventful time as they first fend off Turkish attackers and then she saves him from an assassin. As a result, she and her aunt are accepted in the Mughal household, and we all know how it is going to go from here onward. That is, not really, as we can't root for a happy-ever-after ending, but we can look forward to being mightily entertained before we are asked to weep.
This is the fun part about long historical dramas that have no real historical basis. The TV show writers get the opportunity to explore the characters in depth and put them through all kinds of imaginative situations to keep the show going. Harem antics and skulduggery are not new in the Mughal historic genres, but turning Jodha Bai into a sword-wielding warrior woman is perhaps a first.
Posted on: 11-2-2018 by: Deshvidesh