Class of 2017 Valedictorians and salutatorians

Aditya Patel – Valedictorian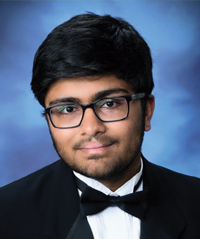 School: South Cobb High School
GPA: 4.656
College: Georgia Institute of Technology
Parents: Soham and Puloma Patel

Academic Awards: Georgia Certificate of Merit, Outstanding Math Student Award for Statistics, Top 10 for all 4 Years, AP Scholar with Distinction.

Extracurricular: Secretary and Co-Media Captain for Robotics, Parliamentarian for National Honors Society, Part of Volunteer Committee for Health Occupation Students of America, Assistant Volunteer Chairperson and Parliamentarian for Humanitarian Club, and participant in Beta Club.

What job/position do you plan to pursue and why? I plan to pursue an occupation as a pediatric oncologist. I chose this occupation because my family, and other people around the world, have suffered through this insufferable and unfair disease, and I feel as though, even if small, any progress I make is one step further to finding a cure.

What is your favorite quote? "For one who sees Me everywhere and sees everything in Me, I am never lost, nor is he ever lost to Me." Gita 6.30

Which issue (global or local) is close to your heart, and why? An issue that is close to my heart is the lack of attention and investment for sustainable sources of energy because in near future, our oil supplies globally will become depleted. We need to begin investing in energy-sustainable energy sources.

What is your little-known talent ? I play the flute and the piccolo.
Anisa Vashi – Valedictorian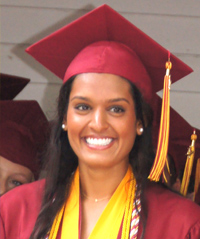 School: Episcopal School of Jacksonville
GPA: 4.40
College: Yale University
Parents: Apoorva and Shefali Vashi

Academic Awards: Award of Merit, Honors In English Plaque, Jax Sports Award of Excellence for Athlete-Scholars, Student of the Year Award (exchange club- school and district levels), Suma Cum Laude, Yale Book Award, Bausch and Lomb Honorary Science Award.

Extracurricular: Varsity Swimming (6 years), Club Swimming (10 years), Varsity Crew (2 years), Varsity Soccer (1 year), Student Government (3 years), Honor Council (3 years), Prom/Homecoming/Formal Dance Com-mittee Chair, Student Activities Committee Chair.

What job/position do you plan to pursue and why? I plan to pursue a job in the fields of finance and economics, hopefully to become a financial officer for a large company one day. Math has always been a favorite subject of mine. I loved sitting in math class, learning new methods, solving tough problems… Math was just my subject.
When I became exposed to economic trends in one of my classes in 11th grade (based off of changes due to inflation, investments and returns), I was drawn to this new subject. Combining mathematics and economics in college, I want to learn what it takes to mathematically manage finances to benefit the economy through a job as a financial officer or advisor.

What is your favorite quote? "Life isn't about waiting for the storm to pass. It's about learning how to dance in the rain" -Vivian Greene

If you could have breakfast with anyone, who would it be and why? Tony Robbins: The 'why guy' from Ted Talks. I would love to talk to him about his segment on the "invisible forces" that motivate our daily actions.

Which issue (global or local) is close to your heart, and why? Working with Camp I Am Special for the last few years, I feel extremely passionate about the proper treatment and accommodations for individuals with special needs. After working with so many of these individuals, I have learned so much about patience and love, and I have learned all that they have to offer to this world. They don't deserve to be treated as different, but rather as people with different things to offer.

What is your little-known talent ? I am not as bad at singing as most people would think… I also really enjoy acting.
Christina Jayaraj – Valedictorian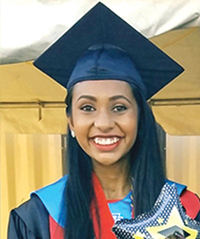 School: C. Leon King High School (I.B. Program)
GPA: 8.67
College: University of Miami as a full-tuition Singer Scholar
Parents: Edward Jayaraj and Maryrose Jayaraj

Academic Awards: President's Award for Educational Excellence; National AP Scholar; AP Scholar with Distinction; National Commended Scholar; 1st place FHSAA Tennis District Division 4 Singles; 1st place FHSAA Tennis District Division 2 Doubles; placed nationally and at the state level in various FBLA (Future Business Leaders of America) competitions: top ten at nationals and 1st in state for Healthcare Administration, 3rd place states Introduction to Information technology, 1st place districts Introduction to Parliamentary procedure; NCFL National qualifier; National Speech and Debate Association member with Degree of Honor; 3rd place Regional Brain Bee; Honorable Mention Bull MUN.

Extracurricular: Founder and President of Counting Threads, an organization that collects and donate clothes internationally to orphans affected by AIDS; Model United Nations (president); GnB Coding- An organization that aims to narrow the disparity in STEM fields by teaching young girls how to code (Founder/Vice-President)-; Mayor's Youth Corps; Mayor's Youth Leadership Council; 4 years on tennis team (varsity); James A. Haley V.A. Hospital Junior Intern; Speech and Debate (Declamation Captain); Dance Ke Deewane – National Collegiate Bollywood Dance Competition (Logistics and Programs Chair; Hospitality and Accommodations Chair); Academic Decathlon; Science National Honors Society; Relay For Life Survivors and Caregivers Committee.

What job/position do you plan to pursue and why? I hope to become a neurosurgeon and will strive to create a lasting, positive impact on all those I encounter. I also aim to advocate and raise awareness for pertinent issues around the globe, especially increasing access to medical care for under-served populations. Research has always been an interest of mine, and I plan to study neurodegenerative diseases, in particular, Alzheimer's.

What is your favorite quote? "Not everything that is faced can be changed, but nothing can be changed until it is faced." –James Baldwin

If you could have breakfast with anyone, who would it be and why? Paul Kalanithi, his thoughtful, unceasing dedication to pursuing a meaningful life is a constant inspiration for me to do the same. In addition, our shared passion for English and medicine would make for a unique and insightful conversation, and I would have so much to learn from his perseverance, intelligence, and profound musings.

Which issue (global or local) is close to your heart, and why? Education has always been an issue close to my heart. I believe that education provides the opportunity to create lasting change, and is necessary in order to achieve social equality. By improving access to education, we will not only impact one generation but all those that follow it.

What is your little-known talent ? I love art, and enjoy painting.
Heta Patel – Salutatorian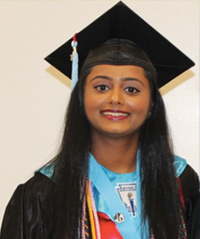 School: C. Leon King High School
GPA: 8.56
College: University of Pennsylvania
Parents: Nilesh andHemisha Patel

Academic Awards: National Merit Finalist; National AP Scholar Award; Athena Society's Young Woman of Promise Award; Anne Frank Humanitarian Award; 3rd place in the Blue Key National Speech and Debate Invitational for LD Debate; National and State Qualifier for Debate; National Brain Bee Qualifier; 1st in FL for Royal Conservatory of Music Piano Performance Exams; Master Musician; All-County Musician; State Qualifier for HOSA in Epidemiology; 2nd in Individual Geometry Math Bowl; Top 12 out of 90 students at the Student Science Training Program (a residential summer research program at UF).

Extracurricular: Invited by Congresswoman Kathy Castor to be her sole guest to attend Prime Minister Modi's address to Congress; Published a poetry book whose proceeds will go towards the Doctors' Goodwill Foundation; Composed a symphony; Played the viola at Carnegie Hall and professionally with university musicians; Founded the Brain Bee in Tampa; President of Speech and Debate; Founded "Drives for Smiles" Charity; Co-chair of my school's Relay for Life, which raised over $90,000 for cancer; Volunteered at the Veterans' Hospital and spearheaded a project to create personalized music CDs for the patients; Member of the Ryan Nece Student Service Program.

What job/position do you plan to pursue and why? My ultimate goal is to become a doctor because it truly allows me to impact the lives of others. Being involved in organizations such as Doctors without Borders combines my interest in global affairs and culture and my passion for medicine. Throughout my career, I hope to significantly augment the quality and accessibility of medical care in underdeveloped regions.
What is your favorite quote? "Life can only be understood backwards; but it must be lived forwards." -Søren Kierkegaard.

If you could have breakfast with anyone, who would it be and why? I would have breakfast with Carl Sagan. His unique contributions to astronomy and introspective thoughts on the relation between science and spirituality would make for an interesting and eye-opening conversation.

Which issue (global or local) is close to your heart, and why? The issue of accessible healthcare is very close to my heart. Conversing with healthcare professionals from China to Jamaica and serving on a medical mission trip to India made me cognizant of the notion that something as integral as medical care is often financially and physically unavailable. I believe that the basis of any thriving society is health and that every individual should have the ability to receive medical treatment.

What is your little-known talent ? I am also an avid singer-songwriter.
Sai Bhavana Srikakolapu – Salutatorian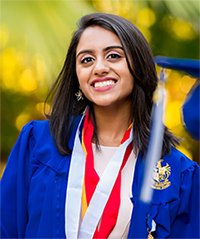 School: Stanton College Preparatory
GPA: 4.9474
College: University of Miami
Parents: Vamsee and Radhika Srikakolapu

Academic Awards: National Merit Finalist (Winner Status pending); Miss Academic during Miss Stanton competition; Won teacher given awards for Environmental Science and History; National Latin Honors Society; National Science Honors Society; Mu Alpha Theta; National History Honors Society; National Honors Society; State level winner for Greek Derivatives and Roman Customs (NJCL); IB Diploma Candidate

Extracurricular: Jacksonville Hindu Day Camp Director; Ripples (volunteer organization) Director; Telugu Association of Jacksonville Area Youth Coordinator; Telugu Association of Jacksonville Area Youth Sports Coordinator; National Latin Honors Society Vice President; St. Vincent's Hospital Volunteer; Singing; Piano; Bhangra Dancer; Choreographer; Multicultural Association Cumbia Leader; Indian Cultural Society Operations Director

What job/position do you plan to pursue and why? I hope to become a pediatrician because I love working with kids. I also have a great passion for biology and helping other people have a healthy life so that they are able to accomplish their hopes and dreams. I also hope to go into international policy making so that the changes that I make are not limited to the small area that I am in but also the whole world- I hope to work in food sustainability as well as education reform fields in the UN, UNESCO, and WHO.

What is your favorite quote? People know you for what you've done, not for what you plan to do. – Unknown

If you could have breakfast with anyone, who would it be and why? Which issue (global or local) is close to your heart and why? Food sustainability, pollution, and education. Though it is not one particular issue, I think these three problems that the world faces are some of the most dire and the ones that need the most attention. Food sustainability is a issue that forces developed countries to take a look into what they take for granted, and attempt to help other countries. Most countries do not have the means to produce the food that they need to, and the advent of industrialization has also led to major unforeseen issues. By solving the problem of hunger in developing nations, it is possible that many of the diseases associated with these countries may also be limited. As for pollution, we only have one world, one house- and it is this Earth. By not being careful and sending in large amounts of pollutants and plastics into the air, the short-term joy that we may receive will soon be replaced with the long term health struggles, food struggles, and environmental struggles as well. Education reform has been a topic of interest for me since two years ago, when I had to give my platform speech for Miss Stanton on the story of Malala Yousafzai and her foundation, the Malala Fund. We commonly take the education that we receive for granted, but there are tens of hundreds of countries that are struggling to teach their young citizens how to read or how to write. Education is becoming an increasingly important element of our society, and thus by providing education to those who do not currently receive it, there is a chance that impoverished societies may have a chance of succeeding.

What is your little-known talent ? I loveplanning and redecorating things.