Viewers are in total awe of Vidyut Jammwal's acting in Sanak: Hope Under Siege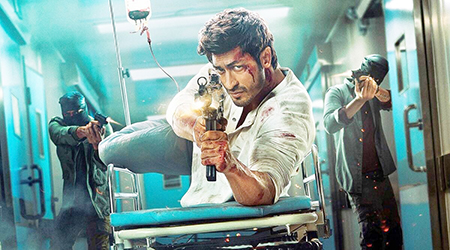 The action drama Sanak: Hope Under Siege was released on the OTT platform Disney + Hotstar on October 15, 2021. Directed by Kanisk Varma, the film stars Vidyut Jammwal along with Rukmini Maitra (in her debut performance), Neha Dhupia, and Chandan Roy Sanyal.
The film centers around the story of a devoted husband named Vivaan whose ailing wife is recovering from heart surgery. The hospital is attacked by terrorists – and it's up to our brave hero to heartily mount a courageous attempt to rescue his wife (along with the other hostages, to boot). How does he do it? Why, with his usual brand of power-packed action, of course!
Is the storyline well trod and highly predictive? Okay, maybe … but it's Vidyut and his mesmerizingly high-powered action sequences that make this film great. Utterly spectacular, jaw-dropping action sequences will leave viewers spellbound and in total awe of the character and of the actor himself (he doesn't use a body double).
It is this action hero who is the prime attraction of the movie and carries the entire story (and the movie itself) on his muscular shoulder. Vidyut has done full justice to the central character of the film. Viewers have not been deprived of Vidyut's ability to electrify his audience by delivering on the promise of amped-up, high-voltage action. This film will be a real treat for action-loving viewers.
Neha Dhupia as the lead police officer, Chandan Roy Sanyal as the terrorist leader, and Rukmini Maitra as Vidyut's debutante wife have each played their part nicely. However, this is a film principally featuring Vidyut Jammwal and his character's crowning achievements as hero of the story. His stunts, actions, and stage presence have made this film worth watching, especially for action-fim lovers and fans of his. Despite various limitations of the script and loopholes in the storyline, It is Vidyut's excellent performance that has made Sanak: Hope Under Siege a particularly enjoyable film.
Sanak
Vidyut Jammwal
Action drama
Kanisk Varma
Neha Dhupia
Rukmini Maitra
Chandan Roy Sanyal
Disney + Hotstar