Vimarsh Roshan discusses role in Baluveer Returns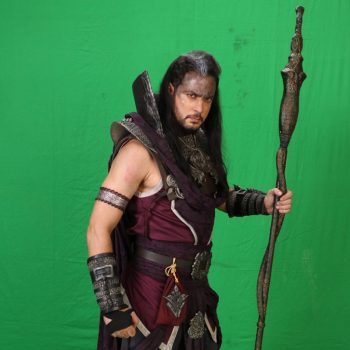 Vimarsh Roshan is playing an interesting negative character, Bambaal, in Sony Sab's new fantasy Baluveer Returns. On being asked how he felt about accepting Baluveer Returns that offered him an overtly negative role, the actor said that he was always fascinated by strong negative characters. Baluveer Returns gave him the chance to act in the fantasy genre, while Sony Sab was the correct family platform. The last negative character that Vimarsh Roshan played was in 2009, almost a decade ago.
Vimarsh admits that playing Bambaal was almost a cathartic new experience, given the special effects and technological improvements in the current industry. The actor admits that this project was a learning experience for him. Bambaal is a power hungry personality who desires to rule the underwater kingdom Shinkai. Such a megalomaniac underwater kingdom character is a novelty for the Indian small screen. Bambaal's sharp mind, ability to think ahead and multiple avatars and disguises are sure to provoke interest, and the actor is hopeful that he will be able to justify his acting prowess through the scope and breadth of this role.
Vimarsh says that the biggest challenge he faced while portraying Bambaal was that he had to act in front of a green screen, but the team's storytelling narration helped him immensely in imaging the mythical underwater environment! Literature too lacks a reference for Bambaal so Vimarsh decided to try his best to think and act like Bambaal while filming. Baluveer Returns is a true blue Indian superhero story with family audience content and interesting characters. The cast and crew remain hopeful of the audience's positive response to the serial's new episodes on Sony Sab.
Vimarsh Roshan
Bambaal
Sony Sab
Baluveer Returns
negative role
fantasy genre
underwater kingdom
Indian small screen
Shinkai
Indian superhero