Shraddha Kapoor's Stree released in Japan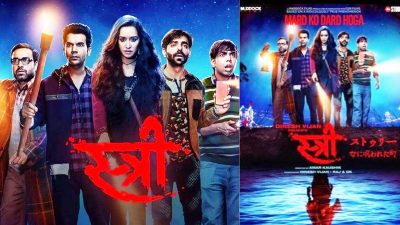 Imagine a woman's spirit attacking men in the dead of the night. It is something for gender equality, even if it lasts for just four days of a religious festival in a year held in Chanderi village. This is what the film Stree is all about. The good news is that now people in Japan will be able to enjoy this horror comedy starring Shraddha Kapoor and Rajkummar Rao along with Amar Kaushik. Shraddha dutifully shared the good news of the Japan release via Twitter. In a male dominated patriarchal society where women play a very subdued and subservient role, the spirit of woman comes alive for four days and extracts its pound of flesh from the men of Chanderi village. A pity the spirit's ravages are confined only to that village.
The good thing about this horror film is that it is also a comedy, making it a cut above the rest in Indian horror films. The film also stars Pankaj Tripathi, Abhishek Banerjee and Aparshakti Khurana. If not for the story, just watch it for the fantastic dance Kamariya by Nora Fatehi. 
Japanese theaters opened in mid-May once quarantine restrictions were eased. Some theaters screened old Hollywood hits like Ben Hur and The Towering Inferno. For Japanese viewers, an Indian film is an altogether different, spicy offering and Stree is just the right masala to excite.
Gender equality
 Stree
Japan
horror comedy
Shraddha Kapoor
Rajkummar Rao
Amar Kaushi
Twitter
patriarchal society
 horror film
Indian horror
Pankaj Tripathi
Abhishek Banerjeee
Aparshakti Khurana
Kamariya
Nora Fatehi
South Koreans
Japanese theatres
Bollywood hits
Ben Hur
The Towering Inferno
Japanese viewers
Indian film