Who Gets Mom's Wedding Ring?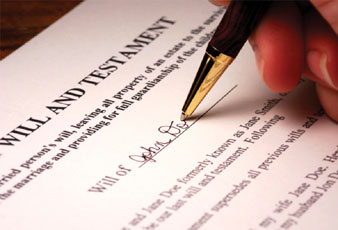 Recently I attended a function, where I ran into an old friend who explained her story to me. Long story short … she told me she and her husband filed for bankruptcy because of her husband's medical condition, and they were now living with her mother. I asked her if they had a will, and she shyly said, "Oh, no … we don't have anything." I looked down at her wedding ring and the watch on her arm and replied "But you have wishes. Like who would you like to receive your wedding ring?"
Having a will is not just for the rich. The amount of money you have or the size of your house is irrelevant. Everyone, like my friend, has wishes such as passing on a family heirloom. These wishes are best expressed in a legal document to ensure your intended receiver actually receives the property.
In a will, you have the opportunity to state who you want to inherit your property and, perhaps even more important, who you would like to care for your young children. Otherwise, without a valid will, the state will determine how your property is distributed and a judge may decide who will raise your children.
Depending on the size of your estate, a "basic, no-frills" will may be all you need. Consider these real-life situations where a basic will may be all that is needed:
Mark and Susan, both in their early 30s, own their home and have two young children. They would like to leave their property to each other or, if they die together, to their children in equal shares. Each prepares a will leaving all his or her property to the other. If they die at the same time, their young children will receive all their property in equal shares. They agree that Mark's sister will care for the children and manage the property until each child turns 18.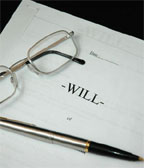 Linda is a divorced mother and has a small daughter. The child's father is actively engaged with her upbringing; however, Linda does not want the father managing any money from her estate. Therefore, Linda prepares a will leaving all her property to her daughter and appoints her sister to manage the property until the daughter emancipates from school.
Charles is a widower in his early 50s and has three grown children. He owns several pieces of property with a net worth of almost $500,000. He creates a will leaving all his property to his grown children equally and specifies that if any child dies before him, that child's share is to be divided equally between the surviving children.
The above situations outline when a basic will may be all you need. However, if you review the particulars of Charles' situation, if his net worth was more than $500,000 or if he was older, he may be better served by engaging in more sophisticated planning.
The following questions may help to determine if a basic will may work in your situation. If you answer "yes" to the following questions, then a basic will may be all that you need:
Are you younger than 50?
Are you in pretty good health?
Do you have less than $2 million in assets?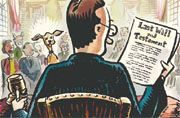 On the other hand, if any of the following situations apply to you, then you may be better served by more sophisticated planning:
Do you know if you (or your spouse) will need to pay estate taxes?
Are you (or your spouse) in poor health?
Do you have a child with a disability or other special need?
Do you have children from a prior marriage?
Do you think someone may contest your will?
Do you own a business or have a business interest in a business?
For more sophisticated planning, consider coordinating the following components:
Make a will
Consider a trust
Make health care directives
Make a financial and/or durable power of attorney
Name a guardian for your minor children
Make charitable bequests
File beneficiary forms
Consider life insurance and/or long-term care insurance
Understand your estate taxes
Cover funeral expenses
Make final arrangements
Protect your business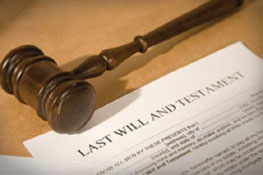 If all you need is a basic will, there are many good self-help books or software available to help you. If you need help determining what is best in your situation, speak with a financial or legal professional to help get you started. Remember, a will is a living document and may require updating from time to time.
And, as for my friend, I suggested she consult with an attorney regarding her situation. Because of her husband's medical situation, I felt more comprehensive planning was needed.
Rupa Mehta is the President of RHM Financial Group, located at 5600 Mariner Street, Suite 120, Tampa, Florida 33609. Rupa Mehta can be reached at 813-298-6317.