Women's History Month: Honoring Women from India
Women's History Month: Honoring Women from India
As you probably know, March is Women's History Month. Desh Videsh Media Group is proud to honor Indian women who have faced tough challenges throughout their lives. Many have achieved the honor of being the first in their fields.
Recognizing the achievements of women in all walks of life – politics, activism, education, sports, medicine, etc. – offers young girls and women all over the world an opportunity to see that change and success are possible. For many, especially in developing and third world countries, strengthened moral, increased self respect, and a forward-thinking vision are possible through the successes of those before them.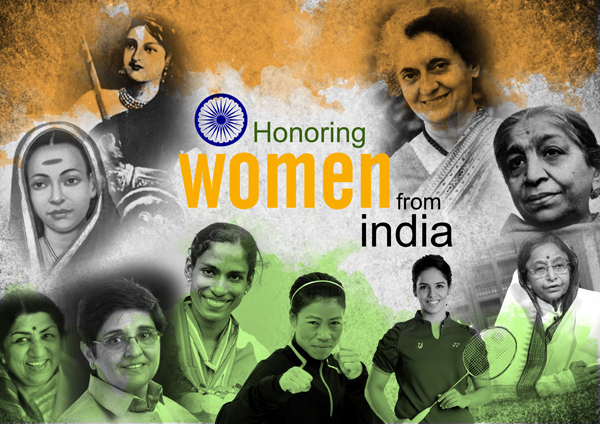 Each of the women noted on our list have faced challenges and each has uniquely overcome them. It is our hope that young girls and women growing up in the US get to know and be inspired by these women. Parents – sit down with your children (sons and daughters!) and talk about the importance of choosing role models, while also explaining to them that "Everything is possible if you make up your mind." As Swami Vivekananda said, "Arise, awake, and stop not till the goal is reached."
This list is by no means exhaustive. If you notice a name we forgot, please email the name and achievements to info@deshvidesh.com.
In our next post, we will highlight Indian American women who have made significant achievements.
| | | |
| --- | --- | --- |
| Durga | Banerjee | Captain Durga Banerjee became the first Indian woman pilot of the state airline, Indian Airlines. |
| Chandramukhi | Basu | Chandramukhi Basu and Kadambini Ganguly were first female graduates of India and the British Empire. |
| Kiran | Bedi | Joining the Indian Police Service (IPS) in 1972, Kiran Bedi became the first woman officer in India. Moreover, later in 2003, Kiran Bedi also became the first woman who was appointed as the United Nations Civil Police adviser. |
| Annie | Besant | Besant became the first female president of the Indian National Congress. |
| Jijabai Shahaji | Bhosale | Mother of the  legendary Maratha ruler Chhatrapati Shivaji who was the embodiment of strength and confidence and nurtured his early years with a firm hand and a keen eye. She became a source of inspiration for women all over as one who kindled the heroism in Shivaji making her an epoch making mother who occupies a proud place in shaping the history of the land. |
| Justice Anna | Chandy | Chandy was the first female judge in India, and the first woman in India to become a High Court judge. (Kerala High Court) |
| Asima | Chatterjee | Chatterjee was the first Indian woman to receive a Doctorate of Science from an Indian university. |
| Kamaladevi | Chattopadhyay | A social activist and Indian freedom fighter, Chattopadhyay won the Ramon Magsaysay Award for community leadership. |
| Avani | Chaturvedi | Chaturvedi was onne of India's First three women fighter pilots. |
| Kittur | Chennamma | Chennamma led an armed rebellion against the East India Company. |
| Harita Kaur | Deol | Flight Lt. Harita Kaur Deol was a pilot in the Indian Air Force. She became the first woman pilot to fly solo in the Indian Air Force in 1994. |
| Reena Kaushal | Dharmshaktu | Dharmshaktu was the first Indian woman to ski to the South Pole. Her journey took 40 days, 8 to 10 hours per day, traversing 915 kms in bitter cold and to one of the most desolate regions of the world. |
| Reita | Faria | She was the first Indian beauty to win the coveted Miss World title in 1966. |
| M. | Fathima Beevi | In 1989, Justice M. Fathima Beevi became the first female judge appointed to the Supreme Court of India. |
| Indira | Gandhi | She became the first woman Prime Minister of India and served from 1966 to 1977. She was also the first woman to receive the Bharat Ratna award. |
| Kadambini | Ganguly. | Chandramukhi Basu and Kadambini Ganguly became the first female graduates of India and the British Empire. |
| Priya | Jhingan | Priyan Jhingan became the first Indian woman to join the Indian Army in 1993. |
| Anandi Gopal. | Joshi | Anandi Gopal Joshi became the first women from India to be trained in Western medicine. |
| Bhawana | Kanth | Kanth was one of India's first three women fighter pilots. |
| Dhondo Keshav | Karve | The first women's university, SNDT Women's University, was founded on June 2, 1916 by the social reformer Dhondo Keshav Karve with just five students. |
| Mary | Kom | Mangte Chungneijang Mary Kom, also known as Mary Kom is the only woman boxer who has won a medal in each of the six World Championships. She was the only Indian woman boxer who qualified for the 2012 Olympics and became the first Indian woman boxer to win a gold medal in Asian Games in 2014. |
| Sucheta | Kriplani | Sucheta Kriplani became the Chief Minister of Uttar Pradesh, the first woman to hold that position in any Indian state. |
| Meira | Kuma | Meira Kumar became the first female Speaker of Lok Sabha. |
| Rani | Lakshmibai | Lakshmibai led a rebellion against the British. |
| Anna | Malhotra | Anna Rajam Malhotra became the first woman IAS officer of India. |
| Prem | Mathur | Prem Mathur of Deccan Airways becomes the first Indian woman commercial pilot. |
| Sania | Mirza | The professional tennis player became the first ever Indian woman to win a Women's Tennis Association (WTA) title in 2005. Later in 2015, Sania Mirza became the first Indian woman to be ranked no. 1 in WTA's double rankings. |
| Sarojini | Naidu | Sarojini Naidu was a poet and politician. Naidu served as the first governor of the United Provinces of Agra and Oudh from 1947 to 1949. She was the first woman to become the governor of an Indian state. She was the second woman to become the president of the Indian National Congress in 1925 and the first Indian woman to do so. |
| Saina | Nehwal | Currently ranking no. 2 in the World, Saina Nehwal became the first Indian to win  a medal in Badminton at Olympics in 2012. Later in 2015, she became the first Indian woman to become no. 1 in World ranking. |
| Bachendri | Pal | In 1984, Bachendri Pal became the first Indian woman to reach the summit of Mount Everest. |
| Vijaya Lakshmi | Pandit | The first woman (and first Indian) president of the United Nations General Assembly. |
| Pratibha | Patil | She became the first woman President of India and held office from July 2007 to July 2012. |
| Amruta | Patil | India's First Woman Graphic Novelist |
| Savitribai | Phule | Started India's first school for girls. |
| Pandita | Ramabai | For her distinguished social service, Pandita Ramabai became the first Indian woman to be awarded the Kaisar-i-Hind Medal by the British Raj. |
| Archana | Ramasundaram | India's Head Of A Paramilitary Force, Sashastra Seema Bal (SSB) |
| Aarti | Saha | India's First Woman To Swim The English Channel |
| Captain Lakshmi | Sahgal | Indian independence revolutionary |
| Kamaljit | Sandhu | Kamaljit Sandhu becomes the first Indian woman to win a Gold in the Asian Games |
| Leila | Seth | India's First Woman Chief Justice of a High Court |
| Mohana | Singh | One of India's first three women fighter pilots. |
| M. S. | Subbulakshmi | Madurai Shanmukhavadivu Subbulakshmi , also known as M.S., was a renowned Carnatic vocalist. She was the first musician ever to be awarded the Bharat Ratna, India's highest civilian honor. She is the first Indian musician to receive the Ramon Magsaysay award, Asia's highest civilian award, in 1974. |
| Suzanne RD | Tata | Suzanne RD Tata becomes the first Indian woman to drive a car. |
| Sarla | Thakral | Sarla Thakral became the first Indian woman to fly an aircraft. |
| Surekha | Yadav | Surekha Yadav became the first woman loco-pilot, railway driver, for India and Asia. |
Honoring Women from India
politics
activism
education
sports
medicine
Durga Banerjee
Chandramukhi Basu
Kadambini Ganguly
Indian Police Service
Kiran Bedi
United Nations Civil Police adviser
Annie Besan
Maratha ruler Chhatrapati Shivaji
Jijabai Shahaji Bhosale
Justice Anna Chandy
Asima Chatterjee
Ramon Magsaysay Award
Kamaladevi Chattopadhyay
Avani Chaturvedi
Kittur Chennamma
Harita Kaur Deol
Reena Kaushal Dharmshaktu
Reita Faria
M. Fathima Beevi
Kadambini Gangul
Priyan Jhingan
Anandi Gopal Joshi
Bhawana Kanth
Dhondo Keshav Karve
Sucheta Kriplani
Meira Kumar
Rani Lakshmibai
Anna Rajam Malhotra
Prem Mathu
Sania Mirza
Sarojini Naidu
Saina Nehwal
Bachendri Pal
Vijaya Lakshmi Pandit
Pratibha Patil
Amruta Patil
Savitribai Phule
Pandita Ramabai
Archana Ramasundaram
Aarti Saha
Captain Lakshmi Sahgal
Kamaljit Sandhu
Leila Seth
Mohana Singh
M. S. Subbulakshmi
Suzanne RD Tata
Sarla Thakral
Surekha Yadav