Women's History Month Spotlight: Minakshi De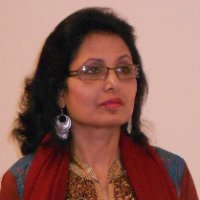 Minakshi De, an Indian American artist, was born in Kolkata, India. Currently living in South Florida, De was one of three artists whose paintings were on display at the International Women's Day Art Exhibition in North Miami. A celebration of women, their valor and their accomplishments through the Arts, this cultural event was inspired by Dr. Maya Angelou and began on March 11, 2017.
De earned her Bachelors of Fine Arts degree from the University of Chittagong and her post graduate diploma from the Fashion and Arts Institute in Dallas, Texas. She has shown her work in both solo and group exhibitions all over India, including Kolkata, Mumbai, and Chittagong. De has also exhibited around the United States, including Florida, Texas, Virginia, and New York. She participated in an art workshop in Italy as well as earned several merit awards in her shows around Florida. These awards included a first place prize in pastels at an exhibition in Vero Beach, Florida.
De's passion for art is reflected in each brush stroke and layer of color in her works. Her powerful paintings are of women and psychological and physical states of people. "Women are the symbol of power and peace," De says. "I am not a religious person, but from my childhood I saw all the Hindu temples' idols are women."
De also conceptualizes and serializes many experiences. She believes that the original power of her works lies in the span between their inwardness and their externalization. The textured styles of her works are influenced by Indian miniature paintings from the 11th and 12th century as well as the patterns and designs of Indian temples.
She talks very passionately about art when she says, "Art is my love and inclination. My passion for love is what keeps me going. For me each painting is a new experience. Each day seems to include not only the creation of something new, but also the discovery of other intriguing things. When I start with an empty canvas, I still feel like a student whose mind is riddled with many thoughts. Sometimes the brush guides me, step-by-step, layer-by-layer. As I keep filling the canvas, my desired color, light and subject is spread all over in achieving the perfect emotion that fills my heart."
She added installations to her repertoire and one of her most fierce, powerful installations is called Women, Respect, Love and Peace. It portrays the faces of two Hindu goddesses and one human female face.
De's sense of social justice has inspired her and some fellow artists to recently launch Divine India (DivineIndiaArt.org), an organization dedicated to funding nonprofits in India that help impoverished children. The Divine India artists, who are of Indian origin, raise funds through the sales of their art at curated shows, called Rational Imagination – Perspectives on Indian Art.
While focused on India, Divine India is also open to funding local organizations. To that end, it held its first fundraiser last fall, an art show in Jupiter, and raised $1,000 for Hibiscus Children's Village in Vero, a group home for abandoned, neglected and abused teenagers. "We are committed to helping children wherever they are through our art," De says. "It's so important to us, to me."
Minakshi lives in Vero Beach, Florida, with her husband, Niladri, son Kingshook and daughter Rishika. When we asked who inspires you, she replied "My children are my biggest critics, but they help me when I'm stuck. And my husband is always supportive. My whole family is involved. They know when I'm depressed or when something is happening and help me with my art."