Women's History Month Spotlight: Manju Kalidindi, Esq.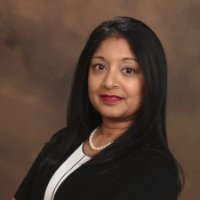 Manju Kalidindi is an immigration attorney who is deeply involved in community charities. She is the founder and principal attorney at the Law Offices of Manju Kalidindi, P.A. in Plantation, FL.
Ms. Kalidindi's drive to serve the public comes from her family. She learned quiet compassion, generosity, and the value of service from her father and grandfather, both physicians, and her mother who was an active community volunteer. She lives by their principle of treating everyone with kindness, regardless of their status in life.
As the President of Sahara of South Florida, a South Florida-based nonprofit organization that assists victims of domestic violence, Kalidindi helps many women from South Asia find hope for a better, safer future. Her pro bono legal work has also benefits domestic violence victims under the Violence Against Women Act. She has been recognized twice by the Supreme Court of Florida for exceptional pro bono service. She was named the Broward Lawyers Care Attorney of the Month in November 2012.
Kalidindi is the founder of thisdaughter.com, a platform where women share their stories about the ordinary and the extraordinary, where just being an individual is celebrated; a platform where men who are making a difference in the lives of women lend their voice.  
She is a member of the Advisory Board – Women's Services Committee, KANA USA; a member of the American Immigration Lawyers Association (AILA); a member of AILA, South Florida Chapter and a member of the Florida Bar among others.
In addition to helping women and children, she reaches out to help animals as a volunteer for "Shi-Tzu Rescue," a nonprofit that rescues abandoned and/or abused dogs.
Manju defines success by what can be done with one's skills and gifts, rather than any material markers. Through all of her nonprofit work, she strives to treat people and all living things with dignity and respect, and making a difference in the lives is what motivated her decision to pursue a law career and give back to the community.  
Her sense of compassion and a strong desire to make a difference within our local communities are her driving forces.