Women's History Month Spotlight: Reshma Saujani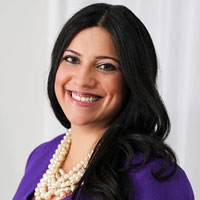 Lawyer and politician, Reshma Saujani was born and raised in Illinois. Her Gujarati parents migrated to the United States from Uganda in the 1970s, choosing to settle and raise a family in Chicago.
Saujani earned a degree in political science from the University of Illinois at Urbana-Champaign. She then completed her Master's degree in Public Policy from Harvard University in 1999. Later, she earned her J.D. from Yale Law School in 2002.
Saujani began her career as a lawyer at Davis Polk & Wardwell LLP, where she focused on securities fraud cases. She joined Carret Asset Management Group in 2005, but later left when the principal of the firm was convicted of bank fraud charges. From there, Saujani moved on to Blue Wave Partners Management, where she specialised in equity. She also served as the deputy general at the Fortress Investment Group before deciding to run for office.
Saujani entered politics first during the John Kerry presidential campaign. Since then, she has played a role in Hillary Clinton's 2008 and 2016 presidential campaigns. In 2010, Saujani ran for the U.S. House of Representatives (New York's 14th congressional district), but lost in the primaries to incumbent Carolyn Maloney.
Though Saujani lost her first election, she used the experience to broaden her horizons. She has written several books including Lead the Way and Women Who Don't Wait in Line: Break the Mold.
Saujani is most well-known for being the founder of Girls Who Code, a nonprofit organization that works to close the gender gap in technology. Named by Fortune Magazine's 40 under 40 list, Saujani is poised to continue her role as an advocate for gender equality and women's and girl's rights.
Saujani lives with her husband, Nihal Mehta, an entrepreneur, and their young son in New York.