Your Wedding Decorator: Finding the Right Touch
Author by Rina Shah The Arpan Group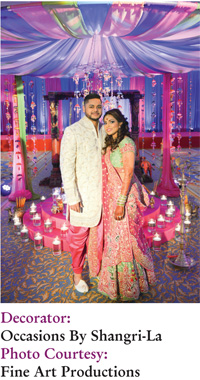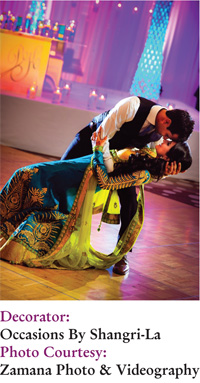 From lavish designs and bold colors to pastel florals and subtle centerpieces, weddings can be the ultimate expression of a couple's personality. Through intricately designed mandaps, lush, fragrant florals, and creative use of color, couples can personalize nearly every aspect of their wedding decorations. While the type of venue and the choice of colors and foods can shape the feel of a wedding, the overall design and decorations tie all the pieces together creating an event to remember.
Finding a decorator, next to choosing a photographer, may be one of the most important tasks of wedding planning. Selecting a decorator should not be an after thought, but rather, a thorough search for a designer who understands your personality, style, and likes and dislikes. Madhu Anand of Anand Event Services shares that a decorator "…should understand their personality and be able to reflect it in the decorations." Remember, you will be spending quite a bit of time working through your ideas for your dream wedding, so personality (yours and the vendor's!) is a crucial aspect of the selection process. Choose a vendor that not only understands your personality, but also grasps your vision and ideas for a memorable occasion.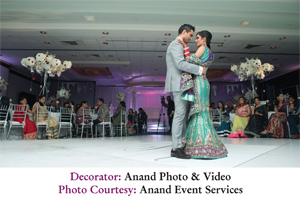 Factors to Consider As with all your wedding vendors, budget is an important consideration for many couples and can determine the intricacy and detail of your design. Factor in whether you will do some or most of the decorations on your own. If you choose to rely heavily on a wedding decorator, pay close attention to their portfolio. Are they a full service decorator offering florals, lighting, and design? If your dream is a personalized and unique event, be sure to
share all details with your chosen decorator. Anand emphasizes that couples should "make sure the decorator understands their style – whether it is going to be traditional or modern, simple or elaborate."
    Whether you choose to do-ityourself or enlist the help of a decorator, you will need to be mindful of several factors when creating your design. The timing of your event, type of venue, and experience of your chosen decorator will influence the end result.
    Timing: Be sure to consider the time of year, as this will influence the choice of colors and florals. Jilna Jasani of Suhaag Garden reminds couples to "… choose flowers based on the season … Rather than have your heart set on a particular type of a flower, start by asking for available options and then determine whether your heart is still set on those "must-have" white calla lilies."
    Also think about the time of day the event will take place. An outdoor, morning wedding will have a significantly different feel than an indoor, evening event. Your wedding decorator will be able to create a design that incorporates natural elements (such as lighting) as well as fabrics and other decor pieces.
Venue: Will the wedding be indoors or outdoors? What type of lighting will be available? Do you need to work around any unchangeable items, such as pillars or carpet color? Experienced wedding decorators will not only know how to work with a venue's lighting and shortcomings, but also with the venue's staff. Previous experience with a venue puts the decorator at a great advantage, ensuring your vision will come about easily and efficiently.
Experience: As with any wedding vendor, experience matters. Remmal Karamsadkar of Occasions by Shangri-la believes that couples should " … first look for a reputable company with a good reputation who has venue and client references. The second tip is to make sure the décor company has a portfolio of unique concepts. Our third tip is to find a company with years of experience and highly trained specialist." An experienced decorator has likely not only worked at number of venues with a wide range of materials, but also has a wide and varied design portfolio.
Prepare for Your First Meeting
Most couples (or the bride, at the very least!) already have a vision for their desired dream wedding. After scouring Pinterest and trolling through friends' Facebook feeds, you are probably drawn to a specific style of mandap and type of floral and fabrics. Jasani advises that "sites like Pinterest and Lover.ly are great for creating your vision board for your big day. Having visuals will greatly help ensure you and your decorator are on the same page." The visuals are a starting point for you and your decorator to create a unique and personalized design.
    Don't forget to share any details of your proposal and how you met with your decorator! Karamsadkar adds "Before meeting with your decorator, couples should prepare to think about and discuss their wedding event vision and inspirations. Decide if there are colors or a theme that you would like to incorporate into your décor." The more details, the better. A decorator must truly understand the concepts you have in mind to be able to create a design that leaves you speechless.
Favorite Wedding Moments
The experts share their favorite wedding moments.
Jilna (SG): The wedding day is full of firsts: the first time you refer to your beloved as husband (or wife), the first time you get dolled up from head to toe, etc. We strive to add to that list of heartwarming first moments. The bride and groom-to-be do walkthroughs at the venue number of times before the big day, but they don't see the space transformed until that day. That look of awe and sound of excitement when the bride and groom walk into their own wedding is what drives us (and gives us a big sigh of relief!).
Madhu (AES): There are somany favorite moments, but the excitement truly lies in seeing the bride in all her finery for the first time when she enters!
Remmal (OBS): Our staff's favorite wedding moment is when the Bride and Groom enter their event for the first time. We love to see the happy look on their faces. At that point, we feel that we kept our promise to make your event a true expression of your taste and vision.
Experts
Special thanks to the decorators who contributed their thoughts and advice to this article.
Anand Event Services
Madhu Anand
Tel: 954-214-5807
www.anandeventservices.com
Occasions by Shangri-la
Remmal Karamsadkar
Tel: 407-614-2977
www.occasionsbyshangrila.com
Suhaag Garden
Jilna Jasani
Tel: 888-366-8250
www.suhaaggarden.com
About the Author
Rina Shah is the CEO and founder of The Arpan Group, a boutique ad agency and public relations firm that specializes in capturing untouched ethnic markets. From press releases and media kits to marketing materials and by-line articles, The Arpan Group customizes solutions based on the client's needs. For more information, visit www.thearpangroup.com or call .!