Musical talent and commitment produce excellent results!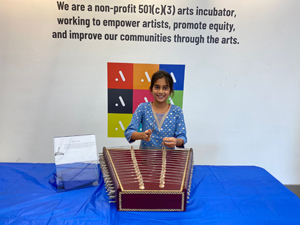 Eight year old Meera Gandhi, a resident of South Florida, has been impressing music lovers with her skills at playing the Santoor instrument. She recently played at public music events such as the Independence Day celebrations and APAI presentation of a Mohan Veena concert by Grammy award winner Pandit Vishwa Mohan Bhatt.
A traditional instrument from Jammu and Kashmir, the Santoor is made of walnut wood and has twenty-five bridges on it, with four strings on each bridge, making for a total of 100 strings. The instrument has therefore been referred to as the "Shatha-tantri veena" in ancient Sanskrit texts.
Meera has been taking online lessons along with her father from Sri. Kunal Saha (disciple of Pandit Tarun Bhattacharya) based in Kolkatta, India. Her confidence in playing the 100 string instrument was proof that online music lessons combined with dedication from both, the teacher as well as the student can be effective in nurturing musical talent. Aspiring to be a high-caliber Santoor player and a pediatric dentist in life, it will be no surprise if Meera succeeds in achieving her dreams given her talent and determination.
To watch her short performance, please visit deshvidesh.com/meeragandhi
---
---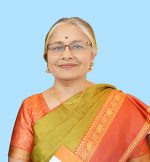 About Suchita Rao
Shuchita Rao is a Coral Springs, Florida based award-winning Hindustani vocalist, published author, art critic and a sought-after music educator.
For more information, visit www.shuchitarao.com