A Game Beyond Boundaries by Lovejeet Alexander
Pitch Report
India was seen as 'the favorite' before the ICC Cricket World Cup 2011 started. But as each match was played, the team's image blurred further. The Indian team did not completely fail, but they did not perform anywhere near their capabilities – high expectations can be tough! After watching India's performances against England and South Africa in the league matches, the legendary Sir Vivian Richards commented, "It is really going to be tough for India to win the World Cup." Strikingly visible was the huge gap in the quality of cricket that Sachin Tendulkar was playing and that of his teammates. A classic example was India's match against South Africa in Nagpur. Tendulkar showed the highest level of fineness and brilliance, while most of his teammates displayed a contrast. Starting India's World Cup campaign, Tendulkar scored two centuries in the early matches; both his centuries were nullified by a poor team effort. Vaibhav Purandare, the author of Sachin Tendulkar: A Definitive Biography commented, "This is not quite the way Tendulkar would have liked to be on the cusp of a hundred hundreds in international cricket. He would be disturbed."
Skipping Skipper?
Dhoni seems to be in the midst of a hallucination of his team's past performances. This testing season, this captain is not giving desired results and his batting has just faded away. Strange strategies, changing batting order, sloppy fielding, uncontrolled bowling and complacency in everything despite being so many weakness the cup is no easy grab. The Indian captain was a feared batting machine who could slay the best of bowling. But from the Dhoni at Gwalior in February 2010, when he pushed India's score to 401 against South Africa to the Dhoni at Nagpur in March 2011, when he failed to deliver the goods against the same opposition, there seems to be a world of difference. After the match against South Africa, Dhoni had gone 11 innings since hitting a half-century and 26 innings since he hit a hundred. His last ODI hundred came against Bangladesh on January 7, 2010 at Dhaka. India's match with South Africa was considered a test of Dhoni's real capabilities as a captain, but his players' rashness and his own blunders lowered India's prestige, and they subsequently lost to South Africa.
Small Fry – Big Competition
Several small cricket nations were invited to the World Cup (WC) this year. Their presence in the next WC is doubted although many of their performances suggest that most of them do deserve to be there. England nearly lost to the Netherlands and then did lose to Ireland and Bangladesh. ICC chief executive Haroon Lorgat has said that the governing body will meet in May to discuss the qualification process for next WC. "Somewhere we have to make the cut-off," said Lorgat. The qualification criteria are based on the ICC's ODI ranking, and the cut-off will decide the next WC's contenders. Ireland's team has reached the 10th spot on the list, jumping ahead of Zimbabwe after their heroics against England. The big guns are beginning to look haunted. "Cricket is altogether too precious… In every other sport it is possible for strong and weak to meet without the game getting into a palaver about it." Peter Roebuck (Former cricket player, now columnist and commentator)
No Filming
With cricket euphoria gripping the continent, Bollywood has taken a back seat. Only four big budget films have been released since the onset of the World Cup — Tanu Weds Manu, Yeh Dooriyaan, Phirr, and Shagird. Producers anticipated a lull in the multiplexes, so they tried to play it safe. Film trade analyst Komal Nahta said, "The cricket season is a lean period for the film industry. Theatre attendance dips by 25-30 percent. This March, with no for three consecutive weeks, the industry stands to lose net collections of about Rs. 25-30 crore." It is estimated that when India plays, collections come down further by almost 20 percent. Sunil Punjabi, CEO of Cinemax said, "Cinema viewing in the last quarter is low every year. With the World Cup happening, this year is even drier. We've seen 18-20 percent occupancy since the tournament began, which is expected to drop by another 2-3 percent." The film drought will be broken by Vashu Bhagnani's FALTU followed by Game and Teen Thai Bhai, which release on April 1. As many as 15 releases, including big budget films like Dum Maro Dum, and Thank You are lined up in April, before the industry faces another cricket season in the form of the Indian Premier League (IPL) in May.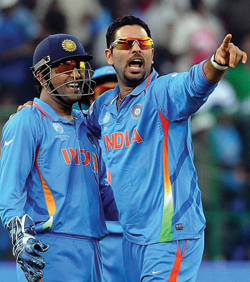 Telly Tally
Statistics of the first half of the cricket series show that the World Cup has so far delivered 25 percent more viewership ratings compared to the 2007 WC. Tally of the first 34 matches played in the World Cup shows that the series has generated an average television rating of 3.4 (ESPN) and 3.8 (ESPN+DD). Comparatively, the last edition of the mega event had garnered an average television rating of 2.8 and 3 for the same number of matches. With data for 20 matches yet to come in, the live matches have already been watched by 157.7 million viewers, about 79 percent of total CS viewers. On ESS, 145 million viewers watched the live matches. The 2011 World Cup has delivered 39 percent reach as compared to the 2007 World Cup, which stood at 113 million at the end of 29 matches. ESPN Start Sports (ESS) has picked up exclusive global broadcast and marketing rights to all the matches for a whopping $1.1 billion.
Money Play
Business seems to be blooming this World Cup season. A search trend report by e-commerce giant, Alibaba.com, revealed that online searches for cricket related products went up by 130 percent in February 2011 compared to February 2010. Following the trend of cricket searches, the interest levels of companies producing cricket related products have also increased. Indian entrepreneurs received 49.6 percent of their business from "cricket playing" countries like the United Kingdom, Australia, South Africa, West Indies, New Zealand and Pakistan.
Dirty Game
Despite stringent efforts by cricket administrators, police vigilance and crackdowns, the gambling business focused on cricket scores has flourished. According to police assessments, illegal betting on cricket in India amounts to well over $5 billion annually. Punters and bookies remained busiest during cricket matches, when bets were being placed on every aspect of the game. Volumes during 'key' matches were estimated to exceed $500 million. A study by the Associated Chambers of Commerce (ASSOCHAM) said that students and young adults in Delhi have topped the list of those betting the most on the cricket WC. "School and college kids are seeing the World Cup as a windfall chance to make some quick money. They are even selling off their personal belongings to bet on their favorite teams and players," said ASSOCHAM secretary general DS Rawat. In the first 21 days of the series, Delhi police alone smashed 10 betting rackets in the national capital. Live streaming sites offering betting on WC matches gathered huge visits. According to the online cricket betting live stream, 5 million unique visitors have visited the site since the start of the World Cup. Cricketer-turned-betting business expert Ken Rutherford called on the ICC to understand the working of betting industry and work pro-actively to clean up the game from the menace of match fixing. With so much of the 'game' being played off the field, what's certain is that the champions will not be the only 'winners' of the World Cup this year.