Bollywood Today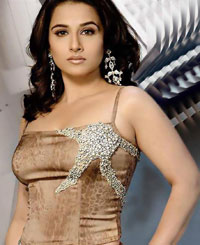 Of Friends and Foes, Pals and Lovers
Vidya's relationships have always been something of a mystery. Most often, there has been more bark than bite, and more hearsay than fact. This time, Vidya is supposedly in a relationship of some sort with Siddharth Roy Kapur, head of UTV Motion Pictures. Siddharth is very clear and quick to state that he and Vidya are not romantically linked. Vidya maintains that she and Siddharth see each other all the time given that they live in the same vicinity, but refuses to say anything further. Lovers or not, Vidya and Siddharth were seen coming out of a restaurant in Goa together. Looking extremely casual and very comfortable with one another, it is hard to believe that there is no love brewing here. Time will tell us how this will eventually turn out.
S
ridevi Brings Her Magic Back To Tinseltown
Sridevi said goodbye to films and lived happily in the comfort of
her new family. Though she was ready to make her comeback a few years ago, she had to put it off. Word has it that Sridevi had almost signed a film with the Yash Raj banner a few years ago. However, her husband expressed a desire to launch her in his own grand production. That never took off, and now Sridevi is ready to do things right. The movie that will bring Sridevi back to her fans is to be directed the wife of Balki, the mastermind behind hit film Paa. Although there is no official announcement made by either Sridevi or the family, she has been seen making regular rounds at her gym and with her nutritionist. Great news, Sridevi, we can't wait to see you sizzle on screen again.
Dabangg 2
People are still not over the euphoria of the success of Dabangg and news of its sequel. However, troubles have already started brewing. The director of the original Abhinav Kashyap and producer Arbaaz Khan have had a huge fallout resulting in Kashyap throwing in the towel. While it should have caused panic buttons to be pressed all over, there was actually an element of happiness as Arbaaz was looking forward to becoming a director. As an integral part of Dabangg, he feels he is ready to do the sequel full justice, and what is more, also add a new touch of sizzle to it as well. While the turn of events can be termed unfortunate, we hope the outcome of the film is not.
M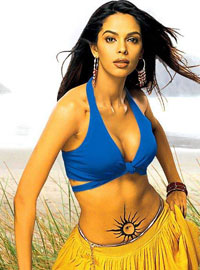 allika Sherawat – LA Calling
Mallika certainly seems to have arrived on the social scene, if not the movie scene in Hollywood. Present at the Academy Awards, she hosted the Governor's Ball thereafter. However, this is not an isolated event. She is apparently, on the invite list of many events, and has no qualms about dropping names casually. She loves to admit that Elton John thought she looked stunning at the Awards, or that she was invited to his party. She poses genially for all photographers, especially when it is with other big stars in the same frame. It looks like the move from the streets of Haryana to Bollywood and finally to the US has paid off for this curvaceous beauty.
Quiet Peeks at Shahrukh Khan's Don Look
Everything Shahrukh does is always news. That's not just because he is the star he is, but also because he does everything with style. His passion, dedication and conviction make everything he does larger than life. Don may not have done as well as people thought it would, but Don2 is still much anticipated. Pictures of Shahrukh's look in the movie have leaked out, and his long hair and tattoo are the latest rage. Fans are eager to get as much information and as many sneaks as they can.
Family Ties Strengthened in Bajpai Household
There is nothing that can cement a relationship better than a loving brood. Manoj Bajpai will soon learn this lesson in his life as he welcomes a baby girl into his family and heart. Manoj Bajpai has been long married to actress Neha, or Shabana as she might be known to people close to her. A one star wonder, Shabana quietly settled into domestic bliss with Manoj. Although a week old, fatherhood status has yet to sink in completely, especially since Manoj has already headed back to Bhopal where he continues shooting for his film Arakshan. Hope the little girl brings in plenty of happiness and luck for this couple.
L
ara No Longer a Single Woman
The wedding has finally taken place, and Lara and Mahesh are officially man and wife. With a civil marriage in Mumbai, and a traditional Christian wedding ceremony in Goa, Lara and Mahesh have ensured that they kept true to each other, and to all those to whom they professed their love. Both looked stunning in their wedding outfits, but it was clearly the day of the bride. Lara looked divine in a lace wedding gown and long train. Doing things in her characteristic style, Lara even wrote out some of her own vows. With the sangeet ceremony that matched all expectations, this was a very special affair. The couple is now off to Dubai for a few quiet moments to themselves.
R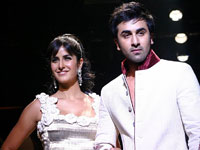 anbir and Katrina Take Romance to Silver Screen
They have been rather elusive about their status, especially with one another. However, nothing has stopped them from signing a film together. Ranbir and Katrina will soon give fans a true blue commercial Bollywood flick. The film, a remake of a Telugu original, was sketched with Aamir in mind, but after his refusal went to the tables of Hrithik and Shahid as well. After they all declined, Ranbir stepped in and took on the role. Although Katrina has not finalized the film, she has been in talks with co-producer Allu Arvind who is doing all he can to persuade her. If this gamble pays off, and if we can see shreds of their romance on screen, only time will tell.
Friendships Turn Sour
It looks like eye candy Dostana will not return to the audience again. After announcing its sequel almost as soon as the film was released, Karan Johar has been fighting hard to keep his promise to his audience and fans. However, knowing the perfectionist that Karan is, he can never be willing to settle for anything less than the best. And even after two years, there still does not seem to be any headway the film is making. Apparently, none of the scripts that have reached Karan satisfy him enough for him to give the go-ahead. And after all this waiting, Karan seems to have written the film off and gone ahead with other plans and productions. Let us keep our fingers crossed and hope that the magic of Dostana does come alive sooner than later.
Asha Bhosle to Lend Her Smiles and Tears to Bollywood
First it was her silken voice that took the music world by storm. The full throated, sultry voice that sent shivers down the spines of many is today ready to take on dialogues and give meaning to story. Asha Bhosle will play the lead in Maaee. The story of a lady who is forced to live with her son and his family is a compelling one. Bhosle's commitment to excellence is something that makes everyone await the film with anticipation, and if after all these years, she has chosen this one to make her acting debut with, it must be special.
The Walker Magic No More
It is really true – both Johny and Tony Walker have left the world with one less reason to smile. While Johny was the one who kept people laughing with his endearing portrayal of various characters, most of whom were high on life and liquor, Tony chose to maintain a lower profile and remain producer. Although he did play the odd role, he was instrumental in making films and launching some great names in the Indian film industry, including Sultan Ahmad. With him, the Walker tradition is officially over as none of his four children have entered the industry.