Remembering Our Resolutions Healthy recipes to help get you back on track

So you've been stuffing yourself full of bhajia and delicious sweets. Even though Sameer ji "forced" you to eat yet another gulab jamun, in truth, you truly enjoyed every bite of it. Remember how you vowed never to eat anything greasy or sweet again at the beginning of the year? Well, now it's time to really put the holidays behind you and get back to making your health a top priority. While indulging in scrumptious treats from time to time isn't the end of the world, these indulgences can be dangerous on an everyday basis. You don't have to eliminate taste from your world. You just have to make a few small changes. Swap out the ghee for canola oil, eat more fruits and vegetables, and best of all, experiment! Figure out what healthy meals you and your family would be happy to eat on a daily basis. Here are some recipes to help you and your family get moving on the road to healthy living.
---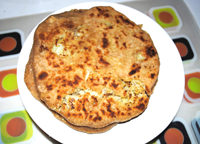 Corn and Cauliflower Roti
Picky eaters in your home? Try this recipe to get them to eat more veggies. Spicy and sweet, this is delicious treat for young and old.
Ingriedients:
¾ cup whole wheat flour
¾ cup corn flour
2 cups of cauliflower, grated
3 medium potatoes, boiled
and mashed
1 onion, finely chopped
1 green chili, finely chopped
1 tablespoon coriander leaves, chopped
1 teaspoon red chili powder
1 teaspoon ground coriander
¼ teaspoon turmeric powder
½ teaspoon garam masala
½ teaspoon ground cumin
salt to taste
Directions:
1. Combine all ingredients in a medium bowl. Form a smooth dough by slowly adding water. Once formed, cover the dough, and set aside to rest for 30 minutes.
2. Make small balls of about 2 ½ in diameter. Take one ball and roll it out to a roti about 6 inches in size. Cook roti on a skillet or tavi as you would normal rotis.
---
Mixed Vegetable Curry
Who doesn't love curry? Get your family to eat more vegetables by serving this curry with brown basmati rice and whole grain rotis. Don't like zucchini? Swap it out for a vegetable of your choice.
Ingriedients:   
3 medium zucchini, chopped
1 medium red bell pepper, chopped
1 tomato, chopped
1 inch piece of ginger, minced
1 teaspoon lime juice
2 teaspoons olive or canola oil2 tablespoons nonfat plain yogurt
½ cup water
1 teaspoon red chili powder
1 teaspoon ground coriander
½ teaspoon ground turmeric
½ teaspoon garam masala
Directions:  
1. Combine the yogurt, water, and all spices in a small bowl.
2. Heat a deep skillet and add the oil. Once the oil is hot, add the yogurt paste.
3. Cook the paste until the oil separates, about 5-7 minutes (stirring in between).
4. Next add the zucchini, bell pepper, tomato, and lime juice. Stir well. Cover the skillet and simmer for 5 minutes.
5. Garnish with cilantro and serve.
---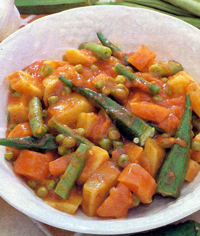 Mango Smoothie 
Smooties are a great way to start the day or feed a mid-day hunger attack. This recipe is versatile, so feel free to interchange your favorite fruits to create your own delicious concoction!
Ingriedients: 
1 ripe mango, peeled, pitted & chopped ¾ cup skim milk ¼ cup nonfat vanilla yogurt ½ teaspoon vanilla extract handful of ice cubes Fresh mint sprigs
Directions:
 Combine all ingredients except mint in blender. Blend well until smooth and creamy. Garnish with mint.