A Match Arranged in Heaven – When Mohsin Wed Marium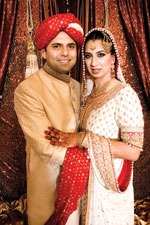 The idea of being part of a family that accepts yours and whose values match yours go a long way in making married life easy for you in the long term.
There is an ongoing debate about whether a love marriage is better than one arranged for you. While girls secretly hope they will meet a prince who will sweep them off their feet and others fantasize of running away to have an intense wedding in solitude, there are still a number of marriages being arranged where parents decide who the suitor will be.
There is definite charm about an arranged marriage. The idea of being part of a family that accepts yours and whose values match yours go a long way in making married life easy for you in the long term. There is definitely a thrill about meeting someone, getting to know them, and developing a romance along the way. Great anticipation, plenty of excitement and so much mystery surround an arranged marriage that it sometimes feels like the only way to be married.
If you should have any doubts about an arranged marriage, ask Marium Mukati, a physician from Florida. She first met her beau in November, and they married in July after a whirlwind of activity and romance. Introduced by a mutual friend, the families met before they decided to move things forward. On November 16, the fateful day Marium finally met software engineer Mohsin Rizvi, the man with whom she is destined to spend the rest of hewr life. After several meetings the following week and a few meetings after, Marium and her family gave their acceptance, and a small party was arranged on February 17, when the couple was engaged.
With only five months before the wedding date, there was plenty of excitement and great momentum. Marium made a trip all the way to Pakistan to put together most of her trousseau. Once she returned, planning moved to a different level and began with meetings with various vendors, a laborious process which paid off well in the end. Although Marium and the Mukatis looked into all the details personally, they had a decorator assist them with the arrangements at the venue, the mehndi, and the wedding.
With a keen eye for detail, Marium was interested and involved in planning from the start. She looked into every minute detail herself. The fruits of her labor were seen at the mehndi and wedding ceremonies. Months of planning, purchasing and decision-making went by quickly, as did the ceremonies themselves.
The day of mehndi finally arrived, and Mehfil Restaurant in Fort Lauderdale, Florida, was packed to capacity with about 250 members in attendance. Friends and family from both sides came enthusiastically to partake in the celebration. Mehfil was the obvious choice for its ambience, capacity and also versatility, which made it easy for Marium to manage its decoration the way she preferred. Mohsin and his family walked in first, followed by Marium, her four closest friends, brother and sister. They were led into a tastefully decorated area that contained both traditional elements and incorporated subtle shades of contemporary hues. Umbrellas and centerpieces were highlighted traditional themes, while the stage was used to showcase Marium's creative and refined side. A small ritual, during which the bride's family fed the groom sweets and the groom's family reciprocated, was followed by unbridled fun. Dinner was sumptuous, and the dance floor became the center of focus. The celebration began with performances by Marium's sisters and friends, after which everyone joined in with abandon. Needless to say, celebrations went on until the late hours of the night. This was a special occasion for everyone, and even Marium made me most of it, not allowing the veil covering her face to come in her way.
Soon the morning of July 8 arrived, and everyone knew it was magical from the start. The Hilton at Fort Lauderdale Airport readied itself to receive 400 guests, and the bride and groom prepared themselves for the most momentous day of their life. It took several meetings with the coordinator Barry Rubin before Marium was reassured that everything was to her taste, and it reflected in every element visible. Marium arrived in the afternoon leaving enough time for finish her makeup and attend the outdoor photo shoot. The couple had already been married in separate ceremonies for the bride and groom as is customary in all Muslim weddings. Marium had the nikkah the day before at her residence. Mohsin, on the other hand, enjoyed his nikkah during the Friday prayer at Islamic Studies of Broward Mosque on the day of the reception.
With all formalities completed, Mohsin was shown his way into the reception hall, followed by Marium and her family. The hall dazzled with the use of maroon fabric, which portrayed a grand ambiance, and crystals that shimmered in anticipation and excitement. Moving away from the conventional, Marium decided against the customary red, and instead chose a white ensemble with subtle hints of red. Her family followed her lead on this day, complementing her attire with shades of red in their clothing.
The reception began with rounds of appetizers, and a ceremony during which Marium was gifted a ring and Mohsin a watch from the other's family. After cutting a cake and saying a quiet prayer for the newlyweds, the reception finally came to a close. For Mohsin and Marium, the celebration of a new life was just beginning.
Although Marium spent much of her time planning the celebrations, she took in every moment of the wedding. She advises that all brides and grooms relax, and savor every moment. May Mohsin and Marium enjoy wedded bliss, joy and peace forever.