ABCD: American Born Confused Commendable Desis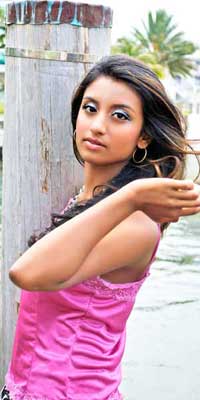 The acronym ABCD, popularly known as American Born Confused Desis, has taken on a completely different meaning in the last 10 years. Indian American youth have made their mark in a wide range of fields, putting the meaning of "C" in a drastically different light.
Given that Desh-Videsh strives to focus on the positive accomplishments of Indians and the positives of the Indian culture, the below terms are just a few examples of what I think "C" should stand for in the acronym ABCD.
Commendable
Champ
Chief
Competent
Concerned
Confident
Conqueror
Cool
Credible
Charismatic
If you still doubt the way Indian American youth have embraced both their native and western cultures, take a look at the next few pages, which detail the accomplishments of several rising Indian Americans.
A star is born
I'm a bit of a big dreamer, a bit persistent, but I'm ready for whatever God has in store for me.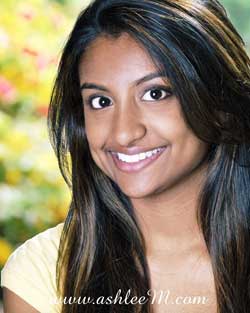 – Ashlee Madhukar
Ashlee Madhukar, a resident of Plantation, Florida, is streaming on air her three debut singles "Second Chance," "I Can Never Forget" and "Yesterday." "This is just the initial stage," comments Ashlee, the 19- year-old aspiring artist, who is clearly a star in the making.
Recently, she recorded her three original songs at the famous Omni Studios in Nashville, Tennessee. Ashlee had the honor of having Jerry Kimbrough, veteran guitarist and associate professor at Vanderbilt University in Nashville, to produce her singles.  One of her songs, "I Can Never Forget," was selected for the Miami Music Festival "Bruce Hornsby" talent showcase in 2010.
In describing her sound Ashlee says, "My music is a fusion of Bollywood and American pop. I grew up in America so most of my music relates and sounds like pop music here, but in embracing my original background there is an eastern feel to it on stage, through costuming and in the beat. India has such a beautiful culture and I'd be a fool to not let it influence me."
Ashlee, who is very much like the girl next door, is funny, loves food, and dancing. She has so many prodigious talents, an amicable personality, and a diligent work attitude all wrapped into one very special package.
Her aptitude for music and song started at the age of two when she memorized the Lord's Prayer. With an ear for music, she began playing the violin at age three and gave her first solo performance at age six, when she sang "Silent Night" at a church service. Under the direction of Wallace Peterson, her career in music began to take shape, and was selected for the Florida All State Choir. She started formal voice lessons at age eleven under a well-noted singer/songwriter Kathyryn Farnham and later with Sarah Jamison a broadway/opera singer from New York.
During high school she leaped into opportunities to sing with mega church choirs. At the age of fourteen she performed her first grand solo accompanied by the Westminster Women's Choir under the guidance of Lisa Wilson at the Coral Ridge Presbyterian Church in Fort Lauderdale, Florida.
In 2009, she was a winner at the world famous Apollo Theater Amateur talent competition in Harlem. She took a daring step and performed the popular Whitney Houston song "I Will Always Love You," which made headlines nationally. The win also caught the attention of agent Shirley Faison, and Ashlee subsequently signed with the Carson Adler Casting Agency in New York.
Ashlee then joined with producer "Rajstar" in New York and recorded a new version of the pop song " One Step at a Time" originally done by American Idol Jordin Sparks. Her version, available as a free download at www.ashleeM.com, features the Indian tabla for percussion and inspired Ashlee to add more Indian flavors to her music.
Last fall, during Ashlee's visit to India, she delighted audiences with her performance of "Jai Ho" from the 2009 Oscar winner movie Slumdog Millionaire composed by the award winning A. R. Rehman. She was accompanied by 200 Indian school children making the experience unforgettable.
Ashlee began writing her own songs at the age of 7 and has retained all her writings from then, in a little book gifted by her dad for Christmas. As a songwriter, she was granted the Patricia Frost Award from the University of Miami. Ashlee is now a part of the BMI songwriting community along with other South Asian Artists like A.R. Rehman and Jay Sean. Randy Goodrum, a successful pop/country hall of fame songwriter, has also invited her to co-write with him. Instrumentally, Ashlee enthralls audiences during her performances, by displaying her fine music abilities on the violin, piano and the guitar. Being a singer, writer, composer, instrumentalist and actor, has given the young Ashlee all the components needed for great entertainment and varied performances.
As a bright student, academics were never left far behind. Ashlee now studies Music Business Entertainment Industries at the prestigious University of Miami. Ashlee certainly balances her many activities well by retaining top grades and acclaiming fame with her music abilities. The one thing she always wanted to be was a performer, and she strives to reach that notch much sooner.
Ashley's motto
Psalm 30:12
"that my heart may sing to you and not be silent. O Lord my God, I will give you thanks forever."
Nine Indian American high school seniors in the Intel Science Talent Search
Nine Indian American high school seniors are among 40 students named finalists nationwide in the Intel Science Talent Search, the country's most prestigious science and math competition. Out of nine Indian American finalists, there were three seniors from Northern California, two from Texas, and one each from Michigan, Minnesota, New York and Florida.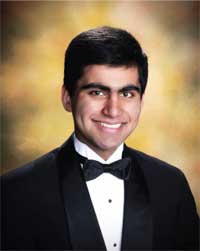 Rohan Mahajan
Rohan Mahajan, 17, of The Harker School Cupertino in California, submitted a materials science project that researched ways to improve the efficiency of photoelectrochemical (PEC) cells. Rohan is president of the chemistry club and captain of the debate team. The son of Umesh and Manjula Mahajan, he serves on the Bay Area Youth Health Advisory Board. Rohan also volunteers with both the Pacific Free Clinic, where he helps diagnose patients and instruct health education classes, and the Lucile Packard Childrens Hospital, working in the maternity department.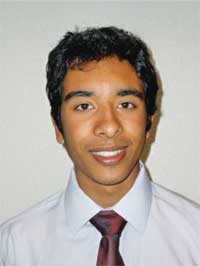 Nikhil Parthasarathy
Nikhil Parthasarathy, 17, of The Harker School Mountain View California, researched irregular structures of distant Lyman break galaxies. Nikhil plays varsity tennis and co-founded the Ultimate Frisbee club. In his spare time, he edits and proofreads online books for under-served readers. The son of Sarangarajan Parthasarathy and Mala Raghavan, Nikhil plays in a rock band, is an officer for an honors society that focuses on community performances, and relaxes by playing classical guitar.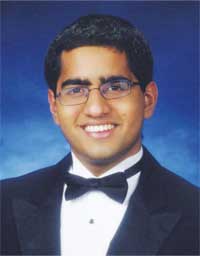 Amol Aggarwal
Amol Aggarwal, 17, of Saratoga High School Saratoga California, submitted a project in mathematics investigating the comparison and measurement of distances in a convex polygon. Amol competes as a member of the award-winning chess team. He enjoys sharing his mathematical skills with fellow students as a participant in several local math clubs, and volunteers at a local homeless shelter, where he helps students with their homework and tutors in all academic areas. Amol plans to pursue a career as a professor and researcher, combining his interests in mathematics and economics. He is the son of Alok and Sangeeta Aggarwal.
Shubhro Saha
Shubhro Saha, 17, of Choate Rosemary Hall Avon, Connecticut, performed computational research on an alternative method of electrolysis for hydrogen. Shubhro is captain of the award-winning debate team. He also writes for the school newspaper, enjoys playing piano in the jazz band, runs cross country, and develops web applications in his free time. The son of Samar and Saraswati Saha, he is proficient in Bengali and hopes to someday become the CEO of a hydrogen energy company.
Shubhangi Arora
Shubhangi Arora, 17, of Novi High School Novi in Michigan, submitted a microbiology project addressing the genetic basis of drug resistance in a common yeast. Shubhangi is a video producer and anchor for the award-winning newscast The Cats Eye News at Novi High School. She heads the math club and varsity cross country team, and she intends to run the Chicago marathon one day. Born in India to Anupam and Shikha Arora, she is fluent in Hindi and is a Dale Carnegie graduate assistant. Shubhangi hopes to study molecular biology in college and earn a combined M.D./Ph.D. to pursue a career in medical research.
Prithwis Kumar Mukhopadhyay
Prithwis Kumar Mukhopadhyay, 18, of Woodbury High School in Minnesota, studied the relationship between carrageenan, a common food additive, and cancer. First in his class of 442l, he is captain of the Science Quiz Bowl team and is the only student on the school district curriculum advisory committee. He enjoys basketball, cricket, and cycling. The son of Partha and Munmun Mukhopadhyay, Prithwis was born in India and speaks Bengali, Hindi, and Spanish.
Alydaar Rangwala
Alydaar Rangwala, 17, of The Albany Academies Loudonville in New York, investigated ultraviolet (UV) light phototherapy as a treatment for autoimmune diseases. Alydaar is president of the local Ronald McDonald House Teen Board, investment club, and student body and is president/founder of the American Red Cross Club at The Albany Academies, where he competes in forensics and track and field. Fluent in Gujarati and accomplished in Latin, he plays guitar and competes in local chess tournaments. The winner of many academic and community service awards, Alydaar looks forward to a career in medicine. He is the son of Mazhar and Sakina Rangwala.
Sunil Kochikar Pai
Sunil, 17, of The Kinkaid School Houston in Texas, developed a new approach to measure electron transfer properties of molecules. He is president of the math club and a member of the varsity cross-country team. He plays in the orchestra and is secretary of the Orchestra Board. In his spare time, Sunil enjoys playing chess, tennis, and golf, and he is youth president of the Houston Konkani Association. His parents are Nagaraja and Sujatha Pai.

Prudential Youth Volunteer
Rujul Zaparde is among ten young Americans selected in the 2011 Prudential Spirit of Community Awards program for national recognition based on their outstanding achievements in community service. These ten were selected from America's 102 most outstanding youth volunteers – two from each state and the District of Columbia. The awards program, now in its 16th year, is conducted by Prudential Financial, Inc. in partnership with the National Association of Secondary School Principals.
Rujul, a junior at The Lawrenceville School, co-founded a nonprofit organization that has motivated more than 450 students at 23 schools to raise funds that have been used to dig over 30 water wells in rural India.
There were five other Indian American state finalists: Manasvi Koul of Waxhaw, N.C.; Priya Krishnan of McLean, Va.; Paarth Shah of Horseheads, N.Y; Nikhitha Murali of Green Bay, Wis.; and Parth Singh of Tulsa, Okla.
Two Indian-American students win "Door to Diplomacy" Award
A website "Cultural Diplomacy with the Muslim World" has been chosen a winner by the Department of State for its 2011 Doors to Diplomacy Award, which is co-sponsored by Global SchoolNet. The award recognizes web projects that best teach young people about the importance of international affairs and diplomacy. Participants, ranging in age from 11 to 18, included 341 student teams from 30 countries.
The winning website, built by a team from West Windsor-Plainsboro High School North in Plainsboro, New Jersey, explores the role that culture plays in international diplomacy. Indian Americans Aparajit Sriram and Avanti Dabholkar, both seniors at Plainsboro High School North in Plainsboro, New Jersey, created the website.
Each student member of the two winning Doors to Diplomacy Award teams will receive a $2,000 scholarship. In addition, the winning coaches will each receive a $500 cash award. Judging was performed by student peers and educational professionals, with final selections made by a team of Department of State judges from the Bureaus of Public Affairs and Educational and Cultural Affairs. The winning sites will be linked from the Department of State's youth site.
Aparaajit is a senior at West Windsor-Plainsboro H.S. North in Plainsboro, New Jersey. He was born in Bahrain, lived parts of his childhood in Singapore and Mumbai, India, and then settled in the U.S.
Avanti is also a senior at West Windsor- Plainsboro H.S. North. An aspiring architect who one day hopes to contribute to her surroundings through her work, Avanti will join a university architecture program in the coming fall.
Harry S Truman Scholarship
Ishan Nath from Georgia, Anjali Bipin Thakkar from California, Veena Irene Patel from Iowa, Niharika Sanjay Jain from Louisiana and Aditya Attiguppe Ashok from New Hampshire are among 60 students from 54 American colleges and universities who will receive the Harry S. Truman Scholarship, which provides up to $30,000 for graduate study to students committed to careers in public service.
The award is one of the nation's most prestigious national fellowships, given annually to college juniors who have demonstrated exceptional leadership potential and who are committed to careers in government, nonprofit or advocacy sectors, education or other public service.
They were selected on the basis of leadership potential, intellectual ability and likelihood of 'making a difference.'
Presidential Scholars
An impressive number of Indian American students have been selected as U.S. Presidential Scholars by the U.S. Department of Education out of 3.2 million graduating seniors nationwide. Each year, up to 141 students are named as Presidential Scholars, one of the nation's highest honors for high school students. The students will be honored in Washington, D.C., on June 18-21.
Here is a list of Indian American Presidential Scholars:
AL – Huntsville – Teja R. Alapati, Randolph School
AL – Rainbow City – Anjali A. Wagle, Alabama School of Fine Arts
AZ – Chandler – Keshav Amla, Phoenix Country Day School
AZ – Tucson – Amita Gupta, University High School
AR – Forrest City – Neha Kumar, Saint Mary's Episcopal School
DC – Washington – Lara Mitra, Sidwell Friends School
FL – Longwood – Akshay V. Save, Lake Mary High School
MN – Plymouth – Rohit Agrawal, Wayzata High School
MS – Oxford – Samantha S. Nanayakkara, Mississippi School for Mathematics & Science
NV – Las Vegas – Sanchay Gupta, The Meadows School
NY – West Nyack – Divya V. Shah, Clarkstown High School South
OK – Edmond – Anjali R. Sawh, Edmond North High School
PA – Philadelphia – Joya A. Ahmad, William Penn Charter School
TX – Austin – Fatima I. Alvi, Westlake High School
TX – Sugar Land – Karthik Sethuraman, William P. Clements High School
WI – Fort Atkinson – Arjun S. Dhillon, Fort Atkinson High School
ABCD: American Born Confused Commendable Desis