Abha Narang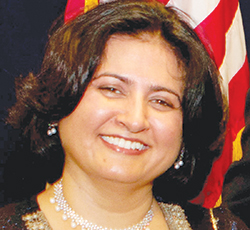 Abha Narang
Born in New Delhi, India, Abha Narang is an active volunteer who works with a wide range of organizations in the community like Ekal Vidyalaya, Vishwa Hindu Parishad of America, HSS, Param Shakti Peeth, Hindu American Foundation, South Florida Hindu Temple, Broward Outreach and Jubilee Pantry.
Narang earned a Master's in English Literature from Lady Shree Ram College at Delhi University. After Narang married, the couple moved to the United States in 1992. Now the owner of Mantra Exclusives, a jewelry boutique for bridal and costume jewelry, Narang initially began her career as a real estate agent.
Narang first began volunteering after seeing her husband give back to the community. Once she realized the impact of giving back to the community, she became an active volunteer for many causes, including holding fundraisers for nonprofit organizations Ekal Vidyalaya and Hindu American Foundation (HAF). For the past few years, Narang has served as the the South Florida Chapter lead for HAF.
Narang has also taught Hindi language at South Florida Temple for four years and served on their Executive Committee as Secretary for three years. She has held HSS camps for children in her backyard, served food at Broward Outreach, refilled the pantry at Jubilee Pantry, among other noble activities. An active volunteer with her daughters' schools, Narang is no stranger to working with children and parents alike.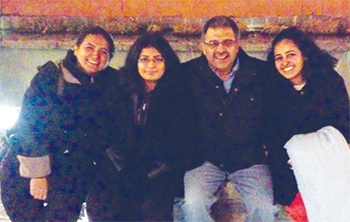 Narang's own grandmothers and mother along with her husband have been a driving force in her life. She hopes to her own behavior and actions will set a standard for her daughters to carry with them throughout life.
Narang has met many people who work tirelessly to better the lives of those they do not know, and she acknowledges the many small acts of kindness that occur around us in our everyday lives.
Narang now lives in Florida with her husband, Vijay. Her daughter, Urvi is a recent graduate from Georgia Tech and will be working in Silicon Valley at Intel. Daughter Neha has just started her sophomore year at Georgia Tech.