Akshay Kumar – The Highest Paid Bollywood Celebrity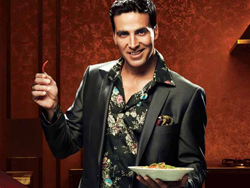 Akshay Kumar is no unknown name even to the non-Indian masses. He is now the highest-paid Bollywood celebrity in the world. He recently featured in the Forbes list of highest-paid celebrities of 2019. Khiladi Kumar will be the only Indian to feature in the current list of highest-paid faces from India.
Talking to a website, Akshay Kumar said, "I will tell you a few incidents. And it has happened many times. I have seen the lowest phases. I have gone through ups and downs at least three-four times in my career, which is a lot for any actor."
"But every time I have gone through it, I just do one thing – I go down my building and see how many cars I have. Then, I look at my house, sometimes I go to my office and look at everything. Is why I am crying? What I'll be getting lout of it? God has been so kind so I don't think I have the right to feel even a little low because there are so many people who have nothing. If I start thinking like this, then I would be the most selfish person ever."
He also revealed that he had less than 2 dollars in the pocket when he first came to Mumbai.
Akshay Kumar
non-Indian masses
Bollywood celebrity in the world
Khiladi Kumar