Alasinga Perumal – He inspired Swami Vivekananda to visit America
He inspired Vivekananda to visit America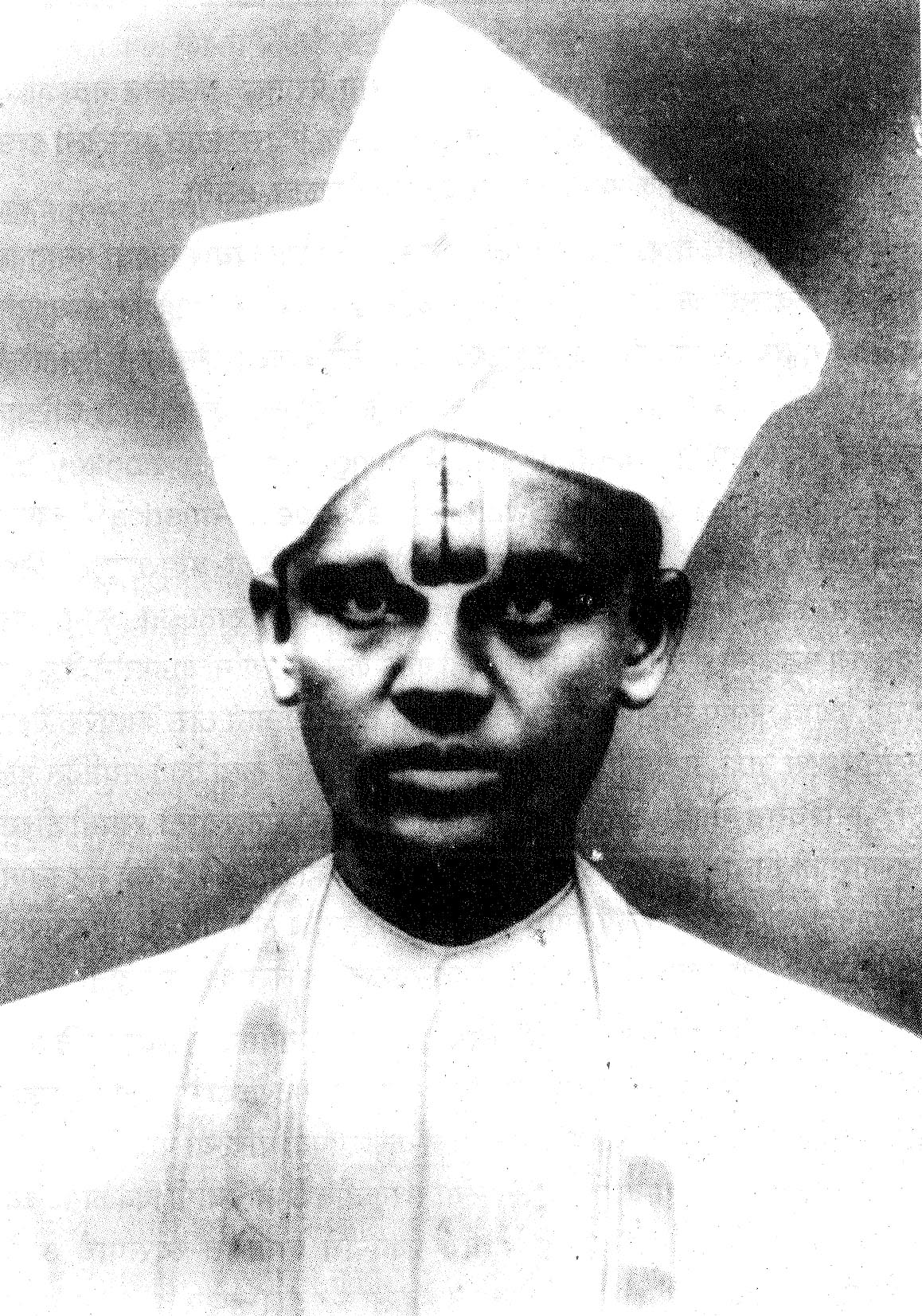 "I cannot express my obligations to you Alasinga and all my Ma dras friends for the most unselfish and heroic work you did for me… for it is you young men who have done all… I am only a figurehead" Thus wrote Swami Vivekanada in 1893 from the United States in the full flush of his victory in the World Parliament of Religions. The letter was addressed to a humble teacher, a young man of 28, M.C. Alasinga Perumal Iyengar, Headmaster of Pachaiyappa's High School in Madras. There was every reason for the great Swami to feel particularly happy about Alasinga, and (for him to go to the Parliament) his devoted band of Madras young men, for, as it happened, they were the main inspiration of Religions and the first unstinted financial supporters for the trip.
Swami Vivekananda
Ramkrishan Mission
Parliament of Religions
FRIEND OPPOOR
How the Swami and the teacher met is another example of how great things are brought about by destiny with insignificant looking events. Born of humble parents in Chickmagalore in Mysore State in 1865, Alasinga had his education m Madras, first in the Presidency College and then in the Christian College under Dr. William Miller. Graduating in Science, he took to law but did not complete it. He started life as a teacher in a private school at Chidambaram. His efficient record got him the Headmastership of the Pachaiyapppa's High School in Madras in 1890. Almost to the end of his short life, he held this post with distinction and also earned a name as a friend of the poor, He was literally an institution, and crowds besieged him at hi" house to get all kinds of help, which he gave without stint. He was a friend of the high and the low, the rich and the poor the worldly-eminent and the spiritually exalted.
UNKNOWN MONK
Towards the end of the nineteenth century, a wave of spiritual revival was spreading all over India, thanks to great saint like Sri. Ramakrishna Paramahamsa who brought a fresh breath into the stifling atmosphere of bigoted orthodoxy. But the Ramkrishan Mission had not been founded; for that matter not even Swami Vivekananda was known; he had not even taken that name at the time, but was known by various names at various places, the best known of them being Swami Sacchidananda. In 1892 this young disciple of Ramakrishna came to Madras, comparatively an unknown monk. But his fame had reached some circles madras Prof. M. Rangacharya and Prof. Sundararama Iyer, two scholars of repute, then in Trivandrum, had met the Swami on his visit to that city after his epoch-making visit to Cape Kanyakumari and had been highly impressed by his erudition and royal bearing. They had written to friends in Madras and thus it happened that Alasinga Perumal came to hear of the Swami. Ever since it was announced that a great Parliament of Religions was to be held in Chicago in the later part of 1893, Alasinga had been trying without success to interest persons like Prop. Rangacharya to go there to represent Hinduism. '
END OF QUEST
Learning that the well versed Swami mentioned by Prof. Rangacharya had come to the city as the guest of a Bengali officer, Alasinga was curious to meet him. At their very first meeting, Alasinga instinctively felt that his quest was over; he knew that he found his spiritual master and the person he was seeking to go to the United States to represent Hinduism, with the courage of conviction. He posed the momentous question. "Why not go to Chicago, Swami Ji?" The Swami did not readily agree; he had thought of it earlier but had his own doubts. But Alasinga's persistence succeeded. And the Swami instructed his disciple to collect funds for his passage. He however stipulated that the money should be collected mainly from the people, the middle class. The young man of Madras led by Alasinga rose to the occasion and collected within three or four days a sum of three thousand rupees. The die was cast, the Swami's passage to America was booked. Alasinga went to Bombay personally to see off the Swami. When the time of departure of the ship came, the Swami, with tears in his eyes, warmly embraced Alasinga who then prostrated himself at the feet of his Guru. Simple Alasinga was hardly aware of the significance of the chain of events he had so unostentatiously set in motion.
INTIMATE LETTERS
From America, Swami Vivekananda, who had become world renowned by now continued to write intimately to Alasinga. The famous sentence, "What I want is muscles of iron and nerves of steel, inside which dwells a mind of the same material as that of which the thunderbolt is made" occurs in one of the Swami's letters to Alasinga in the "Complete works of Swami Vivekananda" and in the book "Letters of Swami Vivekananda" can be found number of letters from Swami to Alasinga, dealing on various topics. It was at Vivekananda's behest that Alasinga Perumal started Brahmavadip, a serious journal of Vedanta. "If you could start a magazine on Vedantic lines," wrote the Swami from America in 1894, "it would further our object. Be positive; do not criticize others. – Give your message, teach what you have to teach, and stop there. The Lord knows the rest". In September 1895. Alasinga started the Brahmavidin with the assistance of other 'Madras Boys' like Dr. M. C. Nanjunda Row and G. Venkataranga Rao. The first editorial said "To us belongs the duty of placing before the world our ancient vedantic ideal of life-an ideal true and so full of promise to humanity even today if clothed in language suited to the understanding of modern man" The journal continued to serve the cause for nineteen years, establishing a very high standard for its contents. Professor Max Muller was so impressed with the editorial of the paper that he suggested collecting and publishing them in the book from under the title Brahmavadin Essays; he even wrote at introduction for the work, but unfortunately the book did not come out. Max Mullers introduction, however, was published later on in Brahmavadin after his death.
JOURNAL FOR YOUTH
Prabudha Bharata, another journal of repute, was also started by Alasinga Perumal, who felt that there was ned of less erudite journal for the benefit youth containing our ancient truths in story from. It was Alasinga who selected B. R. Rajam Iyer as the first editor of the journal. Rajam Iyer, the genius who had made name as a literary novelist in Tamil, made as brilliant a mark writing in English on Vedantic topics as his collected works "Rambles in Vedanta" has proved by its sustained popularity to this day. The Tamil Poet Subramaniya Bharati was friend of Alasinga Perumal and the later had a hand in getting Bharati fixed up as the editor of "Indian" the nationalist weekly started in Madras in 1906. When Alasinga passed away in 1909, at the early age of 44, Bharati wrote a touching note in his weekly, which had by then been shifted to Pondicherry. Bharati said it was not an exaggeration to say that no good work was organized in Madras without Alasinga Perumal having a leading role in it". Bharati recalled how when he met Sister Nivedita years ago and said there were no patriotic leaders to guide the youth of Madras like himself, she readily rejoined, Alasinga is there! If you have any doubts regarding public affairs, have them cleared by him" A poor man to the end-he spurned offers the sizable gifts by well-meaning symapathisers-Alasinga is a constant reminder of the strength of character of the great potential that lies hidden in unselfish hearts.
He was karma yogi to the core. There can be no better tribute to Alasinga perumal's memory as a fitting conclusion to this life-sketch than the following description of him by Swami Vivekananda. (When Swami Vivekananda reached Madras on his way to the West for the second time, Alasinga traveled with the Swami from Madras to Colombo on board the ship with the intention of consulting the Swami about the Brahmavadin and the Madras work.) "Alasinga, Editor, Brahmavadin, who is a Mysore Brahmin of the Ramanuja sect, having a fondness for "Rasam" (Pungent and sour dal soup), with shaven head and forehead overspread with the caste-mark of the Tengale sect, has brought with him with great care, as his provision for the voyage. Two bundles in one of which there is fried flattened rice, and in another popped rice and fried peas, his idea is to live upon these during the voyage to Ceylon, so that his caste may remain intact. Alasinga had been to Ceylon once before, at which his caste-people tried to put him in-to trouble, without success. A Madrasi by birth, with his head shaven so as to leave a tuft in the centre, barefooted, and wearing the dhoti, he got into the first class; he was strolling now and then on the deck and when hungry, was chewing some of the popped rice and peas; However, one rarely finds men like our Alasinga in this world-one so unselfish, so hard working, and devoted to his Guru, and such an obedient disciple is indeed very rare on earth." "(…." Ours)
(The complete works of Swami Vivekananda, Vol. VII, PP. 315-16). – By COL RS MANNAR