Amitabh Bachchan's debut Gujarati movie Fakt Mahilao Maate will be released in August 2022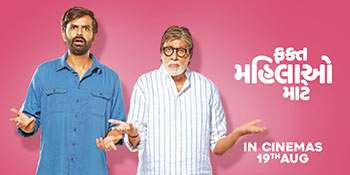 Big B is all set to create another milestone in his career. His debut Gujarati movie Fakt Mahilao Maate is going to be released on August 19, 2022. His fans, followers, and viewers of Gujarati movies are gearing up to watch the megastar in Gujarati movies. Yash Soni, Tarjanee Bhadla, Kalpana Gagdekar, and Bhavini Janii are the lead actors in the film directed by Jay Bodas. Although Bachchan will play a cameo role in the movie, viewers are hopeful about a good performance from him.
Director Jay Bodas had high praise for Big B and said that his small performance will be enjoyed by the viewers. The film also features Big B's baritone in the background as the narrator. Producer Anand Pandit was highly impressed by his immaculate Gujarati pronunciation. He first thought of dubbing his portions, but Bachchan requested to see his work first. After hearing his Gujarati, he was stunned.
The film's title, Fakt Mahilao Maate, means all for women. The story revolves around the life of a 28-year-old person, Chintan Parikh. The role of Parikh is played by Yash Soni. The middle-class man gets into all kinds of trouble due to the women around him. Confused and irritated, he goes to different temples and prays for the ability to gain the power to handle women and the troubles created by them.
No detail of the role portrayed by Amitabh Bachchan has been revealed yet. However, there is no doubt that it will create the usual magic of the megastar as always.
Amitabh Bachchan
Gujarati movie
Fakt Mahilao Maate
Jay Bodas
Yash Soni