Disney+Hotstar's Shoorveer gets a mixed review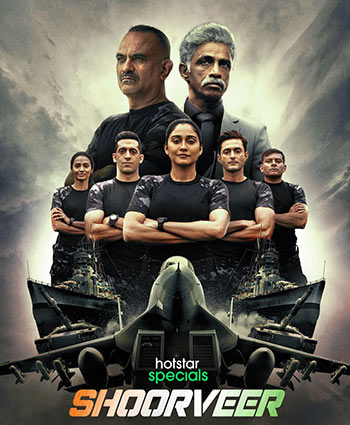 Soon after the release of the military drama Shoorveer on the OTT platform Disney+Hotstar, the viewers expressed their opinions on their social media handles. There is a mixed response among them. Some highly acclaimed the series, while others were not much impressed by it.
Shoorveer is produced by Juggernaut Productions and directed by Kanishk Varma. The ensemble cast has senior actors like Makarand Deshpande and Manish Chaudhari along with Regina Cassandra, Armaan Ralhan, Abhishek Saha, Aadil Khan, Anjali Barot, Kuldeep Sareen, Arif Zakaria, Faisal Rashid, Sahil Mehta, and Shivya Pathani in different roles.
The story of Shoorveer is about the Hawks, a joint task force of the Army, Air Force, and Navy formed by the Indian government. This force works as the first responder in cases of severe threats to the national security system. The members of the Hawks are the most competent soldiers from across the country. The series portrays different cases faced and solved by the force.
Shoorveer has excellent visual effects for the aerial and other encounters. Some of the viewers were highly motivated by these encounters as well as impressed by the visual effects. They praised the series for its nationalistic approach and also storyline as well as visuals. On the other hand, some viewers did not find anything special in the series. They even compared it to the daily soaps.
Comparison with the Tom Cruise starrer Top Gun Maverick has also been made in reviewing Shoorveer. However, according to the reviewers, it lacks the skill and effort of the Hollywood movie.
Shoorveer
Disney+Hotstar
Kanishk Varma