Amitabh Bachchan's Jhund Gets a Positive Response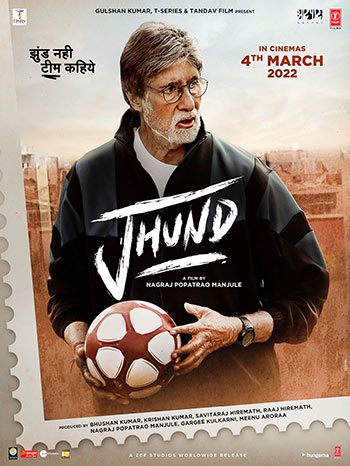 Jhund, a film based on the real-life story of Vijay Barse and his NGO called Slum Soccer, has received very good reviews from the viewers. With Amitabh Bachchan in the lead role, this directorial venture of Nagraj Manjule has been highly rated by celebrities as well as common viewers in social media since its release on March 4, 2022. The plot revolves around a school teacher who manages to train and form a soccer team of slum boys, along with rehabilitating them from drug addiction, crime, etc.
Viewers are touched by the simple storytelling and the realistic ambience of the film. Amitabh Bachchan's performance as the football coach has been highly praised by viewers, as has the exceptional credit due the director Nagraj Manjule who also directed the super hit Marathi film Sairaat. Viewers found the film engaging and thrilling. Some even suggested others watch the movie, which is a welcome relief from the gorgeous and glittering array of commercial films. Some viewers found watching it to be extremely motivational.
Amitabh Bachchan posted a snapshot of his sporty look the film along with a glass-breaking picture just before the release of the film which attracted his fans and admirers and generated interest among them. Celebrities also poured in praise for the film. Southern superstar Dhanush was all praises for the film—calling it a masterpiece and acclaiming every aspect of it. Aamir Khan, the perfectionist, was literally in tears after watching the film and said that the film was a great learning piece for him.
Jhund movie
Amitabh Bachchan
Nagraj Manjule
Vijay Barse
Slum Soccer