Anita Weds Chirag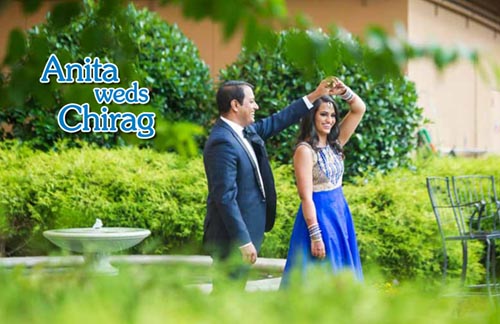 Some of the best love stories are the tales of childhood sweethearts, like Anita and Chirag Patel. Friends since the 8th grade, the two saw each other grow up and were finally engaged after 10 years. Chirag planned his proposal for six months, between picking the perfect spot at the park and choosing a beautiful ring. Anita was nervous and didn't know what Chirag was trying to ask, but was so excited to begin planning the wedding and share the rest of her life with him after she said "yes."
The couple planned the entire event themselves in about eight months, choosing to have the wedding in Atlanta because it was close enough to their families in Alabama, but also offered a big city environment for their international guests. Their guests' hotel was also conveniently located one mile from the wedding site. Between the planning and buying a new house at the same time, Anita and Chirag felt overwhelmed at times, but were relieved to have their friends, family and each other through the entire process.
For the Garba night, they chose a Moroccan theme with bright jewel toned tablecloths, cushions, and curtains. Their guests were entertained by several game stations, including corn hold, cards and Carom boards, and had the option of sitting at tables or standing at high boys.
The ceremony followed a more traditional theme, with a gold, red, and green indoor mandap and a large Ganesha table at the ballroom entrance. The aisle had rose petal adorned design, with columns along the side, large floral pieces and chandeliers. For the reception, the mandap was opened and the drapes and flowers were changed to match the new gold and blue color scheme. Lighting was installed along the perimeter of the room, and the couple included several unique touches, such as a large engagement photo near the entrance, a bird cage in the reception hall and puzzle pieces on the sign-in table instead of a traditional book. Food was set up in the foyer for their 600 guests, and the DJ booth was lit up as the dancing and entertainment began. Anita and Chirag's families did a surprise dance and video depicting the couple's decade-long relationship, and it was the highlight of the night. Anita as relieved that the entire event went off without a hitch, and even though it was just one day in the scope of her long and happy life with Chirag, it was the most important day they have ever shared.
Photos Courtesy:
Peter Nguyen Photography
678-428-2521
www.peternguyenphoto.com
Vendors

BANQUET HALLS
The Ballroom at the Carlos Center
404-892-2359
www.tnchcc.org

BEAUTICIANS/COSMETICIAN
Gunn Glamour
678-558-7637
sgunn.hair@gmail.com

DECORATOR
Utopian Events
678-570-4443
www.utopianevent.com

BOUTIQUES
Anokhi Ada
770-760-8565
anokhiada.sona@gmail.com

MEHNDI
Beauty U Deserve
404-663-5344
beautyudeserve@gmail.com

JEWELERS
Bhindi Jewelers Inc
404-325-8755
www.bhindijewellers.com

Zaveri Bazaar
404-254-1330
www.zaveribazaar.com

DISC JOCKEY
Indaglow Productions
404-734-6534
www.indaglowproductions.com

DISC JOCKEY
Indaglow Productions
404-734-6534
www.indaglowproductions.com

RENTAL SERVICES
A-1 Tent & Party Rentals
770-458-7740
www.aonerentals.com

PRIEST/WORSHIP SERVICES
Ambaji USA
404-993-1783
bharat23@hotmail.com

CAKE
Ratio Bakery
404-500-4456
www.ratiobakeshop.com

FLORIST
Utopian Events
678-570-4443
www.utopianevent.com

RESTAURANT/CATERING
Thali Indian Vegiterian Cuisine
678-705-1290
www.thaliatl.com

PHOTOGRAPHER
Peter Nguyen Photography
678-428-2521
www.peternguyenphoto.com

VIDEOGRAPHY
LEXORIA FILMS
727-550-6683
www.lexoriaweddingfilmstampa.com