Anupam Kher Visits Kailash Temple In Agra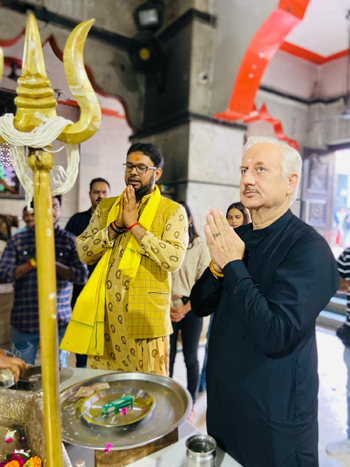 Veteran actor Anupam Kher had an amazing experience filled with devotion and gratitude during his visit to the Kailash Temple near Agra. Kher was shooting for his upcoming movie Kuch Khattaa Ho Jaay in Agra and had an opportunity to explore the remarkable sculpture and interact with the priest of the temple. He said that it is the only temple in the world with two Shivling. The actor was extremely happy for the opportunity to worship in the temple and expressed his contentment with his followers on his social media handle. 
He also learned from the priest that the Kailash Temple is 10,000 years old. He prayed for the well-being of all to Lord Shiva and shared some glimpses of his interaction with the priest of the temple. A few weeks ago, Kher also visited the Guru Ka Taal Gurudwara in Agra and sought blessings. He interacted with the Kar Sevaks at the Gurudwara and paid homage to Guru Tegh Bahadur Sahib for his sacrifice and said that the Kashmiri Hindus will be ever grateful to him.