Asha Bhosle celebrates 75 years of her Music Career at India's Best Dancer – Season 2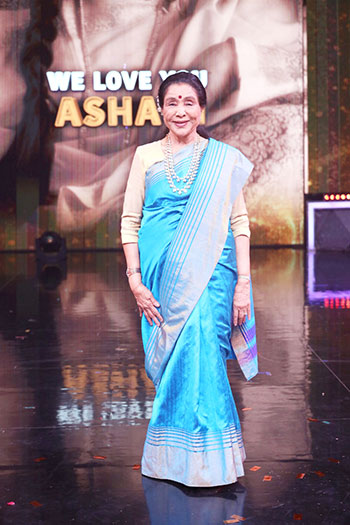 The living legend Asha Bhosle has completed 75 years of her music career, and this milestone was celebrated at a special episode of the dance reality show India's Best Dancer – Season 2 of Sony Entertainment on December 5, 2021.
Adorning the seat of a special judge of the show, she highly praised the young dancers' performances to her blockbuster songs like 'Jhumka Gira Re' and 'Ek Haseena Thi' .
Ashaji expressed her deep desire and love for dancing, and said that she wanted to learn dancing from childhood.
However, per her family tradition, she learned classical music and gradually became the singing superstar of Bollywood.
Despite that, she said that in her heart, she is a dancer.
She sang her national award-winning song Umrao Jaan 'Dil Cheez Kya Hai'; and the entire set—including the judges Malaika Arora, Geeta, and Terence Lewis—was left mesmerized by the singing prowess of the 88-year-old singer.
Another star attraction of the show was a video message by another living legend, Amitabh Bachchan, where he was seen congratulating Ashaji for her magnificent music career, on behalf of the entire film industry.
Asha Bhosle thanked him and wished him good health and long life.
She also recalled her duet song with Big B 'Does Lafzon Ki Hain Dil Ki Kahaani' from the film The Great Gambler.
Overall, it was a splendid show graced with the appearance of Asha Bhosle.