Vicky Kaushal plays Field Marshal Sam Manekshaw in Meghna Gulzar's Sam Bahadur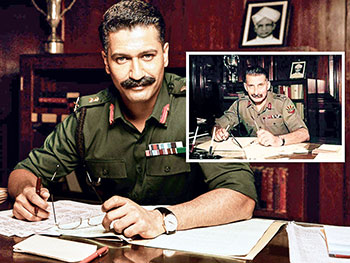 Yet another masterful biopic for Vicky Kaushal.
After the high critical acclaim and viewers' praise for his portrayal of Bhagat Singh in the film Sardar Bhagat, he is preparing himself to play the role of the war hero Field Marshal Sam Manekshaw who successfully led India as the chief of the army in the Bangladesh Liberation War against Pakistan and helped in the liberation of Bangladesh.
2021 being the golden jubilee year of the Indo-Pakistani war and India's victory, Meghna Gulzar is extremely happy and honored to be the director of such a significant film.
Sam Manekshaw's long and illustrious military career lasted for four decades, and he fought five wars.
He was the first Indian Army officer to get promoted to Field Marshal He played a significant role in the 1971 Indo-Pakistani war as the Army Chief of Staff.
Apart from Vicky Kaushal as Sam Manekshaw, the cast of Sam Bahadur also include Fatima Sana Sheikh as the late Prime Minister Indira Gandhi, and Sanya Malhotra as Manekshaw's wife Silloo.
Meghna Gulzar highly praised these two actors and expressed her hopes that these two ladies will do complete justice to their roles.
The lead actor Vicky Kaushal is enormously happy and excited to share the screen with these two talented actors of contemporary times.
He further added that, according to his knowledge, both the late Prime Minister and Silloo Manekshaw had a great influence on the life of Sam Manekshaw.
Both leading ladies expressed their gratitude and happiness to get the opportunity of playing such important roles in Meghna Gulzar's film Sam Bahadur.