Immigration Q & A March 2015

Q. I called the USCIS about my case. They told me that they would send me a decision in 30 days. It has now been 3 months and I have received nothing. When I called again, they now told me I have to wait 180 days! Why did they give me different information from the first time I called? Can I rely on USCIS to provide me necessary information on the phone?
A. Unfortunately, the USCIS customer service line is only useful in a very limited way.The person who answers the phone does not have access to your file. He or she only sees a computer screen with limited information. It often takes USCIS 30 days or more to update that computer. For example, if you send in a response to a request for evidence, USCIS may physically receive your envelope but the customer service center may not know that for some time. The USCIS customer service center cannot tell you when something will happen on your case. The office has a list of general projected completion dates for several types of cases. When you ask "How long will it take to get an answer on my case?" the representative on the line will look at a chart for similar cases to yours and tell you the approximate completion time. This is not a promise by USCIS to have your individual case completed. The representative on the line cannot even the see the documents in your file, nor are they trained in knowing the rules that apply to your case. They certainly cannot advise you what steps you should take to successfully apply for an immigration benefit as it applies in your particular situation. The information they can give you is limited to what you can learn on the USCIS website. Do not rely on what the representative tells you on the phone. That representative does not work for you and does not have your interests in mind. If you have questions about your case, speak to an experienced immigration attorney. Keep a copy of everything you send to USCIS and everything you receive from them. When you show these documents to an immigration attorney, he or she will be able to advise you on what steps you have to take next.
Q. I have been in United States for two years. I came with a tourist visa, but it has now expired. I have found a business that is willing to offer me a job and sponsor me. Can I het my green card this way?
A. No. Getting a green card through employment is a 2 part process. The employer first files a petition with USCIS (and if needed, the employer must first have a labor certification approved). The employer's petition may be approved, whether you are in the US legally or not. In fact, you do not have to be in the US to have the employer's petition approved. However, the next step is to apply for adjustment of status – that is your personal application for the green card (based on the employer's petition). Your overstay will prevent that from being approved. (There are a few small exceptions – check with your immigration attorney). ). Basically, if you do not have legal status in the US when you apply for adjustment of status based on employment, you will not qualify. If you have overstayed by 6 months, and leave the US to process you green card in the US Consulate in your country, you will not be allowed back in for 3 years. If you overstay by 1 year, you are barred from reentry for 10 years.
Q. I have a 10 year visa to the United States. Can I stay here for 10 years?
No. There is a big difference between the visa stamped in your passport and your permitted duration of stay. Your visa is probably a visitor's visa (B1/B2). As a visitor, you are allowed to stay for no more than 6 months at a time. When you enter the US with your visa, you will be given a Form I-94. This used to be a little card, but is now done electronically. Your form I-94 will state how long you can stay on this visit. You may print out your form I-94 from the CBP website (www.cpb.gov). Your passport will also be stamped and the stamp will say how long you can stay. Sometimes you may be able to extend that period of stay by filing an application with USCIS. The visa in your passport, however, only governs your entry to the US and the category in which you may enter.
Q. My fiancée is here on a student visa. I am a US citizen. We plan to marry on Valentines' day. What do we do next?
A. After you get married, you will be ready to file for your wife's green card. Family filings are a 2 part process. You will need to file Form I-130 – that is your petition for your wife's immigrant visa. Your wife will need to file form I-485 – her application to adjust status (From student to permanent resident). These forms are filed at the same time. Your wife also has the option to return to her home country and have your petition processed at the US consulate in her country, as log as she has not violated her status in the US. The forms are sent to USCIS by mail. You will need to include a copy of your marriage certificate, proof of your citizenship, any past divorces and a copy of your wife's birth certificate. You will also need to document how your wife entered the US. You are also required to file an Affidavit of Support and include proof of your income. This form guarantees to the government that your wife will not seek public assistance. You have to show that your income is more that 125% of the federal poverty level. If you do not make that much money, you will need a co-sponsor to also file an Affidavit of Support for your wife, or you may use your assets, such as bank accounts or a home. The co-sponsor must be a US Citizen or permanent resident. Your wife will also need to send in a medical exam from a licensed immigration doctor.
Your wife may also apply for temporary employment authorization and a temporary travel document. After you have sent in all the paperwork and the filing fees, USCIS will send you receipt notices for all the forms. Then your wife will receive an appointment notice for her biometrics. Than means fingerprints and a photo. You will then get an interview appointment with USCIS. You will both need to go to the interview and bring evidence that your and your wife really live together and that the marriage was not just for the green card. If you pass the interview and your wife does not have any bars to adjustment, such as a criminal conviction, she will be granted permanent residence and will receive her green card in the mail.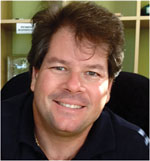 The advice in this column may not apply to your specific situation, even if it seems similar in nature. The only way to obtain legal advice is by speaking with a qualified attorney and reviewing your specific circumstances. If you have any questions, please call me at (954) 522-4115.
Edward Boreth is an immigration attorney who has practiced law for 18 years. He is a partner at Shapovalov & Boreth and a director of the Citizenship Clinic. He is also an avid cricket fan.