Ayusa and Jeff
During their medical training, doctors Ayusa Sinha and Jeff Goldstein met through shared patients. Ayusa initially was less enthusiastic, but Jeff was overly eager to approach her. During a three-year courtship, Jeff proposed to Ayusa, a garden enthusiast, in the ideal setting of the Rutgers Botanical Gardens. Ayusa joyfully consented, as she had anticipated the proposal.
On June 26, 2022, the two were married. They reserved the Horticultural Center in Philadelphia as their wedding and reception site, and hired the wedding coordinator All About Events to organize all of the ceremonies.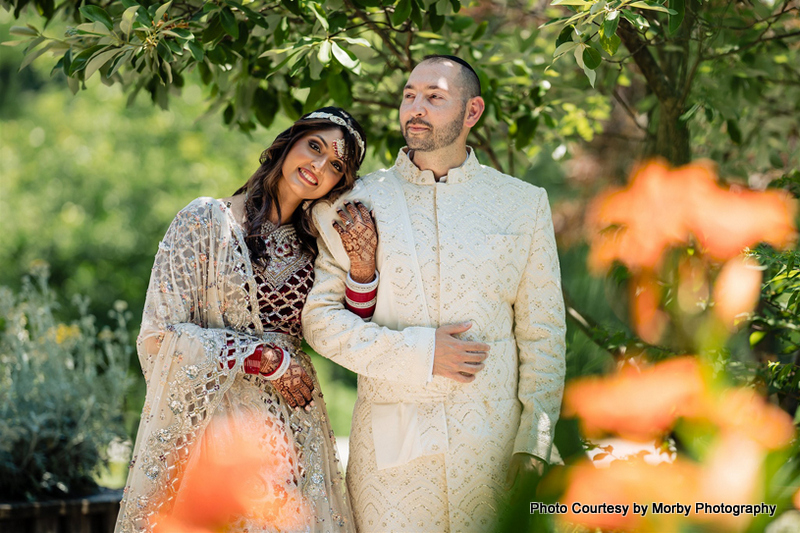 Mehndi and Sangeet were observed as pre-wedding rituals. Ayusa was sitting on a swing with lovely drapes in the background. The dominant hues were hunter green and mustard yellow.
Outside wedding rites began at four o'clock, and Ayusa sat on a throne waiting for her "Prince Charming." All of Jeff's close friends and family danced behind him as he arrived in a blue convertible Audi. Light pink and slate blue florals with gold accents served as the color scheme. Israeli and Bollywood music was played.
It was the ideal fusion of the two civilizations. Tradition calls for Israelis to meet the bride at a gathering called Kabalat Pannim, or "Greeting of Faces," before the wedding ceremony. A string quartet sextet was performed at the gathering.
The reception was held inside. In order to have adequate room for family-style meals, the décor was modest. The menu combined Jewish and Indian cuisine. There were two different dancing sessions, the first featuring the Jewish hora and the second a combination of Indian pop music and traditional dance music. All 200 visitors were given shawls for women and kippahs for men.
When Jeff veiled her before the wedding, Ayusa was enthralled. Being recognized as Mr. and Mrs. Goldstein for the first time was a dream come true for them both.
---
BANQUET HALLS Fairmount Horticulture Center 267-398-3070 | BEAUTICIANS Bella Angel Hair & Makeup
856-227-7774  Katherine Balan | DHOL PLAYER Dhol Bros Entertainment 610-618-2377 | EVENT PLANNER
All About Events 267-534-4707 | DECORATOR Anderson Flowers 732-662-7938 | INVITATIONS Freebird Paperie 570-847-4159 | MEHNDI Henna by Sushma 610-723-1778 | MUSICIAN DJ Shia 646-535-2334 | Shir Soul 917-817-2897 | PHOTOGRAPHER Morby Photography 484-351-6881 | CATERING Elite Catering 917-655-9564  | VIDEOGRAPHY JPG Photo & Video 267-297-5316 | WEDDING INVITATIONS Freebird Paperie 570-847-4159 | WEDDING SERVICES Elegance Quartet 484-343-3008
---