Bawaal available on Amazon Prime Video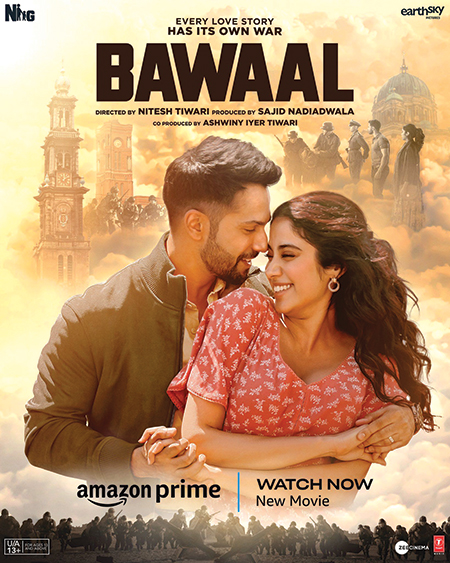 Bawaal, which was made available on Amazon Prime Video, starred Varun Dhawan and Janhvi Kapoor. The film is produced by Sajid Nadiadwala and directed by renowned filmmaker Nitesh Tiwari. Nitesh Tiwari, known for films like Chhichhore and Dangal, is a brilliant filmmaker.
A star-studded pre-screening of the film was organized by the producers on July 18, 2023, prior to its release. Everyone had pretty high expectations for the film because its songs and trailer generated a lot of talk online. Bawaal is calm despite the uproar in its title, even with jazzily dressed Gujaratis and their love of food in the mix.
The writing is commendable overall and represents a wonderful effort to do something different, but it didn't come off the way the producers intended. The OTT release was therefore the most secure choice, and the film is passable for a single viewing but not particularly noteworthy.
Ajay Dixit (Ajju) and Jahnvi Kapoor (Nisha), played by Varun Dhawan, first appeared together on screen. Additionally, it will be the first time Varun Dhawan and director Nitesh have worked together. Bawaal, directed by Nitesh Tiwari, is supported by Sajid Nadiadwala under the Nadiadwala Grandson Entertainment brand. It would be his third collaboration with Varun after Dishoom and Judwaa 2, and his second with Nitesh after Chhichhore.
Speaking of the narrative, the movie is a love story with a political message. The "trophy-wife syndrome," in which a guy marries a woman because of her attractiveness so that he can brag about it to his friends, is the central theme of the play.
Varun portrays a young man from a small village who falls in love with Janhvi, the most attractive woman in the community. He makes an effort to impress her by expressing his desire to wed her in the future because doing so will advance his social standing.
The romance drama directed by Nitesh Tiwari, Bawaal, was released on Amazon Prime Video on July 1, 2023, rather than in theaters. Bawaal was scheduled to debut in theaters on April 7, 2023, but was delayed. On July 21, 2023, the movie was finally made available on the OTT platform, Amazon Prime Video.
| | |
| --- | --- |
| Release Date | July 21, 2023 |
| Platform | Amazon Prime Video |
| Star Cast | Varun Dhawan, Janhvi Kapoor, Parth Siddhpura, Shashie Vermaa, Arnob Khan Akib, Gunjan Joshi, Satendra Soni |
| Director | Nitesh Tiwari |
| Producer | Sajid Nadiadwala |
| Production House | Nadiadwala Grandson Entertainment |