Bharvi weds Mithil Indian Wedding at Hilton Atlanta photos by Cassie Valente
Fate and chance work in mysterious ways, especially when it comes to meeting the love of your life. In 2010, Bharvi Patel and Mithil Patel resided in dorms at Georgia Tech, just three minutes away from each other. It wasn't until 2011 when the two met. One day, Mithil met his roommate's study partner, Bharvi, and the two became friends and slowly their friendship blossomed into love.
As Mithil is the adventurous sort, he organized a puzzle hunt for Bharvi when they went to Destin, Florida, for some beach time fun. For every successful answer, Bharvi got closer to the treasure chest, which held a key to Mithil's heart (in this case it was a giant ring!). Bharvi said yes, and the couple were joined by dozens of friends waiting to surprise them!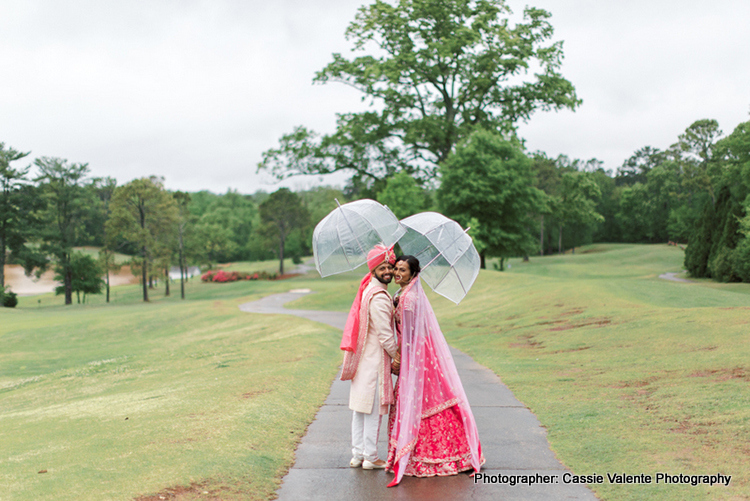 Bharvi and Mithil wanted an outdoor wedding, so they chose the Hilton Marietta Hotel in Marietta, Georgia, as they fell in love with the venue's outdoor veranda that overlooks the golf course. Since Bharvi's brother recently got married, she was well aware of the wedding planning process. So, the couple decided to plan the wedding themselves. Bharvi also designed all the wedding invitations herself.
Indian wedding planning
Pre-wedding ceremonies included a mehndi held at Bharvi's parents house, where Mithil surprised his bride-to-be with a grand 10-minute firework show! The garba evening was held in the ballroom at the Hilton and was decorated with a hand painted tree/branch backdrop with parrots and a rickshaw where guests enjoyed taking photographs.
Indian Pre-wedding ceremonies
Due to rainy weather, the wedding was held indoors, but ended up feeling like the outdoors with the decor. The mandap was lined with blush pink flowers and greenery and white floral arrangements hung from the ceiling. The aisle decorations were rustic lanterns filled with pink flowers.
Indian garba
Mithil arrived to the wedding in Georgia Tech's mascot car, the Ramblin' Wreck. He entered the ballroom to "Harry Potter Indian Flute Remix" playing in the background. Bharvi entered to "Din Shagna Da."
Hilton Marietta Hotel in Marietta, Georgia
The rustic outdoors carried on to the reception. Centerpieces were a mix of 30-inch tall floral arrangement that looked like floating bouquets, and geometric terrariums with white and blush roses and hydrangeas.
Classical Indian decor
Indian couple's first dance
The couple's first dance was to the iconic "Stand by Me" by Ben E King, the father-daughter dance was the classic "Jab Koi Baat Bigad Jaye" instrumental, and the mother-son dance was to "Nae Nae" by Silento along with a mix of Bollywood songs. As a surprise, Mithil and his mom joined Bharvi and her father halfway through the father-daughter dance and turned it into an unforgettable father-daughter and mother-son medley. Bharvi also joined her bridesmaids towards the finale song of their performance to surprise Mithil. He returned the surprise by joining his groomsmen for the final song of their performance.
Bharvi and Mithil advise couples to "Take your time with the planning. Perfection isn't possible, but fun and memorable is."
Indian BANQUET HALLS
Hilton Atlanta Marietta Hotel & Conference Center
Indian BEAUTICIANS-COSMETICIAN
Erica Bogart Beauty Vigilante Cosmetics
Indian Wedding DECORATOR
Myar Decor Inc
INDIAN DISC JOCKEY
INDIAN EVENT PLANNER
Crimson Bleu Events
INDIAN WEDDING PHOTOGRAPHER/VIDEOGRAPHY
Cassie Valente Photography
INDIAN RESTAURANT/CATERING
Gabriels Restaurant and Bakery
Jaskaran Singh Dholi
Xtrahot DJS
Crimson Bleu Events
Frozen Torch Creamery
Georgia Tech Ramblin Wreck
Mehndi by Beauty U Deserve
Henna by Forever Beauty By Manisha
Kevin Hursh Films
Robot Booth
Pandit Sandeep
Thali Indian Cuisine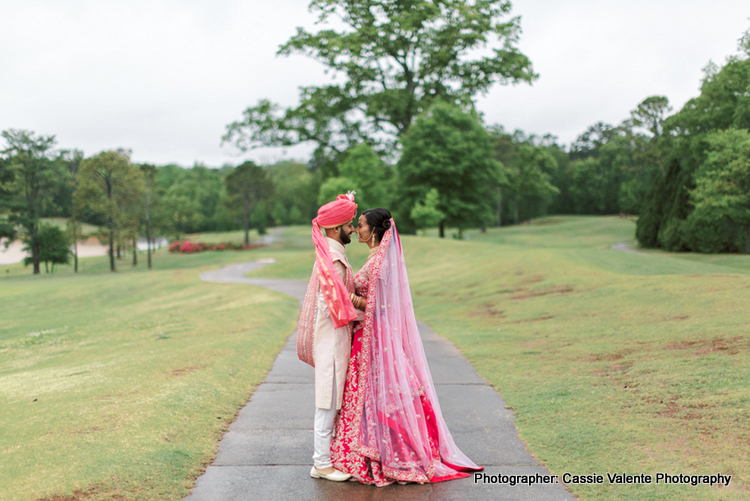 ---
BANQUET HALLS Hilton Atlanta Marietta Hotel & Conference Center 678-819-3244 | BEAUTICIANS-COSMETICIAN Erica Bogart Beauty 404- 375-1262 | Vigilante Cosmetics 404-402-0486 | CAKE Gabriels Restaurant and Bakery 770- 427-9007 | DECORATOR Myar Decor Inc 404-268-7342 | DHOL PLAYER Jaskaran Singh Dholi 706-616-7675 | DISC JOCKEY Xtrahot DJS 404-425-2130 | EVENT PLANNER Crimson Bleu Events 404-217-6097 | KULFI/ICE CREAM Frozen Torch Creamery 404-454-6946 | LIMOUSINES Georgia Tech Ramblin Wreck | MEHNDI Beauty U Deserve 404-663-5344 | Forever Beauty By Manisha 678-900-7846 | PHOTOGRAPHER/VIDEOGRAPHY Cassie Valente Photography 770-633-7972 | Kevin Hursh Films 770- 680-0665 | PHOTO BOOTH Robot Booth 770-876-9248 | PRIEST Sandeep 770-968-3490 | RESTAURANT/CATERING Thali Indian Cuisine 678-705-1290
---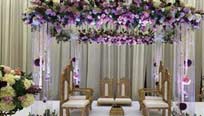 Myar Decor Inc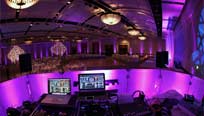 Xtrahot DJS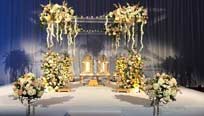 Crimson Bleu Events
For more information on how Preferred Vendors members are chosen, click here.
---