Jaina weds Umesh Indian Wedding at 5th Avenue Hall Photographed by Peter Togel Photography
Signature Ballroom in Suwanee
Indian wedding venue
Indian couple date
Millennium Park
Jaina Patel, a Clinical Pharmacy Specialist, was introduced to Umesh Patel, an Aerospace Engineer, through a mutual friend in 2011. Little did the two know that a casual introduction will lead them down the aisle to their "happily ever after!" The couple's first date was so special that Jaina and Umesh remember it as if the date was just yesterday.
Indian couple
planning the wedding
pre-wedding events
mehndi night
Umesh wanted to be sure he chose the right moment and place to propose to Jaina, so he planned a summer trip to Chicago. However, on the day he planned to pop the question, Jaina fell ill. Before their trip came to an end, they went to see Millennium Park, and it was there that Umesh asked Jaina to marry him.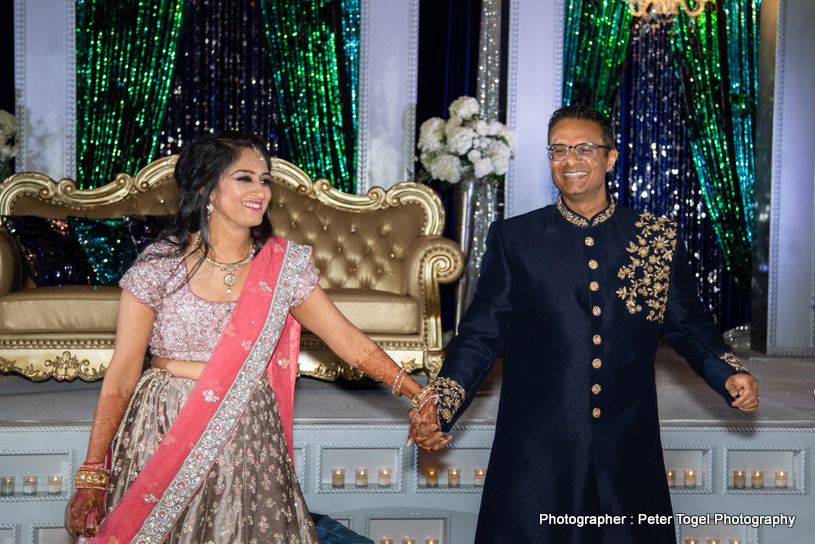 pithi
grah shanti ceremony
flower arrangements
Indian Wedding decoration
Jaina and Umesh chose the Signature Ballroom in Suwanee, Georgia, to be their wedding venue. The couple took on planning the entire wedding themselves, with the help of their family and friends.
Bhangra.
hip-hop music
Bollywood
Jaina's pre-wedding events included a mehndi night, pithi, and grah shanti ceremony all at her home. Since she is from Zimbabwe, all these events had an African theme, and her family members handmade all the decorations themselves. Her cousin, Rajuben, made paper lantern centerpieces, with an African sunset and elephants painted on them. Her brothers-in-law made the stage backdrop, and her aunts and cousins made garlands and small flower arrangements for the decoration. Umesh's family celebrated by doing a pithi and grah shanti ceremony at his home.
Wedding hall decoration
peacock theme
blue orchids
For the wedding, Jaina and Umesh chose a traditional color theme of red, white and gold. Umesh came to the venue in a Mercedes driven by his best friend. For the baraat and ceremony, their DJ played a mix of Bhangra, Bollywood and hip-hop music.
blue stones
Wedding cake
Indian Wedding reception
At the reception, the hall was decorated in a peacock theme, in colors of blue and turquoise. Two types of centerpieces adorned the tables – one was a vase with blue orchids and blue stones in them, and the other had blue and purple flowers with peacock feathers. The couple's cake fit the theme with a peacock on top of it and edible feathers going down one side.
Mauja Hi Mauja
Elvis Presley
Can't Help Falling in Love.
At the reception, their parents entered first, followed by their siblings and other close family members. Umesh and Jaina entered to "Mauja Hi Mauja" from their favorite movie Jab We Met. Their first dance was to the classic Elvis Presley song "Can't Help Falling in Love."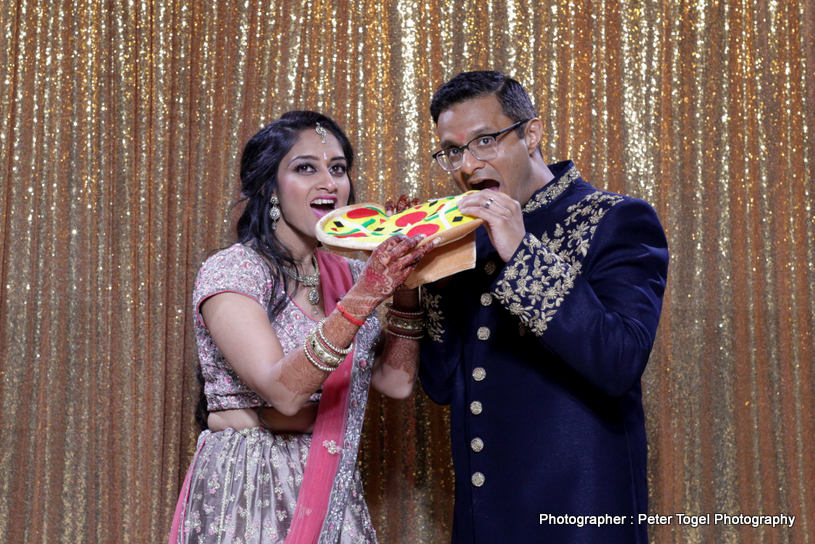 ---
BANQUET HALLS 5th Avenue Hall 678-663-7281 / 678-999-6584 | Ashiana Restaurant & Banquet Halls 770-446-8081 | Signature Ballroom 678-765-7961 |BEAUTICIANS-COSMETICIAN Beauty By Ami 407-257-8646 | CAKE Jay's Cakes 678-779-1489 | DECORATOR The Events Designer by S.A. 678-707-1467 | DISC JOCKEY We Go Disco 678-770-7216 | MEHNDI Bridal Allure by Aarti Amin 678-717-7303 | PHOTOGRAPHER/VIDEOGRAPHY Peter Togel Photography 404-647-6476 | PRIEST Pandit Keshav Joshi 404-386-3267 | RESTAURANT/CATERING Cafe Bombay 404-320-0229 | WEDDING INVITATIONS DP Portfolio 678-358-9068
---