Desh-Videsh Live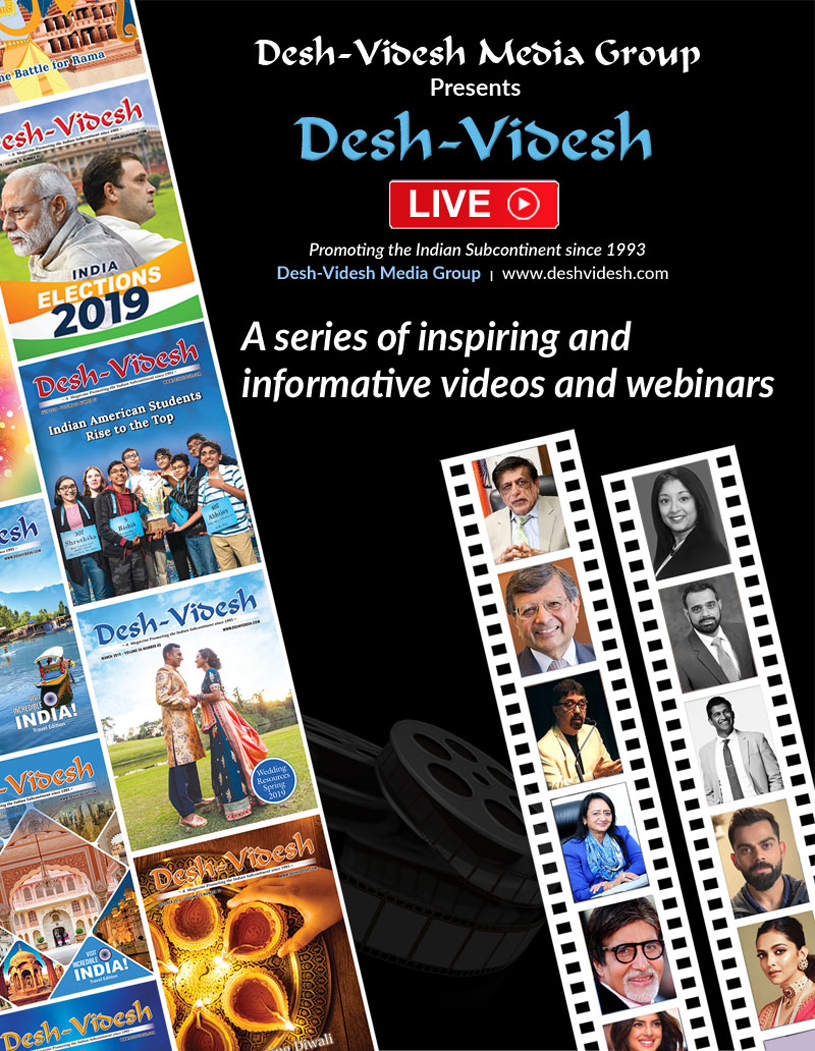 Since 1993, Desh-Videsh Media Group has always pledged to serve our growing community. With our mission in mind and in collaboration with businesses and leaders from our community, we are excited to bring you our newest project – Desh-Videsh Live.
Desh-Videsh Live presents viewers with a series of informative videos and webinars that you can watch from the comfort of your home at your convenience. These videos feature special messages and interviews with community leaders, successful business people, political leaders, Bollywood celebrities, and talented students. Webinars will also cover timely topics related to community events, immigration, Indian weddings, and more.
To learn more about our upcoming programs, please visit www.deshvideshlive.com and register as an attendee. If you are a community leader, successful business person or a talented student and would like to share your experience, please visit the website to provide your contact information and register as a speaker.
This is a community-based project, so please help us spread the word to your friends and family. We also would love to hear from you ways we can improve this program or with topic suggestions.
To stay informed about upcoming videos, be sure to subscribe to the Desh-Videsh Live YouTube channel by clicking on the red subscribe button on our channel home page.
In keeping with our tradition to promote talented Indian American students, every year we highlight Valedictorians/Salutatorians from our community in the July issue of our print and online magazine. It is our pleasure to present their information in this issue.
This year Desh Videsh-Media Group is doing more. We will be broadcasting Valedictorian / Salutatorian speeches along with inspirational messages from community leaders to 2020 graduates via video on our newly introduced Desh-Videsh Live YouTube channel.
It is our pleasure to present our three inaugural speakers – all of whom are known throughout our community for their service and dedication. These inspiring leaders have volunteered their time and donated money towards causes that support, develop, and lift our community
The first Desh-Videsh Live video features community leaders Dr. Kiran Patel, Jagdish Sheth, PhD, and Dr. Chander Shaykher.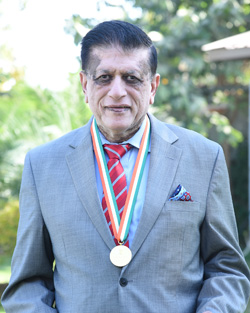 Dr. Kiran Patel
Kiran Patel was born in Zambia, Africa, to Indian parents. He was educated under the British Educational System in Zambia and then got his diplomas from Cambridge University and The University of London. He then went to study medicine at Gujarat University in India and did his internship in Africa. Dr. Patel did his residency in Internal Medicine in New Jersey in 1980. He completed a fellowship in the cardiology program affiliated with the Columbia University of New York in 1982.
Dr. Patel moved to Tampa, Florida, in 1982 and began his practice in cardiology. He was very successful and became a distinguished cardiologist in that area. He developed a physician practice management company and expanded throughout the Tampa Bay area, diverging into 14 practices including Family Medicine, Internal Medicine, Pediatrics and Cardiology.
Dr. Patel was also in partnership with many point-of-service locations to form a multi-specialty network. This network helped patients access most medical services conveniently. He has actively engaged himself in managed care contracts and it has expanded considerably, providing care now for more than 80,000 patients. Apart from this, he has developed good associations with several HMOs and hospitals.
His success in managed care contracts led a group of doctors to seek his services to help them with an HMO in New Port Richey, Florida. Dr. Patel took up the project after discussing a predetermined purchase option of the company. It was called the Well Care HMO, Inc. (Well Care). In 1992, Dr. Kiran Patel, along with Rupesh Shaw, CEO, and Pradip Patel, President, started a Medicaid managed care company. This company became the largest Medicaid provider in the state of Florida.
He also helped to bring around the struggling HMO, WellCare of New York and Connecticut.
He worked with more than 95 hospitals and a few hundred physicians in settling past due medical claims. Dr. Patel provided an additional $15 million in equity through Conversion of Brow and infused $10 million of new capital and acquired 55 percent of the publicly held Well Care Management Group.
Between 1995 and 2002, Dr. Patel built it into a billion-dollar company, providing services to more than 450,000 members, employing more than 1,200 employees and operating in Florida, New York and Connecticut.
He is presently serving as Chairman of Visionary Medical Systems. He believes that the Visionary Office will reduce the paperwork for physicians and give them more time to devote to their patients. He is a member of the following organizations: Fellow of American College of Cardiology; American Medical Association, American College of Physicians, American Association of Physicians from South East Asia, Past Chair Scholarship Committee.
The Drs. Kiran C. and Pallavi Patel Family Foundation focuses on bettering the world through health, education, and culture. The impact of their extraordinary generosity is evident across the globe, particularly in Florida, India, and Africa. While actively initiating projects, the Drs. Patel also responds in times of need.
When a major earthquake devastated villages throughout Gujarat, India, killing thousands, collapsing buildings and homes, and leaving masses of crippled people and orphaned children, Dr. Patel took action. He united the Tampa Bay community and the American Association of Physicians of Indian Origin (which he was a member of) and led an effort that rehabilitated villagers' homes, constructed an orphanage and model school, and created four modern hospitals. More recently, the Patels helped NSU to deliver emergency supplies to hurricane-ravaged Puerto Rico.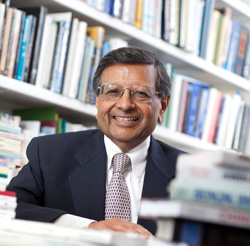 Jagdish Sheth, PhD
Jagdish N. Sheth is a Charles H. Kellstadt Professor of Business at Emory University's Goizueta Business School.
He was a prominent member of the core team during the initial years of the Indian Institute of Management Calcutta, the first Indian Institute of Management. Professor Sheth was awarded a Padma Bhushan in 2020 for his work in literature and education in the United States.
He is globally known for his scholarly contributions in consumer behavior, relationship marketing, competitive strategy, and geopolitical analysis. Professor Sheth has over 50 years of combined experience in teaching and research at the University of Southern California, the University of Illinois at Urbana-Champaign, Columbia University, MIT, and Emory University.
Dr. Sheth has been on the board of several companies including Norstan, Pacwest-Telecom, Cryocell International, Shasun Drugs and Chemicals, and WIPRO Limited. Over the 50 years, he has been an advisor to numerous companies including Whirlpool, Motorola, Texas Instruments, Cox Communications, Rockwell International, AT&T, Bellsouth, WIPRO Consumer Care, Aditya Birla Group, L.M. Mittal (Avanta), E&Y, Square D, Ingram Micro, Hughes Corporation, and others. This has included mergers and acquisitions as well as strategic positioning or repositioning of the company.
His Rule of Three book has been the foundation for investment bankers and policy makers with respect to industry consolidation including horizontal mergers and acquisitions. Professor Sheth has authored or coauthored more than three hundred papers and several books including Clients for Life (2000), The Rule of Three (2002), Tectonic Shift (2006), Self-Destructive Habits of Good Companies (2007), Chindia Rising (2011), The 4 As of Marketing (2012), Firms of Endearment (2014), Breakout Strategies for Emerging Markets (2016), The Sustainability Edge (2016), and Genes, Climate and Consumption Culture: Connecting the Dots (2017). His autobiography, The Accidental Scholar (2014), has inspired others in the areas of education and academic entrepreneurship.
Professor Sheth has been an advisor to the Government of Singapore in repositioning the nation for the future. He has also been a policy advisor to the U.S. Government about the future of the telecommunications industry.
Professor Sheth is the Founder of Center for Telecommunications Management (CTM) at University of Southern California (USC), which has now become an Institute. He is also Founder and Chairman of India, China, and America (ICA) Institute, which analyzes the trilateral relationship and its impact on geopolitics, security, trade, and investment.
Professor Sheth and his wife, Madhu Sheth, have established the Sheth Family Foundation to support several charities in India and the United States. They have also established the Madhuri and Jagdish Sheth Foundation to support scholars and scholarship in the field of marketing. The Sheth Foundation supports the AMA-Sheth Foundation Doctoral Consortium, hosted annually by different universities. It also supports research in emerging fields through AMA, ACR, AMS, and AIB. Finally, Professor Sheth is the Founder and Chairman of the Academy of Indian Marketing (AIM) which supports research and scholarship among Indian scholars in marketing and management.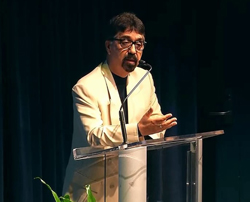 Dr. Chander Shaykher
Dr. Shaykher has a cardiology consultation practice in Miami, Florida. Dr. Shaykher also provides pro bono services and teaches PA students at Barry University. Dr Shaykher is a Voluntary Clinical Professor at the University of Miami Medical school.
He has been a founding trustee and chairperson of the South Florida Hindu Temple, and founded the children's Bala Vihar education program, with over 250 students attending.
Dr. Shaykher's passion is to increase the universal message of Sanatana Dharma, especially the core value of underlying unity beneath superficial diversity. This has propelled him to participate in numerous interfaith activities to build bridges between various belief systems, so critical during these times when we see so much intolerance in the world.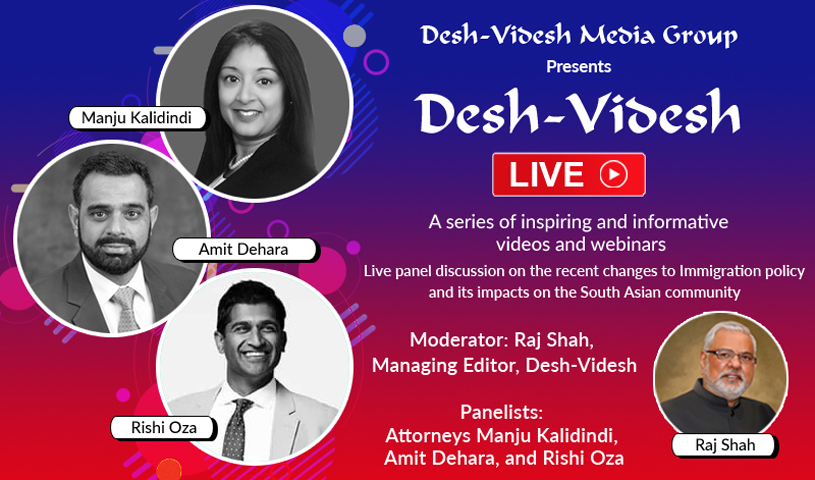 Desh-Videsh Media Group
Desh-Videsh Live
interviews with community leaders
interviews with successful business people
interviews with political leaders
Desh-Videsh Live YouTube channel
interviews with talented students
interviews with Bollywood celebrities
talented Indian American students
Valedictorians/Salutatorians
broadcasting Salutatorian speeches
broadcasting Valedictorian speeches
community leader Dr. Kiran Patel
community leaders Jagdish Sheth
community leaders Dr. Chander Shaykher
Columbia University of New York
practice in cardiology
Family Medicine
Internal Medicine
Pediatrics and Cardiology
Dr. Kiran Patel
Pallavi Patel Family Foundation
American Association of Physicians of Indian Origin
Jagdish Sheth PhD
Professor of Business at Emory University's Goizueta Business School
Indian Institute of Management Calcutta
Padma Bhushan in 2020
research at the University of Southern California
the University of Illinois at Urbana-Champaign
Columbia University
Emory University
Clients for Life
The Rule of Three
Tectonic Shift (2006)
Self-Destructive Habits of Good Companies
The 4 As of Marketing (2012)
Breakout Strategies for Emerging Markets
The Sustainability Edge (2016)
Climate and Consumption Culture: Connecting the Dots
Dr. Chander Shaykher
Voluntary Clinical Professor
Sanatana Dharma
University of Miami Medical school
South Florida Hindu Temple