Must Read Books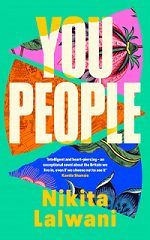 You People
By Nikita Lalwani
The Pizzeria Vesuvio looks like any other Italian restaurant in London – with a few small differences. The chefs who make the pizza fiorentinas are Sri Lankan, and half the kitchen staff are illegal immigrants.
At the centre is Tuli, the restaurant's charismatic proprietor and resident Robin Hood, who promises to help anyone in need. Welsh nineteen-year-old Nia, haunted by her troubled past, is running from her family. Shan, having fled the Sri Lankan civil war, is desperate to find his.
But when Tuli's guidance leads them all into dangerous territory, and the extent of his mysterious operation unravels, each is faced with an impossible moral choice. In a world where the law is against you, how far would you be willing to lie for a chance to live?
---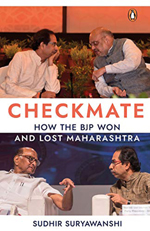 Checkmate: How The BJP Won And Lost Maharashtra
By Sudhir Suryawanshi
On November 28, 2019, Uddhav Thackeray, the Shiv Sena chief, was sworn in as the eighteenth chief minister of Maharashtra. This event marked the culmination of a high-voltage political drama that had the entire nation glued to their television sets for days on end. With no party being able to claim a majority in the assembly, President's Rule was imposed in the state. This book takes its readers through the twists and turns of the dramatic political crisis that unfolded as Maharashtra waited for its chief minister.
What really went on behind the scenes? With access to inside sources and private conversations, this book reveals the hitherto untold story of this political drama, with a comprehensive overview of the state's politics in the last few decades
---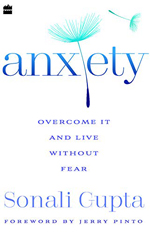 Anxiety: Overcome It And Live Without Fear
By Sonali Gupta
Do you know the difference between anxiety and stress? What can you do when you have a panic attack? How do you know when it's time to get help? Anxiety is a mental health crisis that has gripped over three crore Indians. In Anxiety: Overcome It and Live without Fear, clinical psychologist Sonali Gupta delves into the condition, using case studies to identify how anxiety can be triggered at work, in relationships, and by social media. Gupta shares a unique glimpse into this mental health condition in India, especially among Gen Z and millennials. Recommending strategies and techniques for anxiety-prone readers, this book will help you confront your fears and take control of your life.
---

Momspeak: The Funny, Bittersweet Story of Motherhood In India
By Pooja Pande
What is it like to be a mother in India? Is there only one kind of woman as mother or can mothers be as different as chalk and cheese?
In this original, provocative book, Pooja Pande peels off the layers of social propriety to delve deep into the visceral reality of motherhood, much glorified but barely understood in India. Exploring the spectrum of experiences mothers have as women, as humans—from ecstasy to depression, jealous possessiveness to indifference, exhaustion to sensual desire—she reveals the personal, social and emotional roller-coaster that motherhood can be. Through vignettes of her personal journey, and hilarious and poignant episodes in the lives of different mothers—married, divorced, single, queer, adoptive—Pooja celebrates and shines new light on this transformative, life-affirming experience. Whatever kind of mother you are, you will find your truth reflected in these pages.
---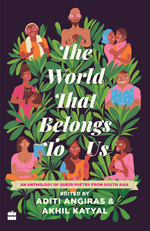 The World That Belongs To Us: An Anthology of Queer Poetry From South Asia
By Aditi Angiras & Akhil Katyal (Eds.)
This first-of-its-kind anthology brings together the best of contemporary queer poetry from South Asia, both from the subcontinent and its many diasporas.The anthology features well-known voices like Hoshang Merchant, Ruth Vanita, Suniti Namjoshi, Kazim Ali, Rajiv Mohabir as well as a host of new poets. The themes range from desire and loneliness, sexual intimacy and struggles, caste and language, activism both on the streets and in the homes, the role of family both given and chosen, and heartbreaks and heart joins. Writing from Bangalore, Baroda, Benares, Boston, Chennai, Colombo, Dhaka, Delhi, Dublin, Karachi, Kathmandu, Lahore, London, New York City, and writing in languages including Bengali, Gujarati, Hindi, Kannada, Urdu, Manipuri, Malayalam, Marathi, Punjabi, Tamil, and, of course, English, the result is an urgent, imaginative and beautiful testament to the diversity, politics, aesthetics and ethics of queer life in South Asia today.
---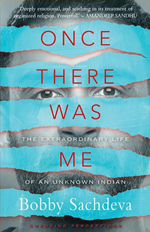 Once There Was Me: The Extraordinary Life of An Unknown Indian
By Bobby Sachdeva
Caught in the web of communal violence repeatedly, Bobby Sachdeva stares at his burning house set afire by the bloodthirsty mob of the anti-Sikh riots in Delhi. As a fourteen-year-old, his world turns upside down, exactly at the age his father had escaped from Pakistan during the Partition of India. Recovering from the trauma, Bobby re-builds his business and journeys across the US and China, experiencing a life unhindered by religious animosity. Having experienced both sides of religion – of immersion and detachment – he starts questioning the role of religion in our lives. Based on his vision of an emergent India, Bobby finally submits a PIL in the Supreme Court for religious shrines to distribute their excess income for the downtrodden. What happens next as religious hardliners turn against him?
---

The Dharma Forest
By Keerthik Sasidharan
As the Mahabharata war wages on, it shows no mercy and takes no prisoners. Death and destruction abound, and in the midst of a world rendered unrecognizable by a lust for power and malicious machinations designed to deliver an ultimate, godly win stand Bhishma, contemplating the immeasurable death he sees around himself as a man who cannot die; Draupadi, above and beyond the chaos and yet at the very centre of it, trying to protect her husbands at any cost as she manoeuvers turncoats and messengers, wondering who to trust; and Arjuna, beloved, powerful and lost in equal measure, uncertain of the ultimate cost of the war he is intent on winning.
The Dharma Forest is a grand debut filled with complex characters, conflicted loyalties and erotic jealousies from India's most beloved epic that draws out an amoral canvas that is beyond good and evil.
---

Rumi: A New Collection
By Farrukh Dhondy
Marked by lyrical beauty and spiritual insight, a deep understanding of human suffering that coexists with rapturous abandon, the poems of Jalaluddin Rumi continue to be relevant almost eight centuries after they were composed, with contemporary audiences finding new meanings in them. Rumi's poems bring together the divine and the human, the mystical and the corporeal to create a vivid kaleidoscope of poetic images. While many recent 'translations' have sought to give Rumi's poetry a certain hippy sensibility, robbing it of its true essence, Farrukh Dhondy attempts to bring out the beauty and sensibility of the verses whilst imitating the metre of the original. Dhondy's translations provide a modern idiom to the poems, carefully keeping intact their religious context.
---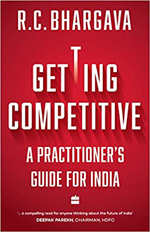 Getting Competitive: A Practitioner's Guide For India
By R. C. Bhargava
Way back in 1947, as India became independent, Prime Minister Jawaharlal Nehru set out a vision to shape the country's economy and the development of a just and equitable society. Manufacturing was key to this vision, since it is crucial to generating employment and higher growth. More than seventy years later, manufacturing is far from competitive and contributes only 15 percent of the GDP. As a result, removing the wide socio-economic disparities remains a distant dream.
In Getting Competitive, R.C. Bhargava draws upon his unique experience of more than sixty years as a policymaker and industry leader to give practical suggestions. These include replacing socialistic industry-related policies with those that would promote competitive manufacturing, and substituting Western management culture with that of the East to create trust with citizens and partnership relations with industrialists, workers and the government. The bureaucracy must be enabled to facilitate and promote competitiveness. Above all, we need to create national acceptance that manufacturing competitiveness is our first priority. For policymakers and general readers alike, this book brings promise to what has become a disappointing scenario.
You People
Nikita Lalwani
Checkmate: How The BJP Won And Lost Maharashtra
Sudhir Suryawanshi
Anxiety: Overcome It And Live Without Fear
Sonali Gupta
Momspeak: The Funny, Bittersweet Story of Motherhood In India
Pooja Pande
The World That Belongs To Us: An Anthology of Queer Poetry From South Asia
Aditi Angiras & Akhil Katyal
Once There Was Me: The Extraordinary Life of An Unknown Indian
Bobby Sachdeva
The Dharma Forest
Keerthik Sasidharan
Rumi: A New Collection
Farrukh Dhondy
Getting Competitive: A Practitioner's Guide For India
R. C. Bhargava