Bollywood 2019 Half Yearly – Kabir Singh, Kesari & Uri took the High Note!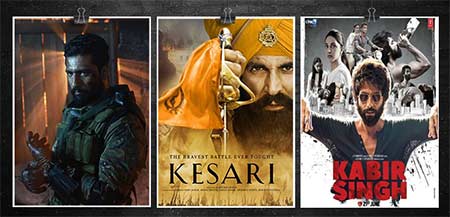 Indian cinema is continuously setting new records of changed audience taste as the fans don't just want stars to face in the film, but the content too. Bollywood half yearly has ultimately gone well with some action-packed, high-performance and drama based fiction and realistic movies.
The infinite change in the mood of the audience demands high-quality content rather attractive faces, and the success of Uri (245.36 crores), Gully Boy (40.25 crores), Manikarnika (40.25 crores), Luka Chuppi (94.75 crores), Kesari (154.41 crores) and recent release Kabir Singh (250 crores and running) proves it.
Film trade analyst Girish Johar said, "Last year, in the first six months, we roughly recorded a collection of Rs 2200 crores, and this time we have collected roughly around Rs 2400 crores. So, it's a 10-12% increment which nonetheless is good but I was expecting at least 15-20 percent growth because of the kind of releases we had. It's an optimistic growth but I am doubly optimistic about the second half of the year."
On his observations from the half-yearly box office collection, Girish speaks, "Audience wants reasonable ticket prices. They want good content, and they are willing to watch the stars. It is not like the era of stars is gone, take for example Total Dhamaal and Bharat. Both the films had a great opening and it is the content which gave them their final BO numbers. So, the star has to provide the content which the audience thinks is right for his image. Salman's Dabangg 3 may have even a bigger number."
Megastar Salman khan's much-talked Bharat though collected a decent amount, but with more negative responses. Moreover, Hollywood also gained a strong foot in the subcontinent with movies like Avengers Endgame (373.22 crores) and Captain Marvel (84.36 crores).
So far the first half of 2019 was a good one for Bollywood, let's see what another half brings for the industry.
Indian cinema
Bollywood
Gully Boy
Manikarnika
Luka Chuppi
Kesari
Kabir Singh
Girish Johar
half-yearly box office collection
Total Dhamaal
Bharat
Salman's Dabangg 3
Captain Marve
Hollywood
Avengers Endgame